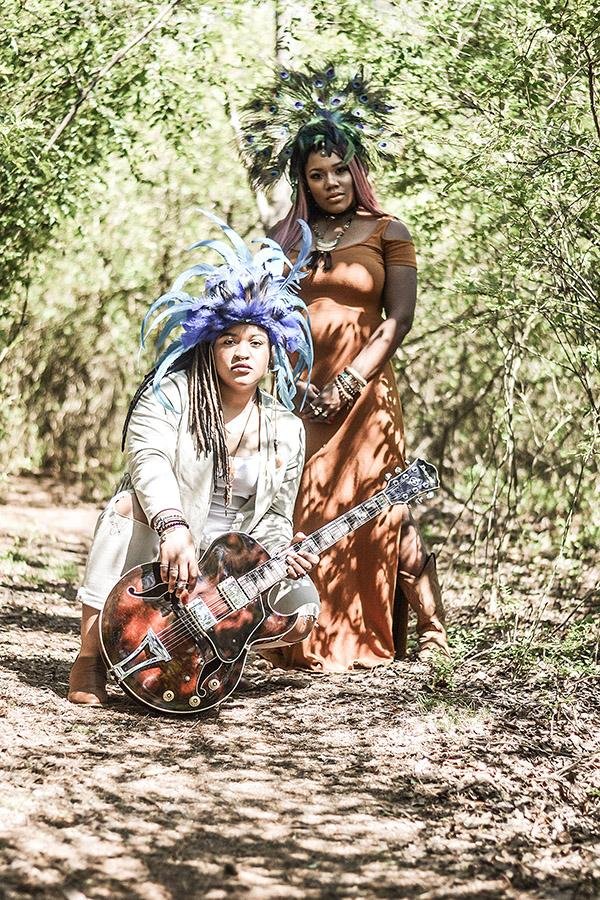 Dazzmin "Dazz" Murry (with guitar) and Kabrelyn "Brie" Boyce celebrate Boyce's birthday Saturday at the Kachella Music & Arts Birthday Party at South on Main.
Can't make it out to the California desert for this year's Coachella Festival? Awwww, poor thing.
But don't fret, music fan, because Dazz & Brie have you covered with their Kachella Music & Arts Birthday Party on Saturday at South on Main.
Kachella Music & Arts Birthday Party
Featuring: Dazz & Brie and the Emotionalz, John Willis, Rah Howard, Gavin Le'nard, Sarah Stricklin, Samarra Samone, Sean Fresh, Hope Dixon, DJ Ike
Friday, 8-11 p.m., South on Main, 1304 S. Main St., Little Rock
Admission: $10
(501) 244-9660
southonmain.com
Dazz & Brie are musical duo Dazzmin Murry of North Little Rock and Kabrelyn "Brie" Boyce of Atlanta, Texas, whose stylish and fun mix of soul, pop, rock, hip-hop and R&B can be heard on the wonderful debut Can't Afford California.
Kachella is their Arkansas version of the much-lauded music and arts festival in the Coachella Valley near Palm Springs and will feature an appropriately earthy vibe.
"It's probably going to look a lot different [from] what it typically looks like," says Murry, 26, of their plans to transform the South on Main decor for the evening. "It's usually pretty upscale, but we're trying to turn it into a fairground."
"We're in love with festivals," says the soon-to-be 28-year-old Boyce. "We thought it'd be cool for my birthday party to do a play on Coachella, like a hippie, come-as-you-are festival. Then South on Main asked us to do a show the day before my birthday, and we thought we could make it a festival, so that's how it came about."
Along with music from the pair and their band, The Emotionalz, other performers include John Willis, Rah Howard, Gavin Le'nard, Sarah Stricklin, Hope Dixon and DJ Ike. And keeping with the festival-fair theme, there will be wine bottle decorating, a costume contest, face painting, a tie-dye station and other attractions.
Murry and Boyce first met as students at the University of Central Arkansas in Conway, but didn't start making music together until after graduation.
"About the fall of 2012, we started sending music back and forth via email," Murry says.
They moved to Houston together and began recording what would become 2016's Can't Afford California, which they worked on sporadically over two years.
"We recorded some songs in Atlanta, Texas, some songs in Houston ..." Murry begins.
"And in a living room in Dallas," Boyce adds.
"It's a journey in music form," Murry finishes.
From the funk-fueled opener "Red," to the sassy, radio-ready pop rock of "MLSGALBC," and the fuzzy rock of "Concept," the album shimmers with Dazz & Brie's effortless harmonies and creativity.
"It's just naturally what we were feeling," Boyce says of the album's diverse palette. "It's cool because we didn't do it in a month or six weeks. It took us years to do it, so we could see the progression of our journey through our music."
The title cut, an infectious ode to being broke, typifies the fearless, independent tone for the record.
"That helped shape the album," Murry says. "It came about en route to Atlanta, Ga."
The two friends had planned to move to Los Angeles, but a chance to intern at a record label in Atlanta was too good to pass up and they wrote the track while driving to Atlanta.
Their first show was at Friends and Lovers club in Brooklyn, N.Y., where they made it to the semifinals of a battle of the bands competition, losing out to funk-soul outfit Tank and the Bangas of New Orleans.
The duo had better results in Little Rock, recently winning the Arkansas Times Musicians Showcase and, as part of the spoils, a spot in the Riverfest lineup along with their Tank and the Bangas buddies.
"We could possibly be playing on the same day as them at Riverfest," Boyce says. "So it'll be like seeing your big brother again after he's been away at college."
Beyond Saturday's Kachella event, Murry and Boyce, the latter of whom commutes to Arkansas on weekends from her Texas home, are working on new jams (as part of their winnings, they also get studio time at the new Capitol View studio in Little Rock).
"We're definitely writing and recording more music," Murry says, and though there are shows booked through October, there's hope for a summer tour.
"Hopefully we can kick that off after Riverfest," she says.
Weekend on 04/06/2017
Print Headline: Can't Afford California, so duo creates 'Kachella'
Sponsor Content