WASHINGTON -- Senate Republicans triggered the "nuclear option" to allow confirmation of President Donald Trump's Supreme Court nominee and bar Democrats from blocking future picks.
The vote called for by Majority Leader Mitch McConnell on Thursday went 52-48 along party lines and will let the Senate confirm Neil Gorsuch today to take a court seat that Republicans refused to let President Barack Obama fill during his last year in office.
The rule change means Gorsuch and all future Supreme Court nominees can be confirmed with a simple majority vote and no longer will face a 60-vote hurdle.
President Donald Trump predicted to reporters aboard Air Force One that "there could be as many as four" Supreme Court vacancies for him to fill during his administration.
[U.S. SUPREME COURT: More on Gorsuch, current justices, voting relationships]
"In fact, under a certain scenario, there could even be more than that," Trump said.
McConnell said Democrats' move to filibuster Gorsuch is part of a "much larger story" in which "the left" is trying to politicize the courts and confirmations.
"It's a fight they have waged for decades with a singular aim, securing raw power no matter the cost to the country or the institution," McConnell of Kentucky said on the Senate floor. "It underlies why this threatened filibuster cannot be allowed to succeed."
Democrats said the power grab regarding the Supreme Court vacancy made by the Republicans when they denied a hearing to Obama's nominee last year. In addition, Gorsuch didn't show himself to be a mainstream judge during his confirmation hearing at the Senate Judiciary Committee, Minority Leader Charles Schumer said.
"Far from being the kind of mainstream candidate for the Supreme Court that could earn 60 votes, he may very well turn out to be one of the most conservative justices on the bench," said Schumer, of New York.
"The nuclear option means the end of a long history of consensus" on high court nominees, he said. The 60-vote requirement acted as a "guardrail" against judicial extremism, Schumer said.
Gorsuch, 49, who was appointed to the U.S. Court of Appeals by President George W. Bush, has a decade of federal appeals court experience and unanimous support among Senate Republicans, who say his qualifications will make him a strong addition to the court for decades to come.
[EMAIL UPDATES: Get free breaking news alerts, daily newsletters with top headlines delivered to your inbox]
Sen. John Boozman, R-Ark., said Gorsuch deserved to be confirmed even if Republicans had to use the nuclear option to pull it off.
"Certainly he's a guy that was very well-qualified. [He] shouldn't have had any problem. But sadly we're in a situation now where our country's very divided," the Republican from Rogers said in an interview. "I don't care who President Trump put forward, it would not be acceptable to the Democrats in their current frame of mind."
Democratic critics say that putting him on the court will produce more decisions favoring corporations over working-class Americans. Many remain embittered about the GOP's refusal last year to consider Obama's choice of Judge Merrick Garland for the vacancy created by the February 2016 death of Justice Antonin Scalia.
Republicans refused to even consider Garland during the presidential election year, a fact McConnell has not dwelled on during public statements about the history of Republican behavior under Democratic presidents.
"There must have been a hacking into his computer," Sen. Richard Durbin, D-Ill., said of McConnell on Thursday from the Senate floor, "because he can't print the name Merrick Garland to include in the speech."
Republicans insisted they were forced to make the change because Democrats were ignoring a tradition against using a filibuster to block high court nominees. McConnell and other Republicans noted that both justices confirmed under Obama, Sonia Sotomayor and Elena Kagan, had bipartisan support and went straight to a final vote.
"We're talking about a really high-quality person to be a justice on the Supreme Court who was being mistreated by misuse of the rules as far as I was concerned," Sen. Orrin Hatch, R-Utah, said after the rule change.
'Dark deed is done'
Forty-four Democrats initially voted Thursday to block Gorsuch's nomination by denying the 60 votes needed to move it forward. Four Democrats voted with the GOP to advance the nomination -- Michael Bennet of Colorado, Heidi Heitkamp of North Dakota, Joe Manchin of West Virginia and Joe Donnelly of Indiana.
Republicans responded with the nuclear option that allows Senate rules to be revised with a simple majority vote, rather than the 67 votes typically required. McConnell did this by asserting to the presiding officer that only a majority should be needed to confirm Supreme Court nominees.
Republicans then voted to overturn the 60-vote requirement for Supreme Court nominees. The Senate followed with a 55-45 procedural vote to set up today's final confirmation.
"The dark deed is done," Sen. Jeff Merkley, D-Ore., wrote on Twitter. "McConnell has just put a knife into the heart of our We the People republic."
Manchin, who said he supports Gorsuch but opposed the rule change, said the change was "everybody's fault," and declared that Republicans will "rue the day that this happened" if they lose their majority.
George Washington "had it right" about the Senate, Manchin said. "We're the saucer. Should be, anyway. Should be cooling off that tea. ... The hot tea's going to scald you now. It's going to burn you."
Sen. John McCain, R-Ariz., had tried to forge a bipartisan deal to avert the rule change but gave up early this week after Democrats said they had enough votes to block Gorsuch.
"I fear today's action will irreparably damage the uniqueness of the Senate, and along with it, any hope of restoring meaningful bipartisanship," McCain said in a statement after the votes Thursday. "The Democrats' unprecedented, partisan filibuster of the nomination of Judge Gorsuch unfortunately left me with no other choice than to vote to change the rules."
Sen. Susan Collins, R-Maine, a past critic of invoking the nuclear option, said negotiations to prevent the rule change failed this time because of what the Senate has become.
"There's such a profound lack of trust, and that's what many of us are committed to trying to rebuild," she said. "We need to make very clear to the leaders on both sides that there's no support for curtailing our existing ability to filibuster legislation."
Boozman said Republicans and Democrats will need to work together once the confirmation battle is over.
"There's a lot of challenges the nation faces," he said, predicting that lawmakers from both parties will work together on several key issues to "find common ground for the good of the nation."
Through a spokesman, Sen. Tom Cotton, R-Ark., said it was appropriate to use the nuclear option. "Now the Senate is back to where it was and where it should have been all along: Nominees brought to the floor should receive a simple, up-or-down vote," he said.
Both parties have toyed with the nuclear option for years. In 2005, with the Senate under GOP control, Republicans prepared to utilize the nuclear option to remove the filibuster for lower-court nominees. A bipartisan deal at the time headed off that change.
In 2013, a Democratic-led Senate under Majority Leader Harry Reid voted to end filibusters of executive-branch and lower-court nominees after Republican obstruction of Obama's choices. That eased approval of Trump's Cabinet this year, with key posts including the secretaries of Treasury, Education, Health and Human Services and the attorney general winning confirmation with 53 or fewer votes.
Some lawmakers have said they fear that Republicans will later change the rules to eliminate minority-party filibusters of legislation -- a long-standing rule intended to force Republicans and Democrats to compromise -- although McConnell said this week he won't do that.
"At this point there is not a majority for ending the legislative filibuster," Sen. Ted Cruz, R-Texas, told reporters moments after the rules change. "If they continue an immovable blockade, I suspect the votes will shift on that question."
Even Republicans who back the new rule warn that easing hurdles for Supreme Court nominees will cause the court and Congress to become more partisan. McCain and Sen. Lindsey Graham of South Carolina say presidents could choose nominees with more extreme views because they wouldn't need bipartisan support for confirmation.
"Now that we are entering into an era where a simple majority decides all judicial nominations, we will see more and more nominees from the extremes of both the left and the right," McCain said Wednesday on the Senate floor . "I do not see how that will ensure a fair and impartial judiciary. In fact, I think the opposite will be true and Americans will no longer be confident of equal protection under the law."
It remains to be seen whether Democrats will retaliate for the rule change by slowing down work in the full Senate or in committees.
"We'll have to look at all our options," said Sen. Chris Van Hollen, D-Md. "When they're blowing up rules, we've got to figure out how we best use the rules that remain." The Republicans' move will make it harder for Trump's agenda to get bipartisan support, the senator said.
"They're throwing a monkey wrench in the gears of bipartisanship, and it's going to make a tough situation even worse," he said.
Information for this article was contributed by Laura Litvan and Sahil Kapur of Bloomberg News; by Matt Flegenheimer of The New York Times; by Erica Werner, Mark Sherman and Mary Clare Jalonick of The Associated Press; and by Frank E. Lockwood of the Arkansas Democrat-Gazette.
A Section on 04/07/2017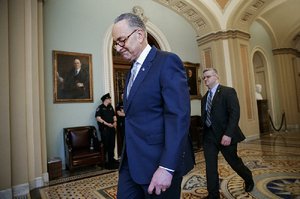 Photo by AP/J. SCOTT APPLEWHITE
Senate Minority Leader Charles Schumer heads to his office Thursday. "The nuclear option means the end of a long history of consensus" on high court nominees, Schumer said after Thursday's rule change.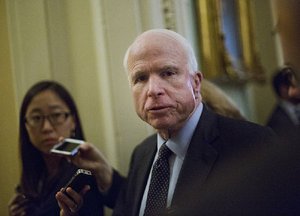 Photo by AP/PABLO MARTINEZ MONSIVAIS
"The Democrats' unprecedented, partisan filibuster of the nomination of Judge [Neil] Gorsuch unfortunately left me with no other choice than to vote to change the rules," Sen. John McCain, R-Ariz., said in a statement after Thursday's vote.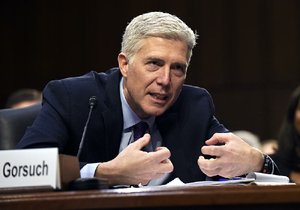 Photo by AP/SUSAN WALSH
In this March 21, 2017, file photo, Supreme Court Justice nominee Judge Neil Gorsuch explains mutton busting, an event held at rodeos similar to bull riding or bronc riding, in which children ride or race sheep, as he testifies on Capitol Hill in Washington during his confirmation hearing before the Senate Judiciary Committee.