Expect to see a lot less of Payless.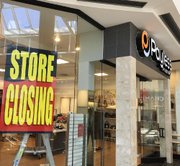 You could say there's trouble afoot. Payless ShoeSource, the affordable family shoe store filed for Chapter 11 bankruptcy last Tuesday and reported it's closing 400 stores, including not all but a significant number in Arkansas. A dozen Arkansas locations are getting the boot, no pun intended: Little Rock, North Little Rock, Jonesboro, Hope, Berryville, Helena-West Helena, Blytheville, Hot Springs, Russellville, Forrest City, Batesville and Harrison.
In central Arkansas, extinct stores are the location at 4316 Camp Robinson Road in North Little Rock and Park Plaza mall in Little Rock.
But no one had broken that news to the mall security guard who was making rounds the Thursday morning after the announcement.
"Store closing?" he said in disbelief, taking in the poster in the store window that was stark except for a ladder and an empty display that once held a grouping of shoes optimistically labeled "New Romantics." Now those missing shoes are more like Old Tragedies, casualties of yet another retail empire falling.
"That's not good," he said partly to the air, partly to me -- the lone shopper in the store -- and partly to an employee who was fussing with pricing tags on boxes (prices on red-and-white tags will be honored; for all other shoes, take 20 percent off the full price).
No, it's not good. For the mall and other shopping centers around the country. For employees like this one who will face unemployment after the liquidation process is complete, she guesses, in about eight weeks. And for the company, though it's trying to move forward on the right foot. W. Paul Jones, Payless chief executive officer stated: "This is a difficult, but necessary, decision driven by the continued challenges of the retail environment, which will only intensify. We will build a stronger Payless for our customers, vendors and suppliers, associates, business partners and other stakeholders through this process."
And it's not good for any of us who appreciate trendy and yes, cheap, shoes, those of us who have routinely relied on Payless, which popularized the BOGO or Buy One, Get One free phenomenon, in our personal fashion history.
Hearing about the closings was like finding out a dear, dependable friend -- one I hadn't seen in far too long -- was on life support.
I needed to visit. Not just Park Plaza, but the Camp Robinson Road location, too. I needed to pay my respects. Or at least pay for some American Eagle wedges and Christian Siriano boots (yes, Payless now sells designer brands). But I felt too bummed to buy anything. Or maybe too bargain-minded. Surely they'll mark down the already low prices as weeks go by.
In North Little Rock, the situation seemed even more final, with several more signs -- "Closing Sale" "Entire Store 10% to 30% Off" "Everything Must Go!" -- in the windows and employees conducting inventory duties. One welcomed me, explaining the pricing, and emphasizing that that there would be absolutely no refunds or exchanges on bought merchandise.
As I browsed through the cardboard boxes, I recalled how Payless has come through for me many times over the decades. During adolescence, it was there for inexpensive special-occasion shoes I'd wear once and outgrow before the next special occasion. Back in high school and after college, when prom and bridesmaid shoes absolutely had to match the dress, Payless was there with dyeable discount satin. When prepping for college internships and early job interviews, the store came through with prudently priced pumps that looked professional (even if I didn't while trying to walk in them).
And I've happened upon Payless finds in recent years. Like the pair of perfect-height patent thong platforms that I bought while on vacation when another pair of sandals failed me. They cost $14.99 and, though they were bought as back-up, they became a staple of my summer wardrobe, lasting some six years and receiving infinite compliments. I was never too proud to offer "Payless ShoeSource" as my source.
Colleague and fashion savant Helaine R. Williams has been a customer too and shares my pain.
"I hate to see Payless suffering and stores closing because, Number One, they are wide-foot friendly. I wear a 9W and I can always be assured that Payless will have some cute styles that size. I also have a wide calf and Payless has become one of the go-to places for wide-calf/extra wide-calf boots.
"Number Two, Payless is a GREAT place to try out trendy new shoe fashions without paying a king's ransom. Number Three, although the smell of synthetic shoes still assails me whenever I walk in the place, the chain has done a decent job of making their shoes not LOOK cheap. I take comfort in the fact that there will still be Payless in the area."
And there will. Two Payless stores will endure in Little Rock (one at 11400 W. Markham St. and another at 10101 Mabelvale Plaza Drive) and others remain in different parts of the state.
Here's hoping the surviving Payless ShoeSource stores can land on their feet.
Sneak(er) an email to:
jchristman@arkansasonline.com
What's in a Dame is a weekly report from the woman 'hood. You can hear Jennifer on Little Rock's KURB-FM, B98.5 (B98.com), from 5:30-9 a.m. Monday through Friday.
Style on 04/11/2017