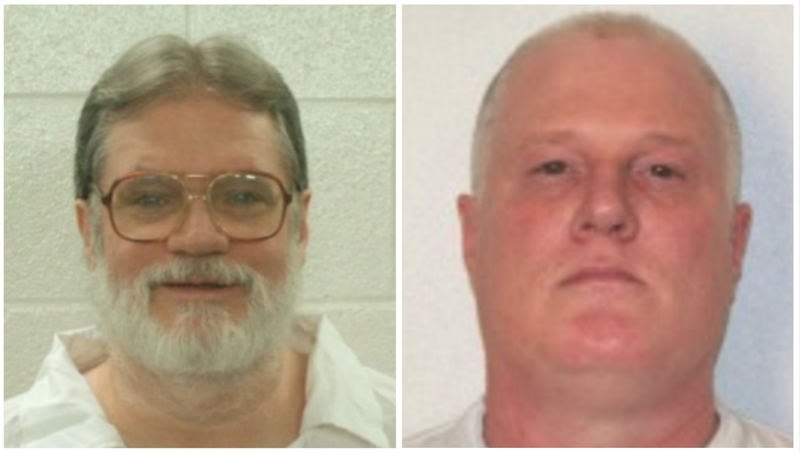 Bruce Ward, left, and Don Davis
With legal questions unanswered on Day One of Arkansas' plans to execute up to eight prisoners by month's end, state prison officials are nonetheless preparing to carry out the executions as scheduled.
Easter Sunday delivered no major court decisions after a flurry of orders and appeals filed on Friday and Saturday, leaving Arkansas' execution plans shelved, at least temporarily. Legal battles will likely go before the U.S. Supreme Court today and receive a ruling, an attorney for the inmates said.
Don Davis and Bruce Ward, who have spent more than two decades on death row, would die tonight by lethal injection if the state wins late reversals of court orders by federal and state court judges that temporarily blocked the executions of Davis, Ward and six other inmates. Additionally, the Arkansas Supreme Court on Friday granted an emergency halt to Ward's execution amid claims that he is mentally incapable of understanding his punishment.
On Sunday, a federal judge in western Arkansas rejected a separate stay request from Davis, though the ruling did not change the situation because of the federal and state court orders had already halted all the executions.
Davis was moved to a cell near the execution chamber at the prison system's Cummins unit "earlier this weekend," Arkansas Department of Correction spokesman Solomon Graves said Sunday night. Ward remained at the Varner Unit but will be moved if his stays are lifted.
"Our preparations remain unchanged," Graves said.
Arkansas last put a prisoner to death in 2005, has not executed two prisoners on the same day since 1999 and has not killed six inmates in a single month since February 1926 -- the state's record, according to the Correction Department.
State attorneys have appealed most of the orders blocking executions, including Ward's stay. If Attorney General Leslie Rutledge's office prevails on all litigation active as of Sunday, seven of the eight inmates would be in line to die by April 27.
Separate court action would be required to pursue the execution of the eighth inmate, Jason McGehee, whose stay issued by a federal judge has not been appealed but whose execution warrant remains active.
Meanwhile, the inmates are waiting for a U.S. Supreme Court decision on whether it will rehear its 6-2 decision in February that denied their petition to examine state secrecy laws concerning the lethal-injection drugs, said Jeff Rosenzweig, an attorney for some of the inmates. That decision removed holds on Arkansas administering the death penalty.
[EMAIL UPDATES: Get free breaking news alerts, daily newsletters with top headlines delivered to your inbox]
Gov. Asa Hutchinson scheduled eight inmates to die this month -- two a night on consecutive Mondays and Thursdays -- in order to exhaust the state's supply of the sedative midazolam before it expires.
Ward became the second of those inmates to individually receive a favorable court decision. After the state Parole Board recommended clemency for McGehee, a federal judge ruled that Arkansas could not execute him without running afoul of a required review period.
Rutledge spokesman Judd Deere said the office still holds the option to appeal the McGehee decision. Hutchinson has not said whether he will grant a more lenient sentence.
If prisoners are not executed on their assigned dates, Hutchinson would have to issue new death warrants, according to inmates' attorneys and Deere.
A new warrant could trigger another clemency hearing, which carries a built-in timeline that would extend beyond this month, Ward's attorneys said Friday. Deere said he could not comment on whether that's true.
"If we don't carry out the executions scheduled for [today], we will wait to hear from the governor's office as to what our next steps will be," Graves said.
U.S. District Judge Kristine Baker granted a temporary injunction for all eight inmates after deciding there is "a significant possibility" the inmates would succeed in their challenge that the method of their execution would violate Eighth Amendment protections against "cruel and unusual punishment."
[📄 DOCUMENT: Click here to read U.S. District Judge Kristine Baker's full order]
Baker's opinion also says the Correction Department's viewing policies -- which allow one attorney to witness the executions -- could infringe on a prisoner's right to counsel.
Baker wrote that if an attorney needed to petition a court during the execution, he would have to leave the room and go to a separate building on the prison grounds in order to use a telephone. This policy would leave the inmate without an attorney present and delay the attorney's ability to seek remedies, she wrote.
"Minutes matter during an execution," the opinion says. "Any delay diminishes the likelihood that a court could provide a meaningful remedy in the event of an ongoing constitutional deprivation."
Rutledge's office appealed Baker's decision to the 8th U.S. Circuit Court of Appeals. A three-judge panel will hear the appeal.
Rosenzweig said the prisoners would appeal to the U.S. Supreme Court if the decision doesn't go their way and that he anticipates Rutledge's office would do the same.
"There will be [a] ruling from the Supreme Court, assuming a party takes it to the Supreme Court," based on previous history, Rosenzweig said. "If something is before the court, they will rule."
Deere said he did not "want to speculate" on what action Rutledge's office would take if the appellate court upholds Baker's ruling.
Baker didn't rule fully in the inmates' favor. She dismissed their claims that the compressed execution schedule risks causing needless suffering and impedes their right to counsel. The prisoners' attorneys on Sunday appealed those dismissals to the 8th Circuit.
Baker, in issuing the injunction, also found "a significant possibility" the inmates could succeed in proving that the state's planned use of midazolam "qualifies as an objectively intolerable risk that plaintiffs will suffer severe pain."
Federal judges based in other states have taken up the same question -- most recently an Ohio judge granted a similar injunction that the 6th U.S. Circuit Court of Appeals upheld on April 6.
Midazolam is the first of three drugs the Correction Department plans to administer in the executions, followed by vecuronium bromide, a paralytic that prevents breathing, and the heart-stopping potassium chloride.
Arkansas' difficulty in obtaining those drugs has come into focus in the past few days as three pharmaceutical companies claimed the state improperly obtained their products and sought to block their use in executions.
McKesson Medical-Surgical Inc., which distributes the paralytic, won a temporary restraining order Friday to stop Arkansas from using the drug in executions, claiming that the Correction Department obtained it through deceit and that the company would suffer "irreparable harm" if it is used in executions.
Pulaski County Circuit Judge Wendell Griffen, who protested the death penalty Friday at the Governor's Mansion, issued the order and set a hearing for Tuesday morning. Rutledge's office on Saturday filed an emergency appeal with the Arkansas Supreme Court.
McKesson on Saturday filed a motion to vacate the order and dismiss the suit, both with the circuit court and the state Supreme Court. The company, whose spokesman did not respond to an email Sunday, said in court filings that Baker's ruling eliminated the need for the order because it halted the executions.
In an order issued Sunday night, U.S. District Judge Susan Hickey of the Western District of Arkansas denied separate motions filed Wednesday by Davis' attorneys for relief of judgment and a stay of his execution.
Information for this article was contributed by The Associated Press.
A Section on 04/17/2017
Print Headline: Rulings aside, state readies for 2 executions tonight
Sponsor Content