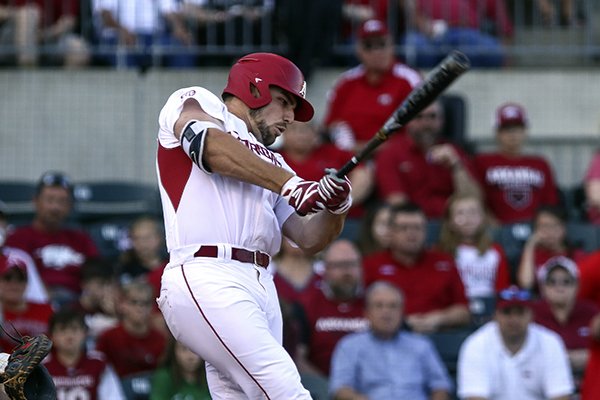 Arkansas first baseman Chad Spanberger bats during a game against Memphis on Wednesday, April 19, 2017, at Dickey-Stephens Park in North Little Rock. ( Mitchell PE Masilun)
Kacey Murphy allowed one hit in seven scoreless innings and No. 14 Arkansas beat Memphis 2-0 Wednesday at Dickey-Stephens Park in North Little Rock.
Murphy, a sophomore left-hander, took a no-hitter into the seventh inning but the Tigers broke it up with a one-out bunt single from Chris Carrier, which drew a chorus of boos from the 8,543 in attendance. Players from both sides had to be separated after Murphy picked off Carrier at first base to end the half inning.
Murphy struck out 7 batters in 7 innings. Carrier was the only Memphis player to reach base in the game, having also reached with a fourth-inning walk.
Arkansas (31-8) scored its only runs on a two-run home run by Chad Spanberger to right field in the bottom of the fifth. Spanberger's ninth home run gave him 42 RBI for the season. He extended his hit streak to 12 games with a first-inning single.
Shortstop Jax Biggers also had two hits. Arkansas had six hits to snap a five-game streak with at least 11.
Spanberger's home run came against Memphis starter Alex Hicks, who took the loss with 6 hits and 6 strikeouts over 6 innings.
Josh Alberius retired all six batters he faced over the final two innings to preserve the Razorbacks' first shutout since opening day. Memphis (21-17) had only 28 at-bats, one above the minimum.
Arkansas improved to 7-1 all-time at Dickey-Stephens Park. The Razorbacks play again at No. 12 Auburn on Friday.
Sponsor Content