Zachary Renfro's voice surfaced above the crowd as the University of Arkansas sophomore chanted into a megaphone, leading an estimated crowd of 500 through Saturday's drizzle down Dickson Street and into a University of Arkansas auditorium for the first March for Science NWA.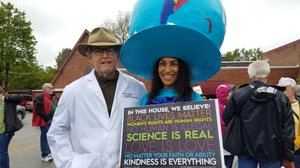 Photo by Sierra Murphy
Fatima Pollard and Steven Edmondson, retired doctor, pose for a photo before the first March for Science NWA on Saturday, April 22, 2017.
"Science is real, fear is not."
"There is no planet B."
March for Science NWA aimed to simultaneously bring awareness to proposed budget cuts to federal agencies like the Environmental Protection Agency and the National Institutes of Health, to reinforce support for scientific research, and to urge lawmakers to use sound science in making policy decisions. Marchers joined Renfro and co-organizer and fellow student, Brayley Gattis, with homemade signs, children and pets.
[EMAIL UPDATES: Get free breaking news updates and daily newsletters with top headlines delivered to your inbox]
The march is one of many that took place worldwide, including one in Little Rock, The Associated Press reports. Scientists and others marched in more than 500 cities.
President Donald Trump, in a statement hours after the marches kicked off, said "rigorous science depends not on ideology, but on a spirit of honest inquiry and robust debate."
The inspiration came from the women's march that took place in Washington in January, Renfro said.
Gattis and Renfro began planning the Northwest Arkansas march in February. The duo created a Facebook page, began inviting friends and developed an event that hosted four speakers Saturday, including the university chancellor and Fayetteville mayor.
"I believe that when we invest in scientists, we're ultimately investing in humanity," Renfro said. "In the short term, we can deny science all we want. But as long as we do that, we're going to stop developing things we benefit from."
The speakers agreed and added some advice, learned from their careers in science-based research and development.
"We have to make sure our research doesn't confirm something we want to believe," said Margaret Hershberger, a chemist with her doctorate.
University Chancellor Joseph Steinmetz encouraged marchers to continue to work to bring awareness of scientific findings to people who might look to defund its efforts. Steinmetz took part of the blame for the lack of support, saying some of it was due to poor communication with the general public.
The public doesn't appreciate research and discovery, he said. "At least not as much as they used to."
Lauren Greenlee, assistant professor at the UA, and Mayor Lioneld Jordan also spoke.
Many marchers left quickly after Jordan, the final speaker, handed back the microphone to a volunteer. Gattis hoped they took one thought with them.
"If you start denying science, you stop making progress."
NW News on 04/23/2017