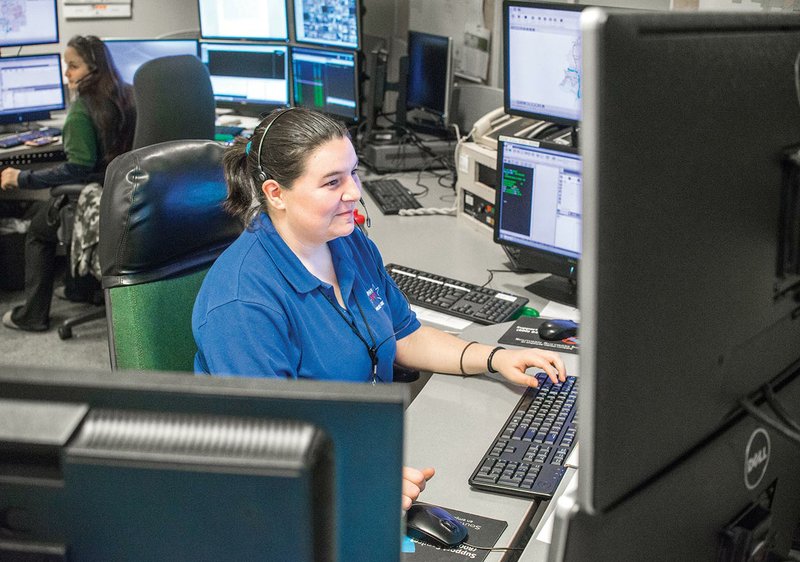 Conway dispatcher Alex Stoecker enters information at a workstation in the Conway Emergency Operations Center, which the city and Faulkner County share. A 911 working group is looking at how to combine the two dispatching systems and fund an emergency-system upgrade that is due in August. The upgrade is estimated to cost at least $600,000. ( William Harvey)
Faulkner County Judge Jim Baker said the most pressing issue facing his administration this year is an upgrade to the 911 emergency system, which must be done by August.
"I don't know where I'm going to find money to upgrade 911; it's not just hanging on trees," Baker said.
And the cost is increasing faster than revenue is coming in, officials said.
The 911 system and the Conway Emergency Operations Center on Hogan Lane are funded with landline and cellphone fees, but those aren't enough, officials said. Faulkner
County and Conway share the operations center and have to use other sources of county and city funds to keep it functioning and to pay for upgrades.
Shelia Bellott, director of the Faulkner County Office of Emergency Management, said the 911 system was upgraded five years ago at a cost of $370,000, which was primarily for hardware, as well as setup, installation, training and support. This year, the upgrade will cost between $600,000 and $900,000, primarily for software and the other services.
Why such a jump in price? "That's a good question," Bellott said, but she didn't have an answer.
Bids will be received on the upgrade, but the highest estimate so far is from AT&T, she added.
Baker appointed a 911 working group, which meets twice a week, to come up with ideas to make the center more efficient by integrating the city and county dispatching systems — which operate separately in the building — and figure out how to fund the system upgrade.
The group includes Bellott, Conway Police Chief Jody Spradlin, Faulkner County Sheriff Tim Ryals and Chief Deputy Matt Rice, and Conway Fire Chief Mike Winter. They report to Baker and Conway Mayor Bart Castleberry.
Bellott said the group has a tentative deadline of May 9 to make a recommendation on how to bring the city and county dispatch systems together and to pay for the upgrade.
She said the cost of upgrades is increasing; revenues are not. With more people getting rid of landlines, "that revenue is going down."
Cellphone fees collected in Faulkner County, which are 65 cents per phone per month, are split by population — 53 percent for the city and 47 percent for the county, Bellott said.
Local governments can increase landline fees, but it takes state legislation to increase the cellphone fees, said Randie Jones, former 911 coordinator for the Arkansas Department of Emergency Management.
The county's five-year contract with AT&T, using Microdata Systems and Management for leased services, runs out in August.
"You can opt out [of upgrading], but you're out on a limb," Baker said. Technology changes, "the system gets antiquated, and nobody can work on the system."
Spradlin said the upgrade is vital for the safety of city and county residents.
"Without the upgrade, we basically have a system that will not be maintained by AT&T, so if it goes belly up, then we have no 911 communications. People can't call in, and we can't respond," he said.
The city has five work stations in the building, and the county has three.
However, the city and county operate with different computer-aided dispatching systems, Bellott said.
"We basically operate two 911 centers in the same room," she said. The city and county 911 dispatchers do not see the same information on their screens when calls come in.
The committee has discussed streamlining the dispatching stations in the 911 center from eight to six, Bellott said.
"The cost to bring them all together on one system and convert from one to another is going to be very expensive."
By expensive, Bellott said she means "hundreds of thousands of dollars," but the system upgrade would still be necessary.
"If we were able to successfully [reduce the number of work stations], we wouldn't have to pay as much for the upgrade," Bellott said. The only way to do that is to have the city and county on the same computer-aided dispatching system.
"We cannot afford to do that at this point."
The city and county have operated together since 2003 in the Conway Emergency Operations Center, using separate dispatch systems. Spradlin said the city and county needs were different.
"I don't think much thought was put into the issues we'd have 15 years later," Spradlin said.
The city has 20 dispatchers, as well as a trainer and a communications supervisor, Lt. Lloyd Smith. The county has 11 dispatchers who staff the center.
Last year, 173,212 incoming and outgoing calls came through the 911 operations center, Bellott said. Of those, 60,707 were 911 calls. The rest were administrative calls.
And 91 percent of the calls that came into the center were cellphone calls, Bellott said.
Faulkner County also pays for upgrades to the University of Central Arkansas' 911 system, because it is a backup in case the 911 system goes down.
"They have two [work stations] there, and if for some reason we had a failure at the 911 center on Hogan, a switch could be thrown to transfer the 911 calls to UCA," Bellott said.
UCA's 911 system is due for an upgrade, too. The upgrade five years ago cost $69,000, Bellott said. A new contract with the current company would cost $70,000 up-front, plus $1,500 a month for five years, she said.
"Again, that's just one vendor," Bellott said.
Bellott said she talked with Interim UCA Police Chief Jon Merguie about the university paying half the upgrade cost.
"It was a conversation that I didn't necessarily want to have if the funds were available, but we're facing our own problems as well, coming up with the money," she said. "Until we figure out a way to offset these costs, we're struggling to pay for just the one center. I told him after this upgrade, in five years, I can't tell you if we're going to be able to support any [upgrades]."
Merguie said he understands the situation.
"Five years later, everything costs more," Merguie said. He said that when Bellott knows a definitive dollar figure, he will present the request to UCA Chief of Staff Kelley Erstine.
The 911 operations center cost $1.8 million to operate in 2016; revenues were just over $700,000, Bellott said.
"We're working toward a solution to shorten the gap between $700,000 and $1.8 million," she said.
Spradlin said the group has discussed having "fair-share" costs across the county.
"There are several [police] agencies in our county — Vilonia, Greenbrier, Mayflower — that are basically getting the benefit and not paying anything into the operating cost of the center," Spradlin said.
"We're not going to say, 'We need you to give us X number of dollars, or we're going to shut you down.' We'd give proper notice so they can budget properly, but that is something we're looking at — fair-share cost," Spradlin said.
The group's second task, other than upgrading the system, is to look at integrating the city and county into one system.
Bellott said the committee met this month with the president of a private company, IXP of New Jersey, about managing the center.
"This IXP Corp. that comes in and does managed services, from what I understand, they're saving centers 15 to 20 percent," she said. Bellott said the company hires local people to staff the center.
Spradlin said IXP's presentation was "impressive."
"It would definitely be beneficial to have a countywide coordination of effort somewhat," he said.
Bellott said committee members are considering a trip to Georgia to look at a 911 center that IXP manages.
"If we were able to go with this company and the cost was where we could afford it, it's doable" by August, although it does not have to be done at the same time the contract for the 911 system expires, Bellott said.
A consultation with the company costs $30,000, but that goes toward the contract for services if the company is selected, she said.
Bids likely would have to be taken, unless this is the only company that provides the service, Bellott said.
The mayor and the county judge must approve the 911 group's recommendation, and possibly the Conway City Council and the Faulkner County Quorum Court, depending on the group's proposal.
Some states have had mandatory consolidation of 911 centers across county lines, Bellott said. For example, Faulkner County might dispatch for Perry County or Conway County.
"That wouldn't be great, but there's going to come a point where something is going to have to be done, and someone is going to have to share the costs," she said. Bellott said she doesn't see that happening, but "I don't know what the state is going to do. I can't put it past our state to look around and do that.
"We really have to focus on what's for sure in the pipe, and that's that upgrade," Bellott said.
Castleberry said funding the upgrade is nonnegotiable.
"We do not want to leave our citizens in the city or the county at risk," he said. "We can't risk not being able to receive calls."
Bellott agreed.
"That's what we're looking at, a way we can have a more cost-effective, efficient center and not cut services. We can't cut services to our constituents," she said.
Senior writer Tammy Keith can be reached at (501) 327-0370 or tkeith@arkansasonline.com.
Sponsor Content