George W. Bush was early in his first term as president. Seattle was years away from losing the SuperSonics. Arrested Development hadn't even started airing yet.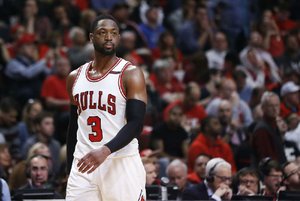 Photo by AP Photo/Charles Rex Arbogast
Chicago Bulls' Dwyane Wade walks toward the basket coming out of a break during the second half in Game 3 of an NBA basketball first-round playoff series against the Boston Celtics in Chicago, Friday, April 21, 2017. The Celtics won 104-87.
That's how long ago Utah's Joe Johnson and Houston's Nene made their NBA debuts.
So-called old guys like them are delivering all across these playoffs thus far. And many of those elder statesmen will be back at work today as the NBA Western Conference playoffs continue with a trio of Game 5s -- Houston will be home with a chance to eliminate Oklahoma City, Memphis goes back to San Antonio and Utah visits the Los Angeles Clippers.
Among those expected to be in action: 40-year-old Vince Carter, 39-year-olds Manu Ginobili and Paul Pierce, 37-year-old Jamal Crawford, 36-year-old Pau Gasol, 35-year-olds like Johnson, Zach Randolph and Boris Diaw, and 34-year-olds in Tony Parker and Nene.
"As you get older, as you get more experienced, you understand what 'Winning Time' means," said Chicago's Dwyane Wade, another non-whippersnapper of 35 who'll play in a Game 5 of the Bulls-Boston series on Wednesday night.
Johnson (Little Rock Central, Arkansas Razorbacks) is 6 for 7 on what the NBA calls clutch shots so far in these playoffs. (To put that in some perspective, LeBron James -- for as great as he was in the sweep of Indiana -- was 5 for 15 in clutch situations during that series.) Johnson shot 12 for 17 overall in Utah's 105-98 victory Sunday over the Clippers, helping the Jazz knot that series on a night when Gordon Hayward was felled by food poisoning.
Former teammate and longtime NBA star Kevin Garnett said Johnson has "superstar poise," and it showed Sunday.
"He's one of those guys that we're quick to forget because of the regular season games and what it takes out of you," Garnett said. "This is the time where the cream is going to rise to the top for you."
Nene was 12 for 12 in Houston's 113-109 road victory over Oklahoma City on Sunday. In a series where all the talk seems to be on MVP frontrunners Russell Westbrook and James Harden, Nene is shooting an astounding 92 percent (23 for 25) from the floor.
"Kind of a man's game," Rockets Coach Mike D'Antoni said. "And he's a man. ... That's Nene. Doesn't surprise me."
Here's what to know going into tonight's games:
Thunder at Rockets
Houston leads 3-1. Game 5, 7 p.m. Central, TNT.
NEED TO KNOW The Rockets are one victory from just their fourth series victory in the past 20 years. And D'Antoni could be heading to the second round for the first time since 2007. Westbrook is likely to finish this series averaging a triple-double, just as he did in the regular season, yet the Thunder are in huge trouble regardless.
KEEP AN EYE ON Thunder wing Andre Roberson. He's shooting 12 percent from the free-throw line in this series. Yes, 12 percent, 2 for 17, which is about as mathematically improbable as Nene shooting 92 percent from the field.
INJURY UPDATE Rockets F Sam Dekker (left hand) is out.
PRESSURE IS ON Both sides. The Thunder are a loss from elimination, yet the Rockets will surely feel a sense of urgency to get this done and enjoy some time off before Round 2.
Grizzlies at Spurs
Series tied 2-2. Game 5, 8 p.m. Central, NBA TV.
NEED TO KNOW Memphis is 2-0 since Coach David Fizdale's already-infamous "Take that for data" rant, and now the Grizzlies head back to San Antonio with momentum. The Spurs were in this spot last year -- 2-2 series, home for Game 5 -- in the second round last season, and wound up losing to the Thunder in six games. But the Spurs also are 19-1 in their past 20 home games against the Grizzlies.
KEEP AN EYE ON Kawhi Leonard. The Spurs' star is 40 for 40 from the free-throw line in this series, and not much worse (58 percent) from the floor.
INJURY UPDATE Grizzlies F Tony Allen (right leg) is out.
PRESSURE IS ON The Spurs. Add the three-game losing streak that ended the regular season to the mix, and the Spurs are 2-5 in their past seven games. And they weren't exactly resting people at the end, either.
Jazz at Clippers
Series tied 2-2. Game 5, 9:30 p.m. Central, TNT.
NEED TO KNOW Gordon Hayward (food poisoning) should be back for Game 5, Rudy Gobert is good to go again and Utah has made this series a best-of-three. The Clippers had a chance to take command in Game 4, succumbed late and now find themselves in a real fight.
KEEP AN EYE ON Chris Paul. The Clippers' point guard has been brilliant, averaging 26.8 points and 10.8 assists per game in the series. He'll probably need to stay that good if the Clippers are to advance.
INJURY UPDATE Clippers backup G Austin Rivers returns for Game 5. He's been out since March 30 with a strained left hamstring. "At least we have another warm body," Coach Doc Rivers said. ... Clippers F Blake Griffin (right toe) is out for the rest of the playoffs.
PRESSURE IS ON Rivers. He understands the big-picture stakes, and even with Griffin out, another quick playoff exit would likely mean sweeping changes in L.A. this offseason.
Sports on 04/25/2017