A- Kendrick Lamar
DAMN.
Interscope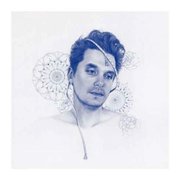 In this brave new world of corrosive alterna-facts and neo-nuclear heebie-jeebies, let us give thanks for Kendrick Lamar, a rapper brave enough to mop up America's most pungent funk and blast it back in verbal laser light.
On his new album, Lamar outlines the ills of the nation -- "It's murder on my street, your street, back streets, Wall Street, corporate offices, banks, employees and bosses with homicidal thoughts." He's spraying red-hot invective, but his voice is a minty cool spritz. As the world grows more disordered, his vision clears.
Who better to trust than a California dreamer who can see beyond the madness of the moment? For all of the introspection and self-doubt that makes Lamar's work feel so exceptional, DAMN. radiates certitude. The album and song titles are one word apiece, rendered in capital letters and stamped with a period. "Watch my soul speak," he instructs during the staccato chest-puffs of "HUMBLE." -- but, this time, with machine-like mettle.
Lyrically, the album establishes an old-school, shuffle-resistant continuity that connects one song to the next. A sample of Geraldo Rivera interrupts the propulsion of "DNA.," during which the talking head scolds Lamar for protesting police brutality: "This is why I say that hip-hop has done more damage to young African-Americans than racism in recent years." On the next track, "YAH.," Lamar calmly bites back, accusing Rivera's network of attacking him to goose ratings. On "ELEMENT.," Lamar rues the fact that "all my grandmas dead, so ain't nobody praying for me," then repeatedly reminds us that "ain't nobody praying" for him on the following track, "FEEL." And so on and so forth, until the album begins to feel like one continuous gush of rhythmic-rhyming thought, connected to the world, but ultimately connected to itself.
He deploys different tones, establishing varying degrees of intimacy, but Lamar's default timbre remains that raspy half-shout. You can hear wisdom and desire. He's hoarse from rebuking the universe, but still eager to tell you more.
Hot tracks: "ELEMENT.," "FEEL.," "PRIDE."
-- CHRIS RICHARDS
The Washington Post
B+ Blambo
Elevator Music
Self-released
If this is elevator music, I'm gonna stop taking the stairs. Little Rock trio Blambo rolls through these 13 instrumentals of jazzy funk, progressive rock and fusion with confidence and sly humor. Think Primus without Les Claypool's quirky voice.
Danny Praseuth's bass is like a rubber band, bouncing and popping all over the tracks, while guitarist Kyle Flory shreds furiously and drummer Randall Fletcher propels the whole thing with just the right amount of energy.
"Luigi," with its rock fusion, busy bass, searing guitar and mellow middle, may be the album's centerpiece. The band works through its starts, stops and time changes deftly. You get the feeling they could do this all day. "Man Hands" starts quietly, then lurches at times toward metal; "Five Guys" sets a driving pace and gives Flory and Fletcher room to stretch, while Praseuth drops in with joyful bass runs.
Alas, Blambo is no more. Praseuth, who recorded and produced the album, says the trio split after he and Fletcher moved away. Elevator Music was the group's second collection, following a self-titled debut that featured vocals. Both can be found at soundcloud.com, Spotify and other streaming services.
Hot tracks: "Luigi," "13th Warrior," "Man Hands"
-- SEAN CLANCY
Arkansas Democrat-Gazette
C John Mayer
The Search for Everything
Columbia
John Mayer's seventh studio album reveals a calmer artist taking a measured approach to accessible funk-laced songs.
This is a confident album that feels less like an artistic exploration and more like a plate of musical comfort food. There are few unexpected turns. Arrangements are solid, if slightly predictable.
"Still Feel Like Your Man" is the track that stands out most -- the easy-to-feel rhythm is accessible and the lovelorn message is a good fit. "Helpless" doesn't reveal the ever-evolving Mayer much. "Rosie" might have worked better slower, with more of a torch underneath it. Instead, Mayer opted for the path of least resistance when he might have pushed himself more.
There are no awful tracks, but the album gets softer and softer with each song. Too much piano here, not enough guitar there and, before we know it, Mayer is taking an emotional breather. The album feels bereft of the songwriter tumult that got him here.
Hot tracks: "Still Feel Like Your Man"
-- RON HARRIS
The Associated Press
Style on 04/25/2017