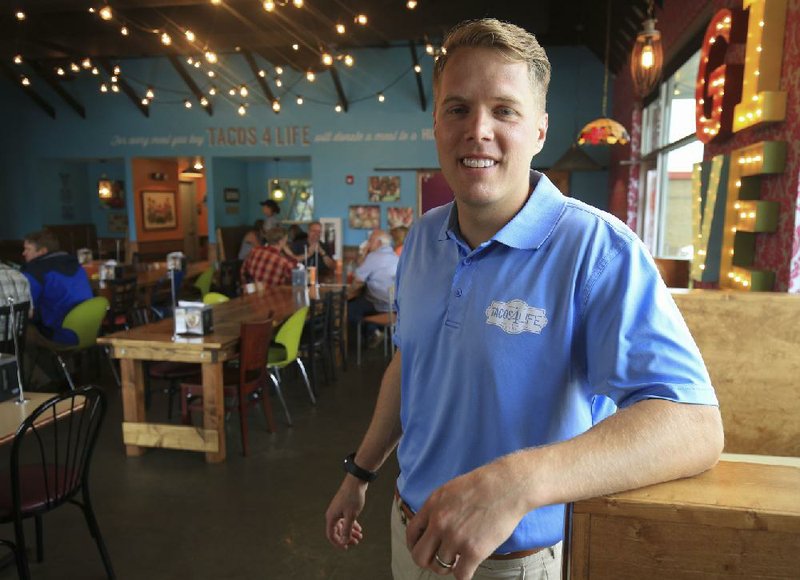 Austin Samuelson, owner of Tacos 4 Life, opened his first restaurant with his wife, Ashton, after the couple heard that 18,000 children worldwide die each day from hunger. ( Staton Breidenthal)
A Conway-based restaurant chain is working to make a profit while it tries to feed the world's hungry -- one taco at a time.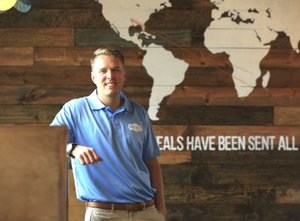 Photo by Staton Breidenthal
Tacos 4 Life co-founder Austin Samuelson has six restaurants in Arkansas and is working to expand throughout the South via franchising agreements.
Since opening its first store in 2014, Conway-based Tacos 4 Life Grill has established a six-store footprint in Arkansas and recently added a chief branding officer to lead the company's expansion throughout the South via franchising agreements.
Tacos 4 Life opened its first restaurant in Conway with the promise that for each meal purchased, the company would donate a meal to a child in need. Tacos 4 Life gives 22 cents to the nonprofit Feed My Starving* Children for every taco, quesadilla, salad or rice bowl purchased. The company said it has donated more than 2.5 million meals so far.
Tacos 4 Life added a second Conway location and stores in Fayetteville, Little Rock and Benton, and r̶e̶c̶e̶n̶t̶l̶y̶ ̶o̶p̶e̶n̶e̶d̶ is set to open* its first franchise store in Searcy in late summer or early fall.
The desire to help the world's hungry came to co-founders Austin and Ashton Samuelson when, while attending church, the pair heard the statistic that 18,000 children worldwide die each day from hunger. They wanted to confront the problem and make a difference, but they were at a loss as to how to begin.
"It rocked our world, but what do you do about it?" Austin Samuelson said.
[EMAIL UPDATES: Get free breaking news alerts, daily newsletters with top headlines delivered to your inbox]
After years of consideration and planning, the pair came up with the notion of marrying a business with the goal of ending child hunger. Their first attempt was a pizza operation, but when a second venture featuring tacos really gained traction, the pair decided they'd found their niche.
"It's not just tacos though," Samuelson said. "Each location if family-friendly with really fresh food."
Tacos 4 Life is considered a fast-casual restaurant. It's a segment that strives to provide an improved dining experience compared with fast-food operations. The stores don't typically have a wait staff, but servers generally hand customers their food at their table. Fast-casual operations also tend to have a more comfortable atmosphere when compared with fast-food operations, usually including music, big-screen TVs and catchy graphics.
The National Restaurant Association projects total revenue for the industry at $798.7 billion for 2017, a 1.7 percent gain over 2016 and up a bit from the 1.5 percent the industry saw in 2015. Sales in the fast-casual and quick-service segment are projected to be $233.7 billion in 2017, a gain of 5.3 percent from sales in 2016.
The limited-service Mexican food sector saw 2016 sales of $22.7 billion at some 24,950 units around the country, according to the 2017 Top 500 Chain Restaurant Report from food service research firm Technomic. Taco Bell makes up 41 percent of those sales. Major growth chains in the segment include Torchy's Tacos, Fuzzy's Taco Shop and Hot Head Burritos. Technomic predicts an increased demand for breakfast tacos and continued demand of vegetarian and vegan offerings.
E. Hachemi Aliouche, director of the Rosenberg International Franchise Center at the University of New Hampshire, said Tacos 4 Life is part of an emerging business segment known as social enterprise. He said that while definitions differ, social enterprises tend to combine a social mission, like fighting poverty, with a market-based solution to the problem.
He noted that Tacos 4 Life is taking a further step, something he calls social franchising, taking a working business model that supports a social mission and increasing its reach and impact through scale.
"I think it's a great concept," Aliouche said of Tacos 4 Life. "There's a lot of interest in social franchise."
He said the challenge of social franchise is it faces two bottom lines, its profits and its social mission.
"You need people in the organization who have both sets of skills," Aliouche said. "But franchisees don't need all the skills themselves as the franchisor gives them the tools to succeed."
He added that the social aspect of Tacos 4 Life helps give it a strong and distinctive branding identity in a crowded restaurant segment. A lot of potential customers, millennials in particular, are drawn to social issues and like to make an impact with their buying choices.
"You're getting a taco, but you're also helping," Aliouche said.
According to the Franchise Business Economic Outlook for 2017, franchise restaurants in the United States are expected to see sales gains in 2017. The report was prepared for the International Franchise Association by IHS Economics, an analysis and forecasting firm.
The outlook for the quick service and table/full-service segments is strong, according to the report. They rank first and second in employment growth across the 10 categories highlighted in the report, with 4 percent and 3.9 percent growth, respectively. Both segments saw sales growth slow from 8 percent to 9 percent in 2015 to just over 6 percent for 2016. The report predicts that sales growth for 2017 will match last year's numbers.
That bodes well for Donnie Robertson, who is responsible for Tacos 4 Life's franchising efforts and stepped on board in December. The restaurant chain is offering franchise opportunities in Texas, Oklahoma, Alabama and Tennessee. The company also plans to add an additional 15 company-owned stores in Arkansas in the next three to four years.
Before joining Tacos 4 Life, Robertson had marketing positions with Addison, Texas-based Nothing Bundt Cakes and Dallas-based CiCi's Pizza. He said he was drawn to Tacos 4 Life because of its strong brand identify, its social mission, along with its tasty food, the look of the restaurants and the founders' commitment to the business.
"This company has a big vision -- to end starvation," Robertson said. "That's why I wanted to join."
SundayMonday Business on 04/30/2017
*CORRECTION: The Tacos 4 Life location in Searcy will open in the late summer or early fall and 22 cents from sales of certain meals sold by Tacos 4 Life restaurants go to the nonprofit Feed My Starving Children. A previous version of this story incorrectly stated the Searcy location was open and did not include the full name of the nonprofit.
Print Headline: Tacos 4 Life expands philanthropic goal
Sponsor Content