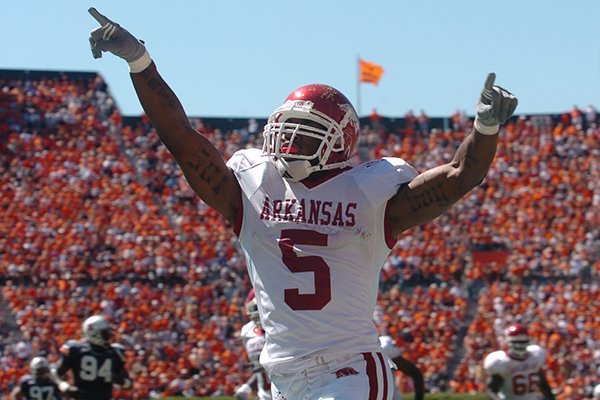 Arkansas running back Darren McFadden celebrates after scoring a 63-yard touchdown during a game against Auburn on Saturday, Oct. 7, 2006, in Auburn, Ala. The Razorbacks beat the No. 2 Tigers 27-10. ( Michael Woods)
FAYETTEVILLE — Two time Heisman Trophy runner-up Darren McFadden headlines the All-Arkansas SEC teams as voted on by a panel of the Arkansas Democrat-Gazette sports staff.
McFadden, a Little Rock native and the SEC's No. 2 alltime rusher with 4,590 yards, was one of 10 unanimous first-team choices by the voters.
Wide receiver Anthony Lucas, tight end Hunter Henry, offensive tackle Shawn Andrews, offensive guard Brandon Burlsworth, safeties Ken Hamlin and Kenoy Kennedy, defensive tackle Melvin Bradley, return specialist Felix Jones and kicker Zach Hocker were the other unanimous firstteam selections.
First-team selections
OFFENSE
WR ANTHONY LUCAS* 1995, 1997-99
Second in career receiving yards (2,879)
TE HUNTER HENRY* 2013-2015
2015 Mackey Award winner
OT SHAWN ANDREWS* 2001-2003
Two-time consensus All-American
OT TONY UGOH 2003-2006
First-team All-SEC in 2006
OG BRANDON BURLSWORTH* 1995-1998
Two-time first-team All-SEC; All-American
OG SEBASTIAN TRETOLA 2014-2015
All-SEC, Jacobs Blocking Trophy winner
C JONATHAN LUIGS 2005-2008
All-American, 2017 Rimington Trophy winner
WR JARIUS WRIGHT 2008-2011
Career receiving yards leader (2,934)
QB MATT JONES 2001-2004
Career leader in total yards (8,392), TDs (77)
FB PEYTON HILLIS 2004-2007
2,624 all-purpose yards, 23 touchdowns
RB DARREN McFADDEN* 2005-2007
Leader in rushing yards for game, season, career
RB ALEX COLLINS 2013-2015
Second in career rushing yards (3,703)
PK ZACH HOCKER* 2010-2013
Career leader FG percentage (77.2)
COACH HOUSTON NUTT 1998-2007
75-48; 2 outright SEC West titles; 8 bowls
DEFENSE
DE JAMAAL ANDERSON 2004-2006
Third in sacks in a season (13.5)
DE TREY FLOWERS 2011-2014
Second in career tackles for loss (47.5)
DT MELVIN BRADLEY* 1996-1998
29 career tackles for loss, 15 career sacks
DT DARIUS PHILON 2013-2014
All-SEC selection in 2013
LB JERMAINE PETTY 1999-2001
140 tackles in a season; 20 in a game
LB MARK SMITH 1993-1996
305 career tackles
LB QUINTON CAVER 1997-2000
22 tackles in a game; 30 career tackles for loss
CB CHRIS HOUSTON 2004-2006
First-team All-SEC selection in 2006
CB ORLANDO WATTERS 1991-1993
12 career interceptions, two-time All-SEC
S KEN HAMLIN* 2000-2002
All-American, 381 career tackles
S KENOY KENNEDY* 1996-1999
First-team All-SEC selection in 1999
P PETE RAETHER 1990-1992
42.9 yard career average
AP FELIX JONES* 2005-2007
5,099 career all-purpose yards *Unanimous selection Years indicate those as lettermen
Other selections
SECOND TEAM
OFFENSE
WR Cobi Hamilton
TE D.J. Williams
OT Bobbie Williams
OT DeMarcus Love
OG Mitch Petrus
OG Robert Felton
C Travis Swanson
WR Marcus Monk
QB Ryan Mallett
FB Kiero Small
RB Madre Hill
RB Felix Jones
PK Todd Wright
DEFENSE
DE Steven Conley
DE Jake Bequette#
DE Henry Ford#
DT Marcus Harrison
DT Keith Jackson Jr.
LB Jerry Franklin
LB Sam Olajubutu
LB Caleb Miller
CB David Barrett
CB Ahmad Carroll
S Zac Painter
S Tony Bua
P Richie Butler
AP Joe Adams
THIRD TEAM
OFFENSE
WR Joe Adams
TE Jason Peters
OT Zach Tubbs
OT Nate Garner
OG Alvin Bailey
OG Denver Kirkland
C Frank Ragnow
WR Greg Childs#
WR Drew Morgan#
QB Clint Stoerner
FB Marvin Caston
RB Fred Talley
RB Cedric Cobbs
PK Todd Latourette
DEFENSE
DE Carlos Hall
DE Jeb Huckabee
DT Junior Soli
DT Geno Bell#
DT Ryan Hale#
DT Malcolm Sheppard#
LB Martrell Spaight
LB Brooks Ellis
LB Darwin Ireland
CB Ryan Pulley
CB Lawrence Richarson
S Tramain Thomas
S Michael Grant
P Dylan Breeding
AP Orlando Watters#
AP DeCori Birmingham# #Tied in voting
The Democrat-Gazette went three-deep with its All-Arkansas SEC selections, concluding a summerlong series on the 25 most memorable games during Arkansas' 25 years in the SEC.
[COUNTDOWN: List of Hogs' most memorable games since joining the SEC]
McFadden, a two-time winner of the Doak Walker Award as the nation's top running back, the 2007 Walter Camp Player of the Year and two-time All-American, is not only the most celebrated Arkansas Razorbacks football player ever, but he is one of the most impactful the college game has seen since Arkansas joined the SEC.
McFadden was a key figure in five of the games in the top 25, including game No. 4, a 50-48 triple-overtime victory at No. 1 LSU in 2007 in which he rushed for 206 yards and three touchdowns and threw a touchdown pass, and game No. 20 when he rushed for a school-record 321 yards, tying the SEC record, in a 48-36 victory over South Carolina in 2007.
ARKANSAS' BEST FROM THE SEC ERA
The head coach is Houston Nutt, who like McFadden, was raised in Little Rock.
Nutt compiled a 75-48 record in 10 seasons on The Hill, led Arkansas to 2 SEC championship games, 1 outright SEC West title in 2006 and 2 co-SEC West crowns in 1998 and 2002. He won a tight vote over Bobby Petrino, who had a better overall record (34-17) in four seasons and led the Razorbacks to their only Bowl Championship Series berth after the 2010 season and a late-season No. 3 ranking in 2011.
One of the cherished moments of the past 25 years for Arkansas fans involved both McFadden and Nutt, who were being interviewed by Tracy Wolfson of CBS in the aftermath of Arkansas' 50-48 victory over No. 1 LSU in three overtimes.
McFadden, carrying a mini baseball bat signifying that Arkansas brought the wood to Baton Rouge, stood behind Nutt, in what turned out to be his last game as Arkansas' coach, and Nutt appealed to Heisman voters not to forget about the Arkansas running back.
"It's guys like Darren McFadden," Nutt said, as he embraced with McFadden. "You all better put him in the Heisman. I'm tired of him being No. 3 or No. 4. Somebody better look at this guy. He's the best football player in the country and his name's not being mentioned. Lou Holtz, Mark May, No. 5, you better look at him a little closer. He's a football player."
First-team quarterback Matt Jones led the Razorbacks to victories in seven-overtime games at Ole Miss (No. 3 in the countdown) in 2001, and at Kentucky (No. 8) in 2003. Those games are tied for the longest in NCAA history.
McFadden is joined in the backfield by Alex Collins, who rushed for 3,703 yards in three seasons and belongs in a threemember club with McFadden and Georgia's Herschel Walker as the only SEC players to rush for 1,000 yards in each of his first three seasons as a collegian.
The first-team fullback is Peyton Hillis, who combined with McFadden and Felix Jones to form one of college football's most formidable backfields in the mid-2000s.
Lucas and Jarius Wright are the top receivers: Lucas ranks second in receiving yards at Arkansas with 2,879; Wright holds the school record with 2,934 career receiving yards.
Henry, a unanimous All-America pick in 2015, won the Mackey Award as the nation's top tight end that season and played a key role along with Collins in game No. 5 on the Democrat-Gazette's countdown, a 53-52 overtime victory at Ole Miss in 2015 that is known for the Henry Heave, when Henry caught a fourth-down pass short of first-down distance in overtime, threw a desperation lateral that landed in the hands of Collins and turned into a first down.
Andrews and Tony Ugoh are the first-team offensive tackles, with Burlsworth and Sebastian Tretola holding down the guard spots.
Center Jonathan Luigs, the Rimington Trophy winner in 2007, who was a narrow choice over Travis Swanson. Andrews, a first-team All-American in 2002 and 2003, is one of four Razorback linemen to achieve that status during the program's 25 years in the SEC. The others are Burlsworth in 1998, Luigs in 2007 and Swanson in 2013.
Hocker is Arkansas' all-time leading scorer with 354 points and the school record-holder with a.772 career field-goal percentage (61 of 79).
Hamlin, an All-SEC choice in 2001 and 2002, and Kennedy, who made the 1999 All-SEC team, were unanimous selections on defense along with Bradley. They are joined in the secondary by cornerbacks Chris Houston (All-SEC 2006) and Orlando Watters (All-SEC 1993).
Voting at linebacker was particularly tight, with Jermaine Petty (All-American 2001) and Mark Smith (All-SEC 1995) tying for first-team honors, followed closely by Quinton Caver (All-SEC 2000) and Jerry Franklin (second team All-SEC 2011).
Franklin's 382 tackles rank second at Arkansas behind second-team safety selection Tony Bua (408).
Jamaal Anderson (All-SEC 2006) and Trey Flowers (second team All-SEC 2013-14) edged out Steven Conley (All-SEC 1995), Henry Ford (All-SEC 1992) and Jake Bequette (All-SEC 2011) at defensive end.
Bradley (All-SEC 1998) was a runaway choice for first-team defensive tackle along with Darius Philon (second team All-SEC 2014).
The team's punter is Pete Raether, an All-SEC choice in 1992, the Razorbacks' first season in the SEC, when he averaged 43.2 yards per punt.
Felix Jones, who returned four kickoffs for touchdowns, holds the Arkansas record with a 28.2-yard average on kickoff returns, and he's second with 1,749 career kickoff return yards. The two-time All-America return specialist headlined a stellar list of all-purpose choices that included Dennis Johnson, Joe Adams and DeCori Birmingham.
Johnson is the SEC's all-time leader in kickoff return yards with 2,784. Adams, who returned five punts for touchdowns, won the first Johnny "The Rocket" Rodgers Award and was a consensus All-America return specialist in 2011 when he returned four punts for touchdowns.
Birmingham holds the Arkansas record for return yardage in a game with 219 against Alabama in 2002. He ranks second behind Johnson with 1,867 career return yards.
The Democrat-Gazette's 25 most memorable Razorbacks games in the SEC era wrapped up last Sunday with the No. 1 game, Arkansas' 28-24 loss at No. 1 Tennessee in 1998.
That game, nicknamed "The Stoerner Stumble" for a key turnover at the end, received seven first-place votes from our panel. The second-place game, a 21-20 victory over LSU in 2002, dubbed the "Miracle on Markham," earned three first-place votes.
Four other games received at least one first-place vote.
The Razorbacks' 50-48 victory in triple overtime at No. 1 LSU, the final game coached by Nutt, earned two votes at No. 1. Three games polled one first-place vote: The Razorbacks' 58-56 victory at Ole Miss in seven overtimes in 2001; The Citadel's 10-3 upset of Arkansas in the 1992 season opener in the Hogs' first game as an SEC member; and the Razorbacks' 31-23 victory over No. 6 LSU on the day after Thanksgiving 2010, which catapulted Arkansas to the Sugar Bowl in its only appearance in the Bowl Championship Series.
The top 25 games included 17 Arkansas victories and 8 losses, including a 31-26 setback to Ohio State in the 2011 Sugar Bowl. Ohio State ended up vacating the victory because of its use of ineligible players.
Among 25 most memorable games, four came against LSU, and all were victories.
Three games on the list came against Tennessee, including the Volunteers' 28-24 victory in 1998 and Arkansas' 28-24 victory in 1999. Arkansas' upset of No. 5 Tennessee in 1992 was also on the list.
A fourth Tennessee game, a 41-38 loss in six overtimes in 2002, finished at No. 26. There were also three games against Florida, all losses, two in SEC championship games, in the countdown.
Two victories over Ole Miss, including the 53-52 overtime triumph in 2015, made the top five games.
Victories over Texas (1999 Cotton Bowl, 2003 season) and Alabama (1995, 1998) accounted for four of the most memorable 25 games.
Five overtime games that combined for 19 overtime periods were part of the countdown, with four of those games finishing in the top eight. The lone overtime loss in the countdown, a 34-31 setback against Louisiana-Monroe in 2012, placed No. 19.
Five more overtime games were among the next 20 games outside the top 25, including the Razorbacks' 41-38 victory in two extra periods at No. 15 TCU last season, and a 54-46 triumph in four overtimes against Auburn in 2015.
Arkansas will take a 12-6 record in overtime games, including three victories in a row, into the 2017 season.
Games against each of the Razorbacks' current SEC West rivals made the countdown with one exception: Mississippi State.
The closest to the countdown of any game against the Bulldogs — a 51-50 loss on a blocked field goal in the final 30 seconds in 2015, polled at No. 27.
HONORABLE MENTION
Offense
Quarterback: Tyler Wilson, Barry Lunney Jr., Brandon Allen; Running back: Knile Davis, Jonathan Williams, Chrys Chukwuma, Michael Smith, Dennis Johnson, Rawleigh Williams III; Fullback: Mark Pierce, Brandon Kennedy; Wide receiver: George Wilson, Anthony Eubanks, Keon Hatcher; Tight end: Kirk Botkin, Joe Dean Davenport, Chris Gragg, Jeremy Sprinkle; Offensive linemen: Chad Abernathy, Grant Cook, Isaac Davis, Grant Garrett, Veri Mitchell, Stephen Parker, Kyle Roper, Kenny Sandlin, Dan Skipper; Kicker: Alex Tejada.
Defense
End: C.J. McClain, Chris Smith; Tackle: Curt Davis, D.D. Jones, Robert Thomas; Linebacker: Dre Greenlaw; Cornerback: Tracy Cantlope; Safety: Matt Hewitt, Rohan Gaines; Punter: Toby Baker, Jeremy Davis, Sam Irwin-Hill; All-Purpose: Dennis Johnson, Cedric Washington, Marvin Jackson, Korliss Marshall, Dan Skipper.
Print Headline: It starts with McFadden
Sponsor Content