Growing up in Wrightsville, John Cain heard jazz playing over the crackling radio airwaves at night, rolling over the shadowed roads and moonlit fields, and into his house.
This was around 1950, and jazz, the music created in New Orleans just decades earlier, was still exotic, especially to a 13-year-old living on former plantation land south of Little Rock. Cain listened to the music, and the more he listened the more he learned, and the more he learned the more he liked the music.
Jazz was not boring music. It was smart and meant to be savored. Cain, even though barely a teen, knew this was important music. He wanted more of jazz and music like it.
One of the first artists Cain loved was Sister Rosetta Tharpe, a Cotton Plant native nationally famous during the '40s who is known as "the original soul sister" and "the godmother of rock 'n' roll." For Cain, now 80 and the longtime program manager at Little Rock radio station KABF-FM, 88.3, Tharpe was a revelation.
On the radio, at the time, Tharpe could be gospel. But then Cain found out that Tharpe was more jazz, more R&B, more rock 'n' roll -- even before Elvis Presley -- in the clubs. This is what attracted Cain to jazz. Not what it was, but what it could be, a music genre full of marvels.
Rhythmic, weird, interesting -- this is how Cain describes jazz, music that swirls multicolored sounds like an oil sheen on a clear water puddle.
"The person who really first impressed me, I guess because of my age, when I was 13 or 14, was Charlie Parker," Cain says. "Man! His jazz was different than anything like New Orleans jazz. Any other thing I'd ever heard, man."
By the time Cain was 15 and 16, he was going to clubs on Little Rock's Ninth Street, then the heart of the black community in central Arkansas. He didn't drink. He wasn't there to get drunk and partake in that tomfoolery. He was there for the music. Artists and bands, jazz musicians who breathed life into the instruments and sweated their souls out, playing music that jumped and jived and wailed. He never played himself -- he was once in an a cappella choir around the age of 13 -- but he loved the men and women who did. Those who performed in joints such as the El Dorado Club.
This is something cool, Cain thinks to himself, and he seeks out more of the music.
So begins any lifelong passion. It starts in childhood or adolescence. Gets nurtured. The fascination grows, evolves, educates and entertains. Such it was with Cain and his love for jazz.
Cain still plays the music that excites him. It's jazz mostly, but Cain is a self-described musicologist. Jazz, for sure, but also blues, gospel, rock, R&B, world music, Afro-Caribbean and the like.
Somewhere along the musical journey, Cain branched into the world of historical preservation. Preservation and jazz -- these are the two guiding principles of Cain's life.
'VOICE OF THE PEOPLE'
Cain's straw fedora is Orvis. Classy but not outlandish, certainly not country. The buttoned-up shirt is long-sleeved, a blue and white gingham. Fashionable, even on this torturously hot day.
It's one of those days when the Little Rock summer looks to smother its victims, wrapping them in a damp blanket broiled in an oven.
Cain seems to pay it no mind. It's summer, it's humid, it's the South -- of course it's stifling.
No, on this morning, Cain is behind the Audioarts Air-4 radio console at KABF, all 100,000 watts of it offering "the voice of the people," at the station's headquarters on Main Street just south of Little Rock's downtown.
In the background the window air-conditioning unit in the gray-walled studio purrs, trying its best to tame the air soaked with humidity. The foreground is filled with "Hilo Hattie Does the Hilo Hop," a Hawaiian song that doesn't sound like jazz -- or what most people think jazz sounds like -- but Cain will tell you that it most assuredly is.
He leans over the console with output levels going from green and orange to red, fades the music out and speaks into a green foam-topped microphone. The voice is warm and reassuring while remaining forceful and knowledgeable, like a grandfather's voice.
Monday through Friday, from 10 a.m. to noon, this is Cain's job at KABF: jazz (his interpretation of the genre) and community involvement. He pilots another jazz show from 9:30 a.m. to noon on Sundays, along with his three-hour show -- 9 p.m. to midnight -- on KUAR-FM, 89.1.
"John has been the glue that has held the pieces together for KABF for decades," KABF station manager Wade Rathke says. "He's indispensable, irreplaceable and a model for why noncommercial radio and our volunteers are critical to keep us on the air and serving central Arkansas."
KABF first came on the air Aug. 31, 1984. Cain, then a volunteer, was there, along with his two decades of radio experience.
Just short of graduation from J.C. Cook High School in Wrightsville in 1955, Cain, the oldest of seven children, joined the Navy. (He later got his GED while in the service.)
His father had been a Seabee in the Navy during World War II, serving in the the Pacific Theater, with, as Cain says, "a tool in one hand and a gun in the other." And Cain had read books about the ocean as a child and teen, so he joined the Navy, ocean unseen.
He was assigned to an oil tanker, the USS Ashtabula, and stationed in Sasebo, at a U.S. Navy base on the island of Kyushu in southern Japan. Home base was Long Beach, Calif., but every six months the tanker was in the western Pacific.
Cain served four years and thought about moving to San Francisco when he was discharged, since it was on the ocean and is "one of the most picturesque cities in the U.S. There's nothing like the Golden Gate Bridge and that big ol' ocean out there."
Instead, he moved back home, working a series of jobs -- in warehouses, at Kroger, at J.C. Penney and elsewhere -- before taking a correspondence course in radio and getting a job in 1965 at Little Rock R&B station KALO-AM, 1250. He worked midnight to 6 a.m. weekdays, a time period where Cain's musical interests could run free, playing everything from mainstream jazz to off-Broadway theater to even rock 'n' roll.
"I came in to do more than just the Top 40 format because that's basically all you heard," Cain says. "It was probably the most progressive station in the city at the time. I was doing overnight stuff that was totally different. Do whatever you want to, man. It was a mix.
"I had this mission. I was becoming more civic-minded. I just wanted to change the image of African-Americans. It wasn't a full-life profile of African-Americans."
In the mid-1970s, Cain left Little Rock for Birmingham, Ala., where he became a disc jockey with WENN-FM, a radio station owned by Birmingham businessman and civil rights leader A.G. Gaston. Sometimes, he drove to Atlanta for a Sunday jazz program on a radio station there. He also helped call Grambling State University football games in the broadcast booth from 1975 to 1979.
By 1984, Cain was entrenched in Birmingham, even getting involved in different preservation efforts there, but home -- Little Rock -- was calling. He moved to Little Rock about six weeks before KABF went on the air in 1984.
THERE GOES
THE NEIGHBORHOOD
The listener-supported, 501(c)3 nonprofit, noncommercial community radio station had grown out of the Association of Community Organizations for Reform Now, a former community based organization that advocated for low- and moderate-income families.
Cain knew some of the people who worked for ACORN, and they asked if he could help at KABF. He volunteered at the station until 1989, when he was hired as program manager.
Between his start in the industry and KABF, radio had changed, becoming regimented and segmented, but Cain liked how KABF allowed him to pursue his different musical interests.
"We didn't call it commercial radio back then; it was just radio," he says. "When I grew up, people told stories on the radio. You could listen for hours. To me, it was a learning process. It was educational, not as commercial as it is now, of course. There was culture to it.
"I came to radio with a different focus. ... I wanted to hear substantial things. Things that gave me real feedback." KABF now has about 70 volunteers, helping with programming from country and punk rock to just about any sound.
How Cain became a preservationist through radio is still amazing to him. "I just wanted to save these things," he says.
Perhaps his preservationism is born from his love of saving the sounds he knew as a child, but also, by the '80s, Interstate 630 had sliced through Little Rock, with the last section of the interstate through downtown opening Sept. 30, 1985.
Cain calls I-630 "a big ditch" a few times when mentioning it. "When I got back here in 1984, most of Ninth Street was gone," he says. "Torn down. I got situated and then started to campaign. I didn't talk about it much. I just tried to do it."
His focus turned to the abandoned 1913 Mosaic Templars of America National Grand Temple, at West Ninth Street and Broadway in downtown Little Rock. The former headquarters of the Mosaic Templars of America, a black fraternal organization founded in Little Rock in 1883, the building had been empty for years.
In 1992, the Mosaic Templars Building Preservation Society was formed, and a year later the city of Little Rock bought the building.
Local educator Linda Kamara first met Cain around 1998, when she joined the preservation society she still serves today.
"John was the motivator, the pusher, the galvanizer who never gave up but kept pushing, pushing, pushing," she says. "He's been a warrior in the trenches for years. He took it on as a leader and deserves a lot of credit."
In January 2005, a groundbreaking ceremony was held for the Mosaic Templars Cultural Center, and rehabilitation began soon afterward.
Then on March 16, 2005, a catastrophic fire destroyed the building. But with the help of a $1 million insurance policy, a 2005 bill which appropriated $200,000 for the reconstruction, government assistance and community efforts, construction began on a new building in late 2005. The Mosaic Templars Cultural Center, a Department of Arkansas Heritage museum dedicated to Arkansas' black history and culture, was opened in September 2008.
"We never stopped working," Cain says. "That fire just turned that thing into what it is today. People came with money and resources and said, 'Let's rebuild it. Let's build a new building.' The restoration became a new building project."
Former state legislator Tracy Steele, who sponsored that 2005 bill, has known Cain for 25 years.
"He is one of those unsung heroes in our community," says Steele, director of Arkansas Health Services Permit Agency and a North Little Rock School Board member. "We wouldn't be where we are today as an African-American community if not for the work of John Cain.
"He was a relentless and passionate advocate for the preservation of the building but also Ninth Street. If we had any doubt, he was the one ... who kept pushing."
A QUIET LIFE
Even at his age, Cain is still pushing.
In December 2015, he established the John Cain Foundation, a nonprofit organization dedicated to providing beneficial community based services and business initiatives.
Cain has been widowed twice. Five of his siblings are still alive (a younger brother died in 1947), and he has two sons: Julian, 53, a captain in the Las Vegas Fire Department, and Cory, 52, a southwest Little Rock resident who runs his own landscape business.
Cain lives south of I-630, that "big ditch." "To me it looks like an empty hole," he adds.
He spends his free time reading on his "nice little deck," bird-watching ("They are some of the smartest, keenest animals on the planet.") and working in his container garden filled with tomatoes, eggplant, potatoes and more.
He sits there, takes notes (maybe he'll write a book, he thinks), listens to jazz and other genres that might fit into his radio programs.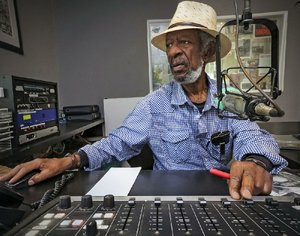 Photo by John Sykes Jr.
"He is one of those unsung heroes in our community. We wouldn't be where we are today as an African-American community if not for the work of John Cain." — Tracy Steele
SELF PORTRAIT
John Cain
• DATE AND PLACE OF BIRTH: Feb. 1, 1937, Wrightsville
• THE WORST JOB I'VE EVER HAD WAS working at the Federal Reserve Bank in Little Rock. To count so much money and there's nothing you can do with it. You don't own it. I felt like I was working in a prison because of the protocol in handling the money.
• MY CHILDHOOD HERO WAS Jackie Robinson. I thought I wanted to be a baseball player because I saw him break that color line.
• THE ARTIST -- LIVING OR DEAD -- I WOULD MOST LIKE TO SEE PERFORM IS John Coltrane. I guess because when I really grew up and discovered [jazz], I seemed closer to him than [Charlie Parker].
• MY FAVORITE CHARACTER TRAIT IN OTHER PEOPLE IS honesty. If a person is real honest, you get a straightforward answer.
• SOMETHING I ALWAYS HAVE ON ME IS a knife. A jackknife; a pocketknife. I probably have 15 of them.
• THE ONE THING I WILL NOT EAT IS octopus. I love sushi, but there's something about octopus. They're squirmy. I've never had a fear of food, though.
• ONE WORD TO DESCRIBE ME: persistent
"I'm amazed that I'm here. Looking back on that, wow. I never thought about being 80, but here I am, man."
High Profile on 08/06/2017