The newest dicamba herbicides on the market -- approved by federal regulators less than a year ago -- are volatile, but less volatile than the older formulations that have always been illegal for in-crop use, according to recent tests by scientists with the University of Arkansas Agriculture Division.
A farmer can abide by all the regulations and spray the herbicide correctly and still have the herbicide move off target during certain weather conditions at least 36 hours after application, the UA scientists told about 150 farmers, industry representatives and others Tuesday at the annual "field day" at the UA's Northeast Research and Extension Center in Keiser, about 50 miles east of Jonesboro.
"Lower volatility doesn't mean no volatility," Tom Barber, a UA weed scientist, said, referring to certain climate conditions when the herbicide, many hours after application, can lift off targeted plants as either a vapor or liquid and move miles away to susceptible crops and other vegetation.
The state Plant Board, a division of the Arkansas Department of Agriculture, has received nearly 900 complaints of damage to hundreds of thousands of acres of soybeans, peanuts, produce and ornamental shrubs and bushes.
The flood of complaints began in early June, prompting the state on July 11 to implement a 120-day emergency ban on the sale and use of all dicamba products.
In field tests this summer, UA weed scientists studied the three newest dicamba herbicides on the market -- Monsanto's Xtendimax with VaporGrip, BASF's Engenia, and DuPont's FeXapan, all touted by their manufacturers to be less volatile and less subject to drift. The scientists also studied older formulations such as Clarity and Banvel.
Arkansas regulators received about three dozen complaints of dicamba damage a year ago, when there was no dicamba herbicide on the market that was legal for in-crop use. Monsanto introduced the new seeds before the federal Environmental Protection Agency approved any of the three herbicides now touted by Monsanto, BASF and DuPont, and farmers used the older, illegal formulations.
Barber told visitors at the UA's field day that the problem is bigger this year simply because "we have more crops that are dicamba tolerant, and so we have a lot more use" of the dicamba herbicides.
The Keiser experiment farm was among the early casualties. Farm managers there in early July had to plow up about 100 acres of soybeans that had been the site of an earlier test plot for the Xtendimax product.
Around the nation
The UA scientists have been joined by colleagues from universities across the South and Midwest to say that problems are in the products themselves, not just in how they are sprayed, taking issue with comments by representatives of the herbicide-makers putting most of the blame on errors by applicators or by farmers using illegal dicamba products.
At least 17 states have reported damage affecting several million acres. Yield loss in soybeans won't be known until harvest.
Monsanto has said its dicamba-tolerant soybeans are on 1.5 million of Arkansas' 3 million acres of soybeans this year. About 300,000 of Arkansas' 500,000 cotton acres are planted in Monsanto's dicamba-tolerant cotton seed. The remaining acres, especially soybeans, are highly susceptible to dicamba.
Historically, Barber said, dicamba has been used on corn and during "burn down" of a field, just prior to planting.
"When you're spraying dicamba for corn or burn down, it's earlier in the season and it's cooler," Barber said. In the summer, as heat and humidity rise, the volatility of dicamba also rises, he said.
Missouri banned the sale and use of dicamba the same day as Arkansas, but only for a week, before setting new regulations on how to use the chemical, such as limiting spraying from 9 a.m. to 3 p.m. Despite the new rules, complaints in Missouri continue to be filed, amounting now to at least 240.
The EPA a year ago gave the new dicamba herbicides a federal label for two years, compared with the usual five, and said recently it is studying the herbicide again because of complaints. While the EPA issues federal registration, states can set other restrictions, including a ban.
Of the three new dicamba herbicides, the Plant Board allowed only BASF's Engenia in the Arkansas market. UA scientists had deemed it, based on results from test plots, to be less volatile and a potential tool for farmers in their fight against pigweed and other weeds now resistant to other herbicides.
Arkansas regulators refused to allow the use of Monsanto's Xtendimax formula in the state because the company permitted UA scientists to study the chemical only for its effectiveness against weeds, not for its volatility. The EPA's approval of DuPont's FeXapan came at the start of this year's growing season in Arkansas -- too late for the Plant Board to act on that label.
Test procedures
For its examinations of the herbicides, the UA scientists set up weather stations across test fields to measure soil and air temperatures, wind direction and wind speed, and experimented with various nozzles to limit the size of droplets and the height of boom sprayers. Smaller droplets and low boom heights are ways to limit off-target movement.
"At the end of the day, it goes back to the dicamba herbicide itself and to soybeans' extreme sensitivity to dicamba, the widespread use of dicamba, and the diversity of other crops that are sensitive to dicamba," Barber told visitors who trudged through Mississippi County gumbo clay to his station in the middle of a soybean field.
A farmer can abide by all the regulations, Barber said, "but I can tell you, none of that matters if [the herbicide] is volatile. What if I do the best spraying job possible and it still walks off the field?"
A field test by Jason Norsworthy, another UA weed scientist, said amount of damage to crop is reflected in the volume of dicamba sprayed. In one test plot, Norsworthy took soybean plants directly from a greenhouse to a field where dicamba had been sprayed 30 minutes earlier, 24 hours earlier, and 36 hours earlier.
Plants showed damage in all three time frames, Norsworthy said.
Another experiment involved covering plants with 5-gallon buckets and then spraying the field.
"Should I get drift or any damage on a plant sitting under a bucket?" Norsworthy asked a group at his station. "I shouldn't."
Plants uncovered 30 minutes later had symptoms of exposure to dicamba, as did plants that were uncovered as long as 36 hours after spraying, showing that the herbicide was volatilizing from the soil, Norsworthy said.
Other tests showed damage to fields more than 220 feet away -- twice the EPA buffer -- even when applications of Xtendimax and Engenia were done correctly, Norsworthy said. "Whether it was Engenia or Xtendimax, there is considerable damage an hour after application, even more than 20 hours after application," he said.
"The more you spray, the more you load the atmosphere, and the more it moves," Norsworthy said of the differences between running small test plots for a product and spraying a product over millions of acres.
The UA scientists said dicamba damage will result in more than just yield loss at harvest. Damage also will show up in seed production, limiting availability next planting season of soybeans that are not dicamba tolerant.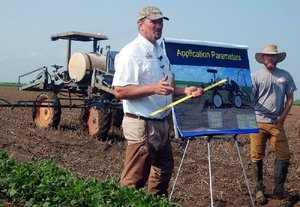 Photo by Stephen Steed
In this file photo Jason Norsworthy, a University of Arkansas professor and weed scientist, talks to field day visitors in Keiser about the tendency of the herbicide dicamba to drift from fields.
Business on 08/12/2017