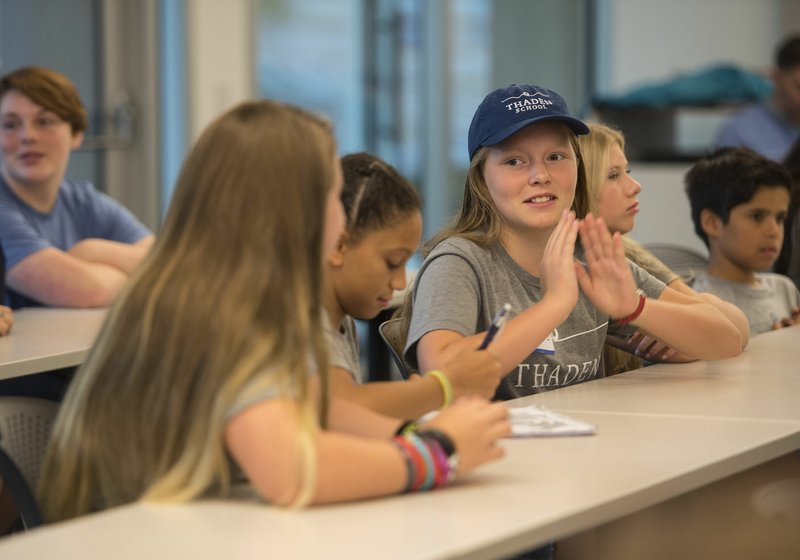 Thaden School seventh-grader Maeve Hints (from right) talks with other seventh-graders, Alora Asuquo and Elizabeth Whalen during an orientation Friday in a room at Crystal Bridges Museum of American Art. The Thaden School, a new independent school opening Monday, is using Crystal Bridges for the first five weeks of the school year as temporary buildings are being set up on its regular campus in downtown Bentonville. The school will open with 45 students in grades seven and nine. ( Spencer Tirey)
BENTONVILLE -- Crystal Bridges Museum of American Art regularly entertains visits from students on field trips, but a new private school will occupy the museum full-time for its first month of operation.
The Thaden School, which opens Monday with 45 students in grades seven and nine, will hold classes at the museum while work on its temporary campus downtown is finished.
Tuition
The Thaden School offers an indexed tuition rate ranging from $500 to $24,800 per year depending on each family's resources. It's designed to make the school affordable to families from a variety of economic backgrounds.
Source: Staff report
Clayton Marsh, founding head of school, welcomed students during an orientation meeting Friday in Function Room B at Crystal Bridges.
"I'm a little bit nervous. I'm a lot nervous," Marsh admitted to students about the school's opening. "But I'm even more excited."
A rainy spring delayed the school's plan to open in a temporary arrangement of portable buildings on Southeast C Street, so the school had to explore alternatives, Marsh said.
"We began to look at a number of options, one of which was beginning here at Crystal Bridges. The planets aligned perfectly, and we're incredibly fortunate to be able to start our school here for the first five weeks," he said.
Two meeting rooms on the museum's bottom floor -- one of which can be divided in two -- will serve as the school's primary classroom space. The school will use other areas within the facility, including outdoor space, an art studio and the museum's library, Marsh said.
"We'll try to do certain activities more in the morning when it's quiet," he said. "We'll be here well before the museum opens. We'll be here Tuesdays when it's closed entirely. Those will present especially exciting opportunities to bring students in to have instruction with the collection of paintings."
As for what kind of rent, if any, the school is paying to the museum, Marsh said, "We're still working out our arrangements." A museum spokeswoman did not return a phone message seeking comment Friday.
The Walton Family Foundation announced plans in July 2015 to open a private school for middle and high school students. Crystal Bridges is also a project of the Walton family and the foundation.
Officials announced in August 2016 the school's name and their intention to build on the former site of the Benton County Fairgrounds, at the corner of South Main Street and Southeast Eighth Street.
Construction of the school's permanent facilities is not expected to be done for another two years. In the meantime, the Thaden School will operate in a combination of temporary and permanent structures on its campus. Students and staff will transition to the campus on Sept. 18, Marsh said.
Thaden is opening with 27 seventh-graders and 18 ninth-graders. Officials plan to grow the school over the next four years to serve students in grades six through 12.
At Friday's orientation, students got time to socialize. They received instruction on the school's online portal where students and parents can access assignments, calendars and handbooks. Each student also received a new laptop, which will be theirs to use throughout the school year.
Marcus Chang, director of campus life, talked to the students about attending school at the museum, emphasizing they need to behave in a "calm, respectful and thoughtful" way.
"We are guests here," Chang told students. "Crystal Bridges is being super generous by allowing us to use these classrooms."
He urged the students to be friendly to the museum's visitors when they have a chance to engage with them.
Chang, entering his 27th year in independent school education, moved to Northwest Arkansas for a chance to be part of a new school. He formerly worked at The Bishop's School, a private school near San Diego.
Eighty percent of the school's students live in Benton County; the rest are from Washington County. They come from a variety of educational backgrounds, including public, private and home school, Thaden officials said.
Gunnar Schmidt, 14, of Fayetteville has been home-schooled his entire life. He said he's a little nervous about starting at Thaden but added he was getting along with fellow students.
Gunnar acknowledged there's something special about being part of the school's first year.
"What we do now has a lasting effect on the school. So obviously we want to kind of leave a positive mark, but we want to make it unique, too," he said.
Natali Quinones, a seventh-grader at Thaden, previously was enrolled in the Bentonville School District. Natali, 12, said it's "really cool" to be spending the first month of school at Crystal Bridges.
"And maybe when you're done with school you can go look at the art with your parents or your friends. It's a great opportunity for all," she said.
Kendra McMaster, another seventh-grader also coming from the Bentonville School District, said she looks forward to working in smaller groups than the ones to which she's accustomed in public schools. She's also excited about being at the museum.
"I love Crystal Bridges and just seeing the beautiful artwork, just on my own time with friends, and hearing their ideas of the artwork," said Kendra, 12. "It's fun and educational."
NW News on 08/12/2017
Print Headline: Thaden School to occupy Crystal Bridges for first month
Sponsor Content