Water, water everywhere.
What else would you expect as you travel along an island chain that stretches for 125 miles?
IF YOU GO
The best time to visit the Florida keys is late fall through late spring when the air is cooler and drier. There is plenty to do in summer; there no longer seems to be an off-season.
Fresh tropical breezes and a vigorous anti-mosquito program kept most of the bugs at bay. The Florida Department of Health website updates daily and when I visited in mid-July, they had not had a case of Zika in Monroe County, which includes the southern edge of mainland Florida and the Keys.
Among the interesting places to stay are Historic Key West Inns. These are boutique hotels created from local houses. They are cozy, with just a few dozen rooms, modernized and located in Key West's Old Town near restaurants and Duval Street.
The Florida Keys: fla-keys.com
Historic Key West Inns: historickeywestinns.com
The Stoned Crab: stonedcrabkeywest.com
Ibis Bay Paddle Sports: keywestpaddle.com
Blue Heaven: blueheavenkw.com
Ernest Hemingway Home and Museum: hemingwayhome.com
Mote Marine Tropical Research Laboratory: tinyurl.com/y9t8zvn9
Serenity Eco Therapy: serenityecoguides.com
Turtle Hospital: turtlehospital.org
Lower Keys Underwater Music Festival: lowerkeyschamber.com/festival.php
Hungry Tarpon Restaurant: hungrytarpon.com
Photo diary: tinyurl.com/ydh8kn68
Welcome to the Florida Keys, or as one local put it, the only Caribbean islands you can drive to and take in scuba diving, stand-up paddleboard yoga, luscious seafood, fishing, jet packing, lying around on the beach and visiting museums.
When I was a kid, flying into the Keys usually meant landing in Marathon, halfway up the chain. Jet flights didn't start arriving at what is now called Key West International Airport until 1968.
If you are going to visit the Keys, it makes sense to start at the bottom, a mere 90 miles from Cuba, and work your way north ... and fly home from Miami.
KEY WEST
There's a joyful sundown craziness with music, jugglers, tightrope walkers, a drummer, fresh coconuts filled with nature's answer to Gatorade and sometimes a mermaid charmingly playing her guitar. A line of cellphone, tablet-sporting folk, arms raised, try to capture the orange ball of sun as it slowly, colorfully slips below the horizon.
There's so much to do in Key West, you need several days. The best way to cover as much as possible is to hop the Old Town Trolley. It makes 13 stops and you can get on and off at regular pickup points.
A map lists 23 tours, museums and theaters, but it doesn't begin to cover all you can do:
• The Hemingway Home and Museum is probably what visitors head for first. It's a fascinating trip through the writer's life in Key West. You can see his typewriter, the 53 descendants of his six-toed cats and hear about a few of the scandals. The swimming pool cost $20,000 in 1938 dollars. As one story goes, Hemingway flung a penny on the half-built flagstone pool patio, bellowing at his wife: "Pauline, you've spent all but my last penny, so you might as well have that!" Whether the story is true or not, there is a penny embedded in cement at the north end of the pool.
• The Mel Fisher Maritime Museum has Spanish galleon gold treasures found by treasure hunter Mel Fisher, details of the hunt, the discoveries, the slave trade and piracy.
• Go kayaking at night with Ibis Bay Paddle Sports. You leave from behind The Stoned Crab cafe (inexpensive stone crab ... yum) and paddle out to a salt pond in kayaks with see-through plastic bottoms. Light sticks show the shallow underwater world. We saw stingrays, conch shells, sea stars, a couple of Florida lobsters and a baby shark. Our enthusiastic guide, Riane, netted urchins, sea cucumbers and more for us to see up close.
• Learn about coral reef restoration by hearing a talk by Dave Vaughan of Mote Marine Tropical Research Laboratory at Fort Zachary Taylor State Park beach. The laboratory's scientists have discovered that if you clip coral into little pieces and cement them to existing coral underwater, they start to grow back in two weeks rather than the two years it takes if they grow naturally.
"We have lost some 40 percent of the world's corals so we can't wait 300 years for them to grow back. We have to help it along by replanting," he said.
You can snorkel out (gear can be rented) and watch them drill and cement. A natural reef nearby, in five feet of water, teems with thousands of tiny silversides swimming in undulating curtains. There are larger fish -- snook, tarpon, chubs, snapper, parrotfish -- within a hundred yards of shore.
Perhaps my favorite Key West restaurant was the century-old Blue Heaven in the historic Bahama Village neighborhood, with tables among huge banyan trees and old Key West bungalows. Breakfast was Keys shrimp on grits, lobster BLT, lobster Benedict and a slice of authentic Key lime pie. The place has a rocking night scene with bands and a full bar.
HEADING NORTH
We motored up to Mile Marker 37 (that's 37 miles up from Key West's Mile Zero) to Bahia Honda State Park where we tried yoga on stand-up paddle boards with Sarah L. Sullivan of Serenity Eco Therapy. It was seriously cool.
There aren't many decent beaches in the Keys because of the hard coral rock. However, Bahia Honda State Park on Big Pine Key is ranked among the top 10 beaches in the country.
Next up, the Turtle Hospital in Marathon. They pick up injured turtles, nurse them back to health and release them back into the ocean if possible. The visit includes a slide show explaining the turtles, including loggerheads which can chomp through a conch shell and leatherbacks that can be 6 feet long, weigh 2,000 pounds and eat 85 percent of their body weight in jellyfish a day.
It's a popular stop so it's best to make reservations in advance.
One advantage of visiting the Keys in the summer is the Lower Keys Underwater Music Festival, now in its third decade. While at least 100 boats floated above us, those with scuba certification dove among the reefs of Looe Key and watched the mermaids pretend to play underwater instruments, as a water-theme playlist pumped songs from The Little Mermaid, the Beatles, the theme from Gilligan's Island and much more. It was like swimming through a fog of sound.
Robbie's in Islamorada is a little tourist village with the expected trinket and T-shirt stands, an outdoor cafe by the water and a sideshow of local wildlife. There are pelicans sitting picturesquely on dock poles, foot-long tarpon swarming in nearby shallow water and ducks that are simply begging to be photographed.
Best of all is Catch Your Cook at the Hungry Tarpon Restaurant. You go out on a four-hour fishing tour that is aimed at visitors who are not necessarily die-hard fishermen, but want a show. You stand at the rail with a light test line and two hooks holding fresh bait. The idea is to troll across the bottom, waiting for the line to bob, then reel it up fast, hoping there's a delicious snapper at the other end.
A marking system on each fish keeps everyone's catch identified. A couple of crewmen then toss snapper, grunts and more into each person's bucket.
Then it's time to filet the fish (better them than you), so you can take a bag of filets to the cafe where it's cooked and served with fries and slaw. Our snapper was mouth-watering.
At Chef Michael's in Islamorada, I had the best lobster of the trip. It was prepared as tempura and it virtually melted on my tongue. There also was fish ceviche served in a coconut. The ceviche was crammed with shrimp, lobster, lime and orange juice, coconut milk, onion and cilantro, plus jalapenos to give it a kick.
Also in Islamorada was Tiki Jet, a James Bond jetpack straight from Thunderball, but powered with water instead of a gas engine. It comes in a vest-like contraption with a thick hose tail through which water streams or boots that look like a pumped-up version of something you would ski in.
The vest is easier for a beginner. Either way, you wind up flying as much as 30 feet off the water, depending on how agile (and brave) you are. The $199 price tag gets you 45 minutes in the air and a private lesson with Justin Parrish, who modernized the gear. It is a total adrenaline rush.
Finally, there was John Pennekamp Coral Reef State Park and a glass-bottom boat ride. It is a good way for someone who doesn't dive to see the reef.
We wound up our Keys adventure at Sundowners, a cafe on Key Largo. Great views, great fishy appetizers. Do not miss the mango coconut mojito.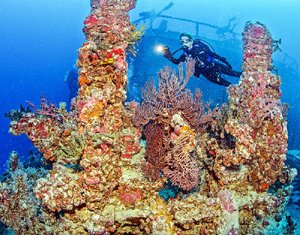 Photo by Florida Keys News Bureau
Annette Robertson explores a portion of the artificial reef in the Florida Keys National Marine Sanctuary off Key Largo.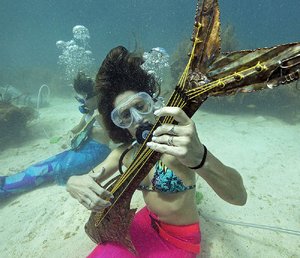 Photo by Florida Keys News Bureau
Nicole Pacha (left) and Sarah Brunner pretend to play instruments at the Lower Keys Underwater Music Festival off Big Pine Key, Fla.
Photo by Special to the Democrat-Gazette/ YVETTE CARDOZO
A plate of stone crab, oysters, Tortuga pink shrimp and other delights await diners at The Stoned Crab in Key West.
Travel on 08/13/2017