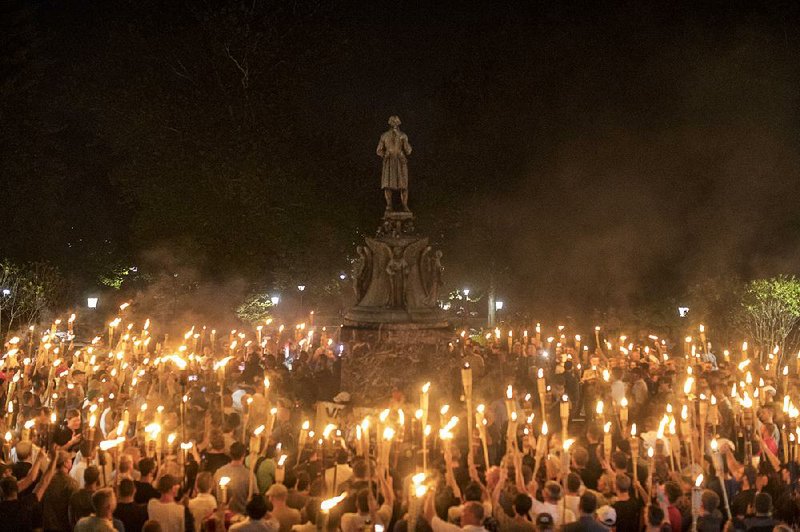 Torch-bearing white nationalists gather around a statue of Robert E. Lee during a demonstration Friday night in Charlottesville, Va.
The 33-year-old man photographed on Friday wearing an "Arkansas Engineering" T-shirt at a widely condemned Charlottesville, Va., rally said he never intended to bring shame to the University of Arkansas, Fayetteville.
"I'm sorry they suffered because of this," said Andrew Dodson, a former UA graduate student, also apologizing to the UA professor wrongly identified on social media as the man in the photo.
The event, promoted as a "pro-white" gathering, broke into several violent clashes Saturday. A 32-year-old woman, Heather Heyer, died after being struck by a car while peacefully counterprotesting, police said.
The image of Dodson, walking with other rallygoers and holding a torch, spread on social media.
[GALLERY: Read 60+ emails sent to professor's email after he was misidentified]
Dodson said he agreed to publicly acknowledge participating in the rally "because other people are suffering for what I did," adding, "that's not right."
UA Chancellor Joe Steinmetz in a Twitter message on Saturday condemned "hatred, violence & white supremacy." His post included the photograph with Dodson, and Steinmetz stated: "Diversity & inclusion are @Uarkansas values. Not this."
Dodson said he was taken aback by the violence and denied being a white supremacist.
"I've been to a number of rallies and things and it wasn't like this bloodbath," Dodson said.
He said he "wasn't thinking" when he wore the shirt at the rally, having worn it on the plane ride to the event.
A UA spokesman said Dodson attended from fall 2010 through fall 2013, with no degree awarded. Dodson said he moved to Arkansas in 2009 and left in 2015. He now lives in the New England area, he said.
The university also on Saturday used social media to correct misinformation that led to harassment of Kyle Quinn, a faculty member. His photo was shared in social media posts wrongly identifying him as having been at the rally.
Told of Dodson coming forward, UA spokesman Mark Rushing in a statement said "the individual in question does not represent the values of the College of Engineering or the University of Arkansas," and that UA "will continue to support and promote a diverse, welcoming and inclusive campus and society."
Dodson said he attended the gathering to hear speakers such as Richard Spencer, a leader of the so-called alt-right movement.
At the Friday night rally, several dozen participants holding torches chanted slogans including "Blood and soil," a phrase associated with Nazi ideology, as they marched on the University of Virginia campus.
Court documents filed after an attempt to cancel the event described the Saturday rally as a demonstration opposing a city plan to remove from a park a statue of Robert E. Lee, a Confederate army general during the Civil War. Organizer Jason Kessler, in a video on social media, described it as a "pro-white" event.
Dodson said he's interested in ideas from a group known as Identity Evropa. The group's membership form online asks applicants whether they and their spouses are of "European, non-Semitic heritage."
"I just don't know them that well, but I did ask them, so 'What are they about?'" Dodson said. "And some of the stuff they said, 'We are not the kind of group that goes and carries like Nazi flags,'" Dodson said.
Dodson said he believes in preserving his heritage, which he described as being under attack. He spoke about the defacement of some veterans' graves, referring to a report last year about graves damaged at various sites across the country.
"People doing that to a Revolutionary War veteran, a Vietnam War veteran, a Civil War veteran, that's all wrong. You don't stomp on someone's grave. That's evil," Dodson said.
Dodson said his community service project to earn an Eagle Scout badge as a teenager in South Carolina involved preserving a graveyard near a trailer park.
"This is something important from where I'm from," Dodson said, adding that he worked on the project with his father, his brothers and his friends.
"I think that black people ought to have a strong view of black heritage and white people ought to have a strong white heritage and we ought to not erase the history. There's a lot of bad things that have happened on both sides, but let's not forget it and repeat it," Dodson said.
Dodson spoke to a reporter from The Atlantic while at the rally, and he criticized the resulting article as painting with too broad a brush those attending the event.
He said he was shocked on Sunday to learn how his image had spread online across social media. The next day, he lost his job as research director and co-founder of a startup company, he said.
"I did not know that it would come back around to them," Dodson said.
Metro on 08/17/2017
Print Headline: Ex-student apologizes to UA, professor over photo from 'pro-white' rally
Sponsor Content