Friday was a mock game day in Jonesboro, but the team meal was very real.
Senior defensive end Ja'Von Rolland-Jones scarfed down the brisket, chicken and salad around 4 p.m., three hours before the team met at Centennial Bank Stadium at Arkansas State University for a three-quarter speed scrimmage in helmets, shirts and shorts.
ASU Coach Blake Anderson scheduled the day as a rehearsal for the Red Wolves' season opener at Nebraska, with the team following a schedule similar to what it will on Sept. 2 in Lincoln, Neb.
There was a team breakfast, followed by a gap of time, similar to what the players will experience when going back to their hotel rooms, attending position meetings and a stretching session on the field.
One hiccup for ASU was that Rolland-Jones scrimmaged with a defensive line that lost a key member Tuesday when tackle Dee Liner suffered a groin injury in a noncontact drill.
Liner, 6-3, 325 pounds, accounted for 8.5 tackles for loss last season, fourth most among ASU players. Anderson said Liner will be out two to six weeks.
The Red Wolves led the nation last season averaging 9.7 tackles for loss per game.
"It's fortunate that it's not a season-ending injury … and it's unfortunate we don't have Dee," said Rolland-Jones, last season's Sun Belt Player of the Year who recorded 13.5 sacks and 30.5 tackles for loss. "He's a guy who's been here for the team. We want Dee, and more than likely we'll get him back."
Liner was ASU's first major injury loss suffered in camp, but the defense already lost senior linebacker Khari Lain to a season-long suspension on July 31.
Lain, who led the team with 81 losses in 2016, was suspended for not meeting an NCAA policy during the team's appearance in the 2016 Cure Bowl.
The losses of Lain and Liner will put ASU's defensive line depth to a test early in a season during which Anderson has placed an emphasis on the Red Wolves winning a game against a Power 5 opponent for the first time in his now four-year tenure.
Anderson's teams have been outscored 208-79 in five Power 5 games since 2014, including a 51-14 loss to Auburn last season when the Red Wolves gave up 706 total yards — the most by a defense under Anderson.
Rolland-Jones said defensive line coach Brian Early has stressed the importance of everybody pitching in, especially junior tackle Donovan Ransom.
"And honestly, that's made Ransom go a little harder," Rolland-Jones said.
Ransom recorded two tackles for loss and a sack in 12 games as a reserve last season.
Rolland-Jones described Ransom, 6-1, 304 pounds, as "a short guy with leverage" who will battle with sophomore Javier Carbonell (6-2, 297) to fill Liner's absence.
Liner was one of five ASU defenders who were named to the All-Sun Belt Conference preseason team, and a core group remains: Rolland-Jones, senior linebacker Kyle Wilson and defensive backs junior Justin Clifton and senior Blaise Taylor.
Rolland-Jones said he remains confident as the defense enters the final day of fall camp this morning.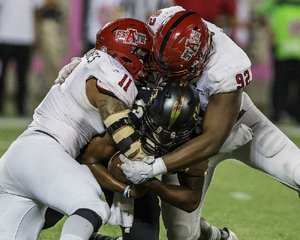 Photo by Democrat-Gazette file photo
ASU senior defensive end Ja'Von Rolland-Jones said he remains confident as the defense enters today's fi nal day of fall camp. "I feel like I've made some strides in some areas," Rolland-Jones said. "I feel like it's been the best fall camp since I've been here."
"I feel like I've made some strides in some areas," Rolland-Jones said. "I feel like it's been the best fall camp since I've been here."
Sports on 08/19/2017