Like other athletes at the University of Arkansas, Fayetteville, freshman pitcher Zebulon Vermillion follows a strict workout regimen to stay game-ready, but walking across campus to his math classes in University Hall isn't part of it.
That's why his teammates persuaded him to buy a motor scooter and join the hundreds of UA students who zoom effortlessly between classes and events.
"The first couple days [of class], I walked, because I didn't know there was moped parking outside Old Main, and it was miserable," Vermillion said.
As students are returning to classes, many have added a visit to Fayetteville scooter dealerships to their back-to-school shopping list.
At UA the popularity of scooters peaked in 2014, when students purchased 1,493 moped passes. For the past four years, the number of passes issued by the parking office has hovered around 1,300. So far this year, students have bought 334, compared with 354 during the same period last year.
MopedU, on College Avenue, has about 11 employees working to meet back-to-school demand, up from its usual staff of eight or so.
Owner Ryan Malone, a UA alumnus, said the "U" in MopedU helps the company keep in step with campus culture. Over the past five years since the company has been open, the branding has been so effective that people come into his shop asking for the "MopedU brand" of scooter because of the company's stickers on the mopeds.
There is no such brand -- the company sells mopeds manufactured by the Genuine Scooter Co. -- but the confusion is a positive sign for Malone, because consumers remember MopedU when it comes time to shop for a moped.
"That tells me we're doing something right," he said.
Last year, two UA students opened Scoot Tribe, a moped dealership also on College Avenue, about a mile away from MopedU. The owners of Scoot Tribe in Fayetteville sell Bintelli and Adly mopeds, and offer semester-long scooter rentals for $174 per month.
Co-owners Collin Basinger and Jonathan Kerr are seniors at the Sam M. Walton College of Business.
"We are the market, so we understand the problems of owning a scooter, but also the fun parts of owning a scooter," Kerr said.
Mechanical engineering sophomore Cody Price says the UA "campus is huge, and I don't feel like walking. When I toured campus and saw everybody on them, I figured it would be a lot more easy to get around."
Price bought his 150cc scooter in his hometown of McKinney, Texas. Last week, he picked up his $66 moped parking pass. That's compared with $99 for the cheapest car parking pass. Students can park their cars in lots that are farther away from campus and catch a bus to their class buildings, but that is less convenient than parking a scooter.
The university has expanded its number of parking spaces for scooters. The lot nearest the business school is exclusively for scooters and motorcycles. Walking through campus, one can find clusters of scooter parking spaces. And in lots in the Dickson Street area, scooter riders can avoid hourly parking fees because parking is free.
Data from the Motorcycle Industry Council show that April through September is the most popular time of the year for the sale of scooters.
Nationwide Insurance last year said people across the country have a renewed interest in scooters. Scooters are popular among drivers who are seeking an inexpensive method of commuting, according to the insurance company.
The Arkansas Office of Motor Vehicle classifies mopeds and scooters in the same category as motorcycles. Anybody with a scooter of more than 50cc must register it with the state. Across the state, there were 91,707 motorbikes registered in 2014. That number fell in 2015 to 89,995, and to 88,965 in 2016. In Washington County registration for scooters and motorcycles has been on the rise since 2012. Last year, 7,150 such vehicles were registered in the county.
Cassie Doshie bought her scooter in May, after she graduated from Har-Ber High School in Springdale. Last week, rain swept through Northwest Arkansas, giving her a sloppy 3-mile drive home from work.
"[The rain] doesn't bother me any," she said, "just as long as I can see."
This semester, Doshie is taking nursing classes at Northwest Arkansas Community College in Bentonville. She plans to take her scooter with her, using it get around campus until she saves enough money to buy a car.
Her scooter maxes out at about 45 mph, and on some streets she notices car drivers aggressively trying to move around her. She knows she's outmatched, so she moves to the side, waving others to go around her.
MopedU owner Malone understands. "You see stuff differently on a moped than in a car going 30 miles per hour," he said.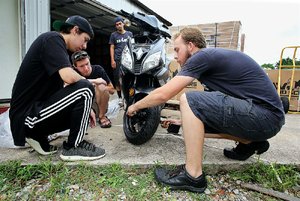 Photo by David Gottschalk
Devin Kostyal (left) and Joshua Jimenez watch last week as Noah Kirby adjusts a moped at MopedU in Fayetteville.
Business on 08/23/2017