Four inmates attended the first literacy class at Pulaski County jail in January 2016, and volunteers Kathy Rateliff and Lucy Sausen weren't sure how things would go.
"They looked at each other, and they weren't quite sure what these middle-class women were doing here," Rateliff said.
By the end of class, there was hope.
"They said, 'Y'all are OK,'" Rateliff remembered with a laugh. "'Yeah, we'll tell the other guys.'"
Now, every Thursday morning, about 15 men meet in a multipurpose room on the jail's lower floor for an hour to work through poems, short stories and vocabulary exercises. A similar-size class of female inmates meets Friday mornings. A total of 323 inmates have attended the class at least once.
Volunteers -- primarily from Little Rock's Westover Hills Presbyterian Church -- started coming to the jail after Susan McDougal spoke at a meeting of the church's women's group. McDougal, along with her late husband, was a partner with Bill and Hillary Clinton in the Whitewater real estate venture and controversy in the 1980s and 1990s. She currently serves as a chaplain at the University of Arkansas for Medical Sciences in Little Rock and advocates for prison reform.
Something that surprised her about her time in prison, McDougal told the group, was how many inmates had never learned to read. That inspired Rateliff and several other volunteers to complete literacy training and head to the jail.
"I never thought this was where I'd be volunteering," Rateliff said.
At first, Rateliff and the other volunteers envisioned giving individual tutoring sessions, following protocol for inmate visits by talking through a window. But they soon realized it was virtually impossible to build a
relationship through a sheet of plexiglass.
After a few conversations with Pulaski County Sheriff Doc Holladay, Rateliff got permission to use a multipurpose room on the lower floor, with long tables and walls lined with leatherbound legal texts, as a classroom.
The first few classes felt like Little House on the Prairie, she said. Like a one-room schoolhouse with students of all ages. Inmates with college degrees sat next to others who struggled to read at all. The biggest challenge was getting inmates to stop worrying about their reputations enough to read out loud.
"A lot of them are embarrassed -- tough guys that can't read," Rateliff said.
Sometimes, she developed lesson plans that related poetry to pop culture because the inmates said they wanted something they could relate to. So the class learned about Langston Hughes, and Rateliff learned the correct pronunciation of Tupac.
"It's gotten a lot louder in there now that they feel free to talk," Rateliff said. "They'll read even if they stumble over the words. It's OK. They feel safe here."
Sgt. Gail Long, who assists with jail operations, said she's observed the way the class allows the inmates to connect with the instructors and one another in a way she hasn't seen in other parts of the jail.
"This is one of the classes that they take to," Long said.
The jail coordinates with community-based programs to provide other classes about parenting and domestic violence, as well as a Bible study.
Some inmates said the literacy class has helped them express themselves. Cheryl Robinson, 44, who attends the women's sessions, said the class will help her engage better with her children and stay positive when she's released.
"It makes me feel as though I am somebody, and I am somebody," Robinson said. "I can speak up for myself more."
At the end of each class, Rateliff and Sausen pass out paperback books from a cardboard box. The books are donations from the Central Arkansas Library System. Some have been specially requested by inmates. In the men's class, the options range from Don Quixote to an installment in the Girls From Da Hood series.
In the back row, Terrell Carlton, 29, excitedly recounts the details of the book he's reading. Rateliff said Carlton didn't speak for the first month of class. Now, he explains that he's usually into Mary Higgins Clark's suspense novels, but an action thriller about a woman seeking revenge has captured his attention.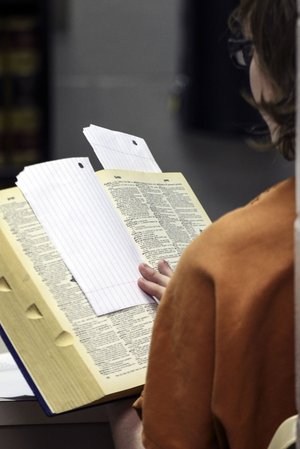 Photo by Mitchell PE Masilun
A female inmate reads aloud the definition of a word during the Pulaski County jail's weekly literacy class.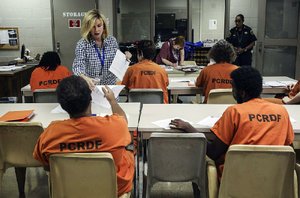 Photo by Mitchell PE Masilun
Volunteer Lucy Sausen hands out worksheets to inmates at the Pulaski County Detention Center
"I haven't been able to put it down," he said. "That's one thing I like about this class. It's like you're in a whole other world."
Religion on 08/26/2017