HOUSTON -- Harvey's floodwaters began to recede across the Houston area, and the sun came out Wednesday as the storm veered from the Gulf of Mexico back toward land and pounded communities near the Texas-Louisiana line.
In the evening, the National Hurricane Center downgraded the storm to a tropical depression, and forecasters predicted that Harvey would completely dissipate in three to four days.
The scope of the storm's devastation came into sharper focus Wednesday, and the murky green floodwaters from the record-breaking, 4-foot deluge began yielding bodies.
The confirmed death toll climbed to 31, including six members of one family -- four of them children -- whose bodies were pulled Wednesday from a van that had been swept off a Houston bridge into a bayou.
Authorities were investigating at least 17 additional deaths to determine whether they were storm-related.
"Unfortunately, it seems that our worst thoughts are being realized," Harris County Sheriff Ed Gonzalez said after the van that disappeared over the weekend was found in 10 feet of muddy water.
While conditions in Houston appeared to improve, authorities warned that the crisis in the nation's fourth-largest city and across the Texas Gulf Coast is far from over. The storm, in fact, took a turn for the worse east of the city.
It completed a U-turn in the Gulf of Mexico and rolled ashore early Wednesday for the second time in six days near the Texas-Louisiana state line. It slammed Beaumont and Port Arthur, Texas, producing flooding and forcing residents to evacuate.
[STORM TRACKER: Follow Harvey's projected path]
It hit southwestern Louisiana as a tropical storm with heavy rain and winds of 45 mph.
As it veers northeast, it still has a lot of rain and potential wind damage to spread. Four to 8 inches of rain is forecast stretching from the Louisiana-Texas state line into Tennessee and Kentucky through Friday. Some spots could get as much as a foot of rain, increasing the risk of more flooding.
For much of the Houston area, forecasters said the rain is pretty much over.
"We have good news," Jeff Lindner, a meteorologist with the Harris County Flood Control District, said Wednesday. "The water levels are going down."
Houston's two major airports were up and running again Wednesday. Officials said they were resuming limited bus and light rail service as well as trash pickup.
In Hermann Park, south of downtown, children passed by in strollers and wagons, joggers took in midday runs and couples walked beside cascading fountains under a shimmering sun. People pulled into restaurant drive-thrus and emerged from a store with groceries.
At the same time, many thousands of Houston-area homes were under water and could stay that way for days or weeks. And Lindner warned that homes near at least one swollen bayou could still flood.
Officials said 911 centers in the Houston area were still getting more than 1,000 calls an hour Wednesday from people seeking help.
In Houston's Meyerland neighborhood, hundreds of families emptied their flooded homes of sodden possessions under a baking sun as the temperature climbed into the 90s. They pulled out couches and soggy drywall, and ripped up carpets in foul-smelling homes where the floodwaters had lingered for more than 24 hours.
The pickups of cleanup contractors and residents' friends and family members lined the streets.
For Harry Duffey, a 48-year-old computer security specialist, this was flood No. 3 in as many years. Just before this flood, he got a notice that his flood insurance premium had nearly doubled to $5,300 a year.
"Everywhere we look this water has cost me money after money after money. It just does not end," he said. But he said he has no intention of moving: "This is in my blood. This is where I'm from."
Emergency officials estimated Wednesday that more than 1,000 homes in Texas are destroyed and close to 50,000 damaged. More than 32,000 people are in shelters across the state, emergency officials reported Wednesday. About 10,000 more National Guard troops were being deployed to Texas, raising the total to 24,000, Gov. Greg Abbott said.
"This is going to be an incredibly large disaster," Brock Long, chief of the Federal Emergency Management Agency, said in Washington. "We're not going to know the true cost for years to come. ... But it's going to be huge."
Confirmed deaths from the storm include a married couple who drowned when their pickup was swept away while they were on the phone with a 911 dispatcher asking for help, officials said.
Others among the dead include a woman whose body was found floating in Beaumont, a man who tried to swim across a flooded road, and a woman who died after she and her young daughter were swept into a drainage canal in Beaumont. The child was rescued while clinging to her mother's body, authorities said.
STILL RAINING
Near the Louisiana border, residents of cities in Jefferson County, Texas, were desperate for help Wednesday morning after rain there caused floodwaters to rise and lightning complicated rescue efforts.
Many people, finding emergency services too slow to respond to their calls for help, sought assistance on social media, where their calls were amplified by digital onlookers seeking help for them from afar.
Port Arthur's mayor, Derrick Freeman, said on Facebook early Wednesday that rescue teams were contending with fires while trying to get residents to safety.
"Our whole city is underwater right now but we are coming!" he wrote, urging residents to move to higher ground and avoid getting trapped in attics.
Tiffany Hamilton, a former Port Arthur council member who was helping coordinate relief efforts in a city that is also without electricity, said Wednesday that the city needed boats, large trucks and generators. "The entire city has been flooded," she said.
The mayor of Beaumont, Becky Ames, told NBC that the flooding was like nothing she had ever seen before.
"Every single body of water around us is at capacity and overflowing, and the rain is still coming down," she said.
About 254,000 people live in Jefferson County, which Long said Wednesday had been "slammed with 20 inches of rainfall" overnight.
Across Texas, the storm forced the closures of 11 oil refineries and curtailed production at nine others, while causing damage that released at least 45 harmful chemicals.
In Crosby, northeast of Houston, the situation at the Arkema chemical plant was considered critical. Flooding disabled the plant's refrigeration system and two backup power generators, raising the likelihood that the volatile chemicals, usually kept cool, would warm up and catch fire or explode.
Arkema, a French-based maker of organic peroxides used in plastics, pharmaceuticals and construction materials, evacuated all personnel from the plant. Harris County police were scrambling to keep people at a distance. Media outlets said the evacuation zone was a 1.5-mile radius around the plant.
"The fire will happen. It will resemble a gasoline fire. It will be explosive and intense in nature," said Janet Hill, spokesman for the company.
Richard Rowe, the chief executive officer of Arkema North America, said the "high water and lack of power leave us with no way to prevent it."
Harvey initially made landfall in Texas late Friday as a Category 4 hurricane. It then went back out to sea and lingered off the coast as a tropical storm for days, inundating flood-prone Houston.
Harvey's five straight days of rain totaled close to 52 inches, the heaviest tropical downpour ever recorded in the continental U.S.
LOUISIANA FLOODING
Though weakened to a tropical depression, Harvey pushed through Louisiana on Wednesday as it headed northeast, still producing heavy rain and flash-flooding. It spawned at least one tornado in Mississippi.
Gov. John Bel Edwards acknowledged a diminishing threat in southwest Louisiana on Wednesday, but urged residents to stay vigilant as Harvey headed northeast on a track expected to take it out of his state late today.
At a Wednesday afternoon news conference, Edwards said 330 evacuees were staying at a Lake Charles shelter. He said he expected that number to grow as more people were rescued from floodwaters in eastern Texas, just across the state line. He said a Shreveport shelter would be available for 3,400 Texas flood victims if officials there accept Louisiana's offer for assistance.
"That's what it means to be a good neighbor," Edwards said.
On Wednesday afternoon, he headed to south Louisiana. His office said he was going to the Texas state line, where the Louisiana National Guard was assisting with rescues in Port Arthur. He also planned to visit a shelter at the Calcasieu Parish Civic Center in the Lake Charles area.
Edwards also sent a letter to the Federal Emergency Management Agency seeking to add seven parishes to the five already placed under an emergency disaster declaration by President Donald Trump.
Rescues from flooded homes were reported late Tuesday and early Wednesday in rural Calcasieu Parish in southwest Louisiana. But the winds there had died down Wednesday morning and only a light rain fell.
In New Orleans, traffic and business activity picked up as schools and government buildings reopened, and sunshine frequently broke through the clouds. Those buildings had closed Tuesday over fear that Harvey would cause more flooding just weeks after an early August downpour triggered flash floods and exposed problems with the city's drainage pumping system.
Jim Buras, who had to make major repairs to his New Orleans home after Hurricane Katrina in 2005 and saw minor flooding early this month, said he was relieved Wednesday but still anxious. "I was having nightmares of having to do it again," he said.
Severe weather threats lingered, however. Every corner of Louisiana was under some type of Harvey-related weather advisory Wednesday afternoon. Eastern parishes, from north of Baton Rouge, along the Mississippi state line to the Arkansas border, were under a tornado watch until early evening. Coastal surge warnings remained in effect, and the entire state was under flash-flood watches or warnings.
Harvey spawned at least one tornado in Mississippi and created bands of strong winds that damaged some homes and toppled trees. The National Weather Service said the tornado touched down Wednesday in the southern Mississippi town of Petal, near Hattiesburg. No injuries were immediately reported.
Radar last Wednesday showed bands of rain still swirling into Louisiana -- the heaviest along the western edge -- as Harvey tracked inland. Harvey's center was about 50 miles southwest of the central Louisiana city of Alexandria later in the afternoon.
The storm had reached the Louisiana shore before dawn Wednesday just west of Cameron, producing maximum sustained winds near 45 mph, the National Hurricane Center said.
Information for this article was contributed by Nomaan Merchant, Juan Lozano, Frank Bajak, Matt Sedensky, Michael Graczyk, Diana Heidgerd, David Warren, Seth Borenstein, Paul J. Weber, Tammy Webber, Kevin McGill, Michael Kunzelman, Stacey Plaisance, Janet McConnaughey, Johnny Clark and Jeff Martin of The Associated Press; by Jonah Engel Bromwich of The New York Times; and by Todd C. Frankel, Avi Selk, David A. Fahrenthold, Dalton Bennett, Tim Craig, Kevin Sullivan, Emily Wax, Alex Horton, Ashley Cusick, Leslie Fain, Steven Mufson, Ed O'Keefe, Damian Paletta, Mike DeBonis, Wesley Lowery, Katie Zezima, Dave Clarke and Jason Samenow of The Washington Post.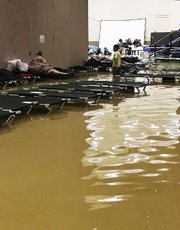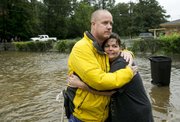 A Section on 08/31/2017