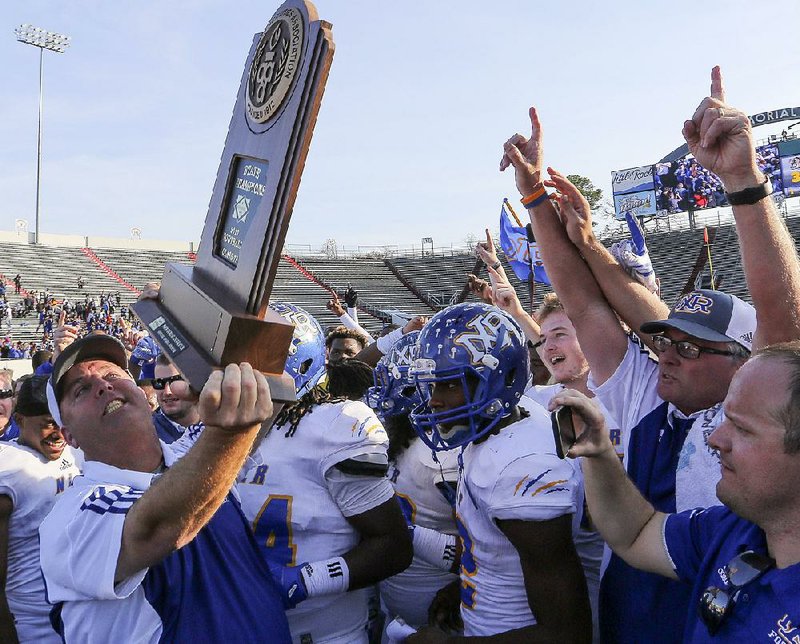 Coach Jamie Mitchell (left) holds the Class 7A state championship trophy while celebrating with his team Saturday after the Charging Wildcats defeated the Bentonville Tigers 44-37 at War Memorial Stadium. ( Arkansas Democrat-Gazette / Benjamin Krain)
North Little Rock's locker room at Little Rock's War Memorial Stadium was full of happy and relieved Charging Wildcats on Saturday afternoon.
"One, two, three: How 'bout them 'Cats?" North Little Rock Coach Jamie Mitchell yelled to his team after a 44-37 victory over the Bentonville Tigers in the Class 7A state championship game.
Relief came in three ways for the Charging Wildcats:
• It was the school's first state championship since 1972 and fifth overall.
• One year after losing the Class 7A state championship game against Fayetteville, North Little Rock returned to the title game and won it.
• A central Arkansas high school won the state's largest classification's championship for the first time since 2004, when Little Rock Central earned the Class AAAAA crown. Northwest Arkansas high schools had won the classification's title from 2005-2016 in Class AAAAA or Class 7A.
North Little Rock (13-0), the 7A-Central Conference champion and No. 1 team in the Arkansas Democrat-Gazette's overall top ten, overcame a 14-0 first-quarter deficit and held off Bentonville's last-minute attempt to tie the game.
"That's just how we're built," said Mitchell, who was hired in 2015 from Starkville (Miss.) High School to replace Brad Bolding. "We're built for tough times and hard stuff. We've got some hard-nosed kids and tough kids who know how to battle and fight. We thought it was over, then you blink your eye and you have to fight until the last second."
Winning for central Arkansas was a big deal for Mitchell and the Charging Wildcats.
"You want to get this thing not only for us, but for our community, our school and our conference," Mitchell said. "So many of those guys are super excited for us. We finally got that monkey off of our back."
Sophomore running back Brandon Thomas led North Little Rock with 199 yards and 2 touchdowns (24 and 8 yards) on 23 carries. Junior running back Oscar Adaway finished with 91 yards and 1 touchdown on 15 carries.
Senior quarterback David Chapple was 7-of-15 passing for 91 yards with 1 touchdown and 2 interceptions.
Bentonville (10-3), the 7A-West Conference champion, cut North Little Rock's lead to 44-37 with 17 seconds left on backup quarterback Easton Hughes' 6-yard touchdown pass to senior tight end Tyler Johnson. Tigers senior wide receiver Kam'ron Mays-Hunt then recovered an onside kick to give his team the ball at the North Little Rock 42.
Hughes found Johnson for an 18-yard reception to move the ball to the Charging Wildcats' 10-yard line with two seconds remaining. He spiked the ball to attempt to give the Tigers another down, but officials ruled time had expired and North Little Rock's players ran onto the field to celebrate.
Bentonville Coach Jody Grant expressed his displeasure with the final play of the game.
"You would like to see that taken care of on the field and let the kids play it out," Grant said. "That ball was spiked with time left on the clock. I would have loved to have seen us have another shot at it."
North Little Rock trailed 29-24 in the fourth quarter, but Chapple found senior wide receiver Aaron Griffin for a 68-yard touchdown. Adaway's two-point conversion run made it 37-30 with 5:34 remaining.
Bentonville was driving inside North Little Rock territory with less than four minutes left, but senior quarterback Nathan Lyons was hit by senior defensive tackle Zavion Moore and the ball was intercepted by junior defensive tackle Sam Taylor at midfield.
"That really sealed the deal for us," Mitchell said. "Zavion got some huge pressure. He's the best defensive player we got. Sam Taylor was Johnny on the spot. To me, that was the play of the game."
Moore agreed with his coach.
"If we didn't make that play, we wouldn't have won," Moore said.
Six plays later, junior Tyler Day scored from 13 yards out to stretch North Little Rock's lead to 44-30 with 1:27 remaining.
Lyons completed 16 of 30 passes for 248 yards with 1 touchdown and 2 interceptions before leaving the game with a head injury. Preston Crawford rushed for 150 yards and 2 touchdowns on 16 carries, while Mays-Hunt caught 9 passes for 95 yards.
[HIGH SCHOOL FOOTBALL SCOREBOARD: Results + recaps, photos and more]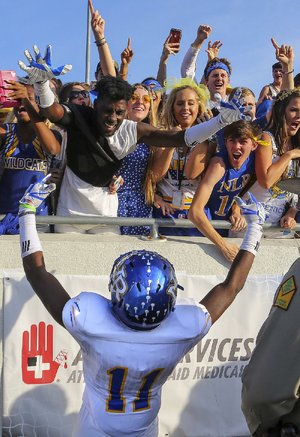 Photo by Benjamin Krain
North Little Rock defensive back Cairee Davis (11) celebrates with teammate Michael Williams and fans after the Charging Wildcats' victory over Bentonville in the Class 7A championship game Saturday at War Memorial Stadium in Little Rock.
Gallery: 7A NLR vs Bentonville 12.02.2017
Sports on 12/03/2017
Print Headline: The wait is over
Sponsor Content