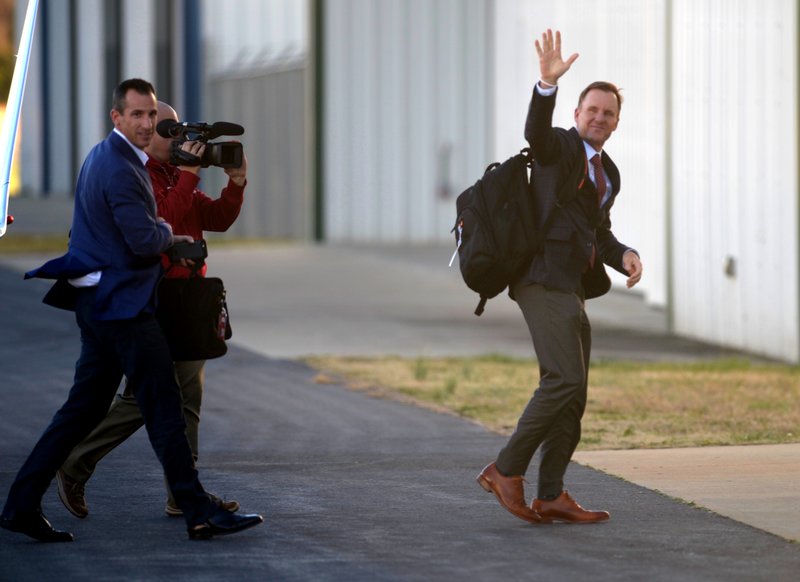 New Razorback coach Chad Morris waves as he arrives at Drake Field in Fayetteville on Wednesday, Dec. 6, 2017. ( Andy Shupe)
FAYETTEVILLE — Arkansas has hired Chad Morris of SMU as its new football coach, the university confirmed Wednesday.
The 49-year-old Morris agreed to a six-year contract worth $3.5 million per year. He has incentives that could total an additional $1.2 million per year and has an annually decreasing buyout that begins at $14.7 million through Dec. 31, 2018, according to his offer letter released through an open-records request.
He'll also receive retention bonuses of $500,000 in 2019, '21 and '23 if he's still employed at Arkansas — and there have been no major NCAA rules violations.
Should Arkansas fire Morris, his buyout begins at $14.7 million in 2018 and drops to $12.25 million in 2019. That's followed by $9.8 million in 2020, $7.35 million in 2021, $4.9 million in 2022 and $3.5 million in the last year in 2023. He would owe the school $3 million if he leaves for another job in 2018-19, $2.5 million in 2020, $2 million in 2021, $1.5 million in 2022 and nothing in 2023.
Arkansas will pay SMU up to $2 million to buyout Morris' previous contract.
Morris has spent the past three seasons at SMU, where he had a 14-22 overall record that included an 8-16 record in the American Athletic Conference. The Mustangs are scheduled to play Louisiana Tech in the Frisco Bowl on Dec. 20, and it is unclear whether Morris will coach in that game.
[DOCUMENT: Read Morris' 13-page offer letter from UA]
"The future is tremendously bright at the University of Arkansas with the addition of Chad Morris," Arkansas athletic director Hunter Yurachek said in a statement. "I am confident that Chad will bring an exciting brand of football, phenomenal student-athletes and championships to Fayetteville, and do it all with high integrity."
Julie Cromer Peoples, who was interim athletic director for nearly three weeks, led the search for a coach, in conjunction with the search firm DHR International.
"As we began our search for the next head football coach of the Arkansas Razorbacks, Chad Morris was a name that quickly emerged as someone that would be an excellent choice for our program," Cromer Peoples said. "Coach Morris aligns with the priorities we sought to find in our next head football coach including relentless work ethic and the ability to maintain good relationships within our state and beyond to attract the nation's top talent. Chad is demanding but still relatable to the student-athletes of this generation. He was identified by several closely connected with our program as someone that our state would embrace and would fit the fabric of our university and our program."
Morris replaces Bret Bielema at Arkansas. Bielema was fired Nov. 24 after a 4-8 season in which the Razorbacks went 1-7 in conference play. Bielema's five-year tenure resulted in three bowl games but losing records overall (29-34) and in SEC games (11-29).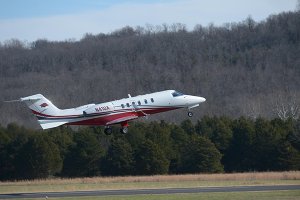 A Razorback Foundation plane departs Fayetteville to pick up Chad Morris on Wednesday. (Photo by Andy Shupe)
Document
Chad Morris offer letter
View
Morris is considered one of college football's top offensive minds with a fast-paced style that places an emphasis on the passing game. SMU ranks 13th nationally this season in total offense (493.8 yards per game) and eighth in scoring offense (40.2 points per game).
But like many teams that run hurry-up offenses, SMU's defense has been among college football's worst. The Mustangs rank 122nd nationally in total defense (486.7 yards per game) and 113th in scoring defense (35.1 points per game) this year and never have ranked in the top 100 of either category under Morris.
Before coaching SMU, Morris spent four seasons as offensive coordinator at Clemson from 2011-14. He broke into the college ranks as an assistant coach at Tulsa in 2010 after a decorated high school coaching career in Texas that included back-to-back undefeated state championship seasons at Lake Travis in 2008 and 2009, as well as a championship at Bay City in 2000.
Morris coached at five Texas high schools in 16 seasons and had a record of 169-38. In addition to his three state championships, Morris had three state runner-up teams — at Bay City in 2001 and Elysian Fields in 1998 and 1999.
"I'm a Texas high school football coach. That's who I am," said Morris, a Dallas native, when he was hired at SMU in 2014. "I think that Texas high school football coaches do it the right way."
Morris brings strong recruiting ties to Texas, a state in which Arkansas struggled to recruit during the Bielema era, but has long been an area of emphasis for the Razorbacks. Morris' first two recruiting classes at SMU were comprised entirely of Texas recruits.
SMU went 1-11 the year before Morris was hired. The Mustangs improved their win total each year under Morris, with records of 2-10 in 2015, 5-7 last season and 7-5 this year.
The Mustangs are guaranteed a winning record for the first time since 2012 and for the fifth time since the program rebooted in 1989. SMU did not field a football team for two years after the NCAA's "death penalty" punishment in 1987.
Morris is a native of Edgewood, Texas, about 60 miles east of Dallas, and attended college at Texas A&M, where he earned a degree in mathematics in 1992. He did not play college football.
Morris has a wife, Paula, and two children: a daughter, Mackenzie, and a son, Chandler.
It is the second time in the modern era that Arkansas has hired a coach from a program with a losing college record.
Ken Hatfield was hired following the 1983 season after a five-year stint at the Air Force Academy, where he went 26-32-1. But Hatfield, a former Arkansas player, proceeded to put together one of the Razorbacks' best multi-year runs with a 55-17-1 record in six seasons, the final two of which resulted in Southwest Conference championships in 1988 and 1989.
Hatfield left Arkansas for Clemson in January 1990 amid declining attendance that was linked to his triple-option offense. The Razorbacks promoted Hatfield's offensive coordinator, Jack Crowe, who had not been a head coach in more than a decade.
Crowe, who had gone 5-15 at Livingston (now West Alabama), had a 9-15 record at Arkansas, including a loss to The Citadel in the 1992 season opener, the Razorbacks' first game as a member of the Southeastern Conference. He was fired a day later.
The Associated Press contributed to this story.
Sponsor Content