His future clouded, Humberto Marquez boarded a van Tuesday and headed for the nation's capital, where he and a dozen other Arkansans will join thousands from across the country today in pursuit of relief for so-called Dreamers.
The 23-year-old from Fort Smith is one of roughly 5,100 Arkansans whose lives were upended when President Donald Trump's administration rescinded Deferred Action for Childhood Arrivals, a 5-year-old program that shielded from deportation nearly 800,000 people illegally in the United States and allowed them to legally work.
Since the decision three months ago, Trump and some federal lawmakers have at times promised a permanent legislative fix for deferred-status recipients, who arrived in the country as children, achieved high school educations and have committed no crimes.
With time running out on the program -- waves of recipients will begin losing their deferred status March 5 -- demonstrators will call for quick passage of the Dream Act of 2017 to restore their protections. Today's rally comes amid negotiations on a government spending bill for which some Democrats said they will withhold support unless Congress passes the legislation.
[U.S. immigration: Data visualization of selected immigration statistics, U.S. border map]
"I think no matter what happens, keep fighting," said Marquez, whose status will expire in 2019. "The presence that we'll have out on the streets, the presence that we'll have toward our congressmen will be stronger than ever."
Officials with the D.C.-based groups United We Dream and the Fair Immigration Reform Movement -- two of the organizing partners for today's rally -- said they expect up to 17,000 people to attend. Both groups function as networks of immigration advocates across the country.
Today's rally stands to be the largest on this topic since the deferred-action program was established in 2012, said Jasmine Nazarett of the Fair Immigration Reform Movement.
"For us, this is the moment,"said Adrian Reyna of United We Dream.
Some of the Arkansans traveling with Marquez, who range in age from 14-36, are steeling themselves for arrests in what local and national organizers have said will be a choreographed display of civil disobedience, one component of the rally.
Xiomara Caldera, 20, an American citizen who lives in Springdale and plans to participate in the demonstration, said she's willing to risk arrest because of "I guess, just knowing I'm going to be around other people who are willing to sacrifice the same as me."
"There's other people who don't have that same privilege that I do, and others do, to risk arrest."
The group, which left Little Rock on Tuesday morning, planned to stop in eastern Tennessee for the night. The goal is to get back on the road by 4 a.m. to make it in Washington, D.C., before the rally starts at noon.
Marquez, whose family brought him from Mexico to the United States when he was 6, learned that he was here illegally when he became a teenager and wondered why he couldn't legally drive. The ramifications hit hard when, as a 17-year-old, he learned that he couldn't receive federal or state financial aid for college and faced having to pay out-of-state tuition rates.
"It was a very depressing phase of my life when I discovered what it really meant to be undocumented," Marquez said. "I went through a phase of giving up, of feeling sorry for myself."
"I wasn't able to work. I had to be paid under the table, which meant that I knew that I was probably going to be [paid] minimum wage or even below the minimum wage. I was just scared. I was scared because I knew that I couldn't do anything. Even traveling, getting a car, getting a place. I knew the chances of college were very slim."
One year later, Marquez applied for and received deferred status through the new program, established by President Barack Obama's administration in 2012. He worked at a fast-food job and received private scholarships to pay for college.
He graduated from the University of Arkansas at Fort Smith in December 2016 with a degree in international business and now works as the organizing director of the immigration advocacy group Arkansas United Community Coalition.
For the Deferred Action for Childhood Arrivals recipients from Arkansas, the trip represents their latest attempt to persuade the state's congressional delegation to pass a "clean" version of the Dream Act of 2017 -- one with no strings attached, such as heightened law enforcement measures -- by the end of the month.
On Tuesday, 32 Republicans in the U.S. House of Representatives signed a letter addressed to House Speaker Paul Ryan urging that lawmakers "act immediately" in passing a "permanent legislative solution" for deferred-status recipients.
"Not acting is creating understandable uncertainty and anxiety amongst immigrant communities," said the letter, which none of Arkansas' four representatives signed. "Reaching across the aisle to protect DACA recipients before the holidays is the right thing to do."
U.S. Attorney General Jeff Session announced in September the disbanding of the deferred-status program, amid threats of a lawsuit delivered by Arkansas Attorney General Leslie Rutledge and leaders from 10 other states. Republicans, including members of Arkansas' congressional delegation, long described the Obama program as an unconstitutional executive action.
Unsuccessful efforts to pass a Dream Act date back 16 years, but this year's proposal has received heightened attention given the pending expiration of deferred status for hundreds of thousands of people who would no longer be able to legally drive or work in the U.S.
Democrats have linked passage of the bill to their support of a government spending bill that's necessary to avert a shutdown. In the House, conservative Republicans typically oppose spending bills, making Democrats' votes crucial.
Senate Republicans also will need votes from across the aisle to meet the 60-vote threshold.
The 2017 Dream Act, introduced over the summer by two Republican and two Democratic senators, would establish an eight- to 13-year pathway to citizenship for people who were brought to the United States before their 18th birthdays and have lived in the country for at least four years before the law takes effect, according to the National Immigration Forum.
Beneficiaries must have high school diplomas, prove that they have been admitted to college and pass background checks.
Members of Arkansas' congressional delegation previously agreed with Trump's decision to unravel the deferred-action program, and some have expressed a willingness to work on a broader package of immigration changes, including a replacement for the program.
Sen. Tom Cotton, a Republican from Dardanelle, has said a legislative fix would amount to "encouraging illegal immigration with minors." Cotton also has said it would allow people to more easily move family members into the United States if they receive legal status, a process he calls "chain migration" that he is seeking to limit through legislation.
Michel Rangel, Arkansas United's deputy director, said advocates met last week in Washington with Rep. Steve Womack, R-Rogers; Republican Sen. John Boozman; and staff members in Cotton's office.
"While we've enjoyed the warm reception from our congressional delegation, we still have yet to see tangible action on their part," Rangel said. "I think that's why continuing to pressure them, week after week, is important."
Information for this article was contributed by Frank Lockwood of the Arkansas Democrat-Gazette.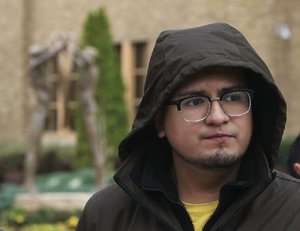 Photo by Staton Breidenthal
"I think no matter what happens, keep fighting," Humberto Marquez, 23, of Fort Smith, said Tuesday. His deferred status will expire in 2019. "The presence that we'll have out on the streets [at today's rally in Washington], the presence that we'll have toward our congressmen will be stronger than ever."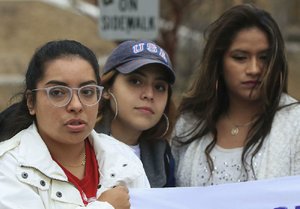 Photo by Staton Breidenthal
Michel Rangel (from left) and Maria Meneses of Arkansas United join Diana Pachecho at a news conference Tuesday in Little Rock before leaving for today's rally in Washington.
A Section on 12/06/2017