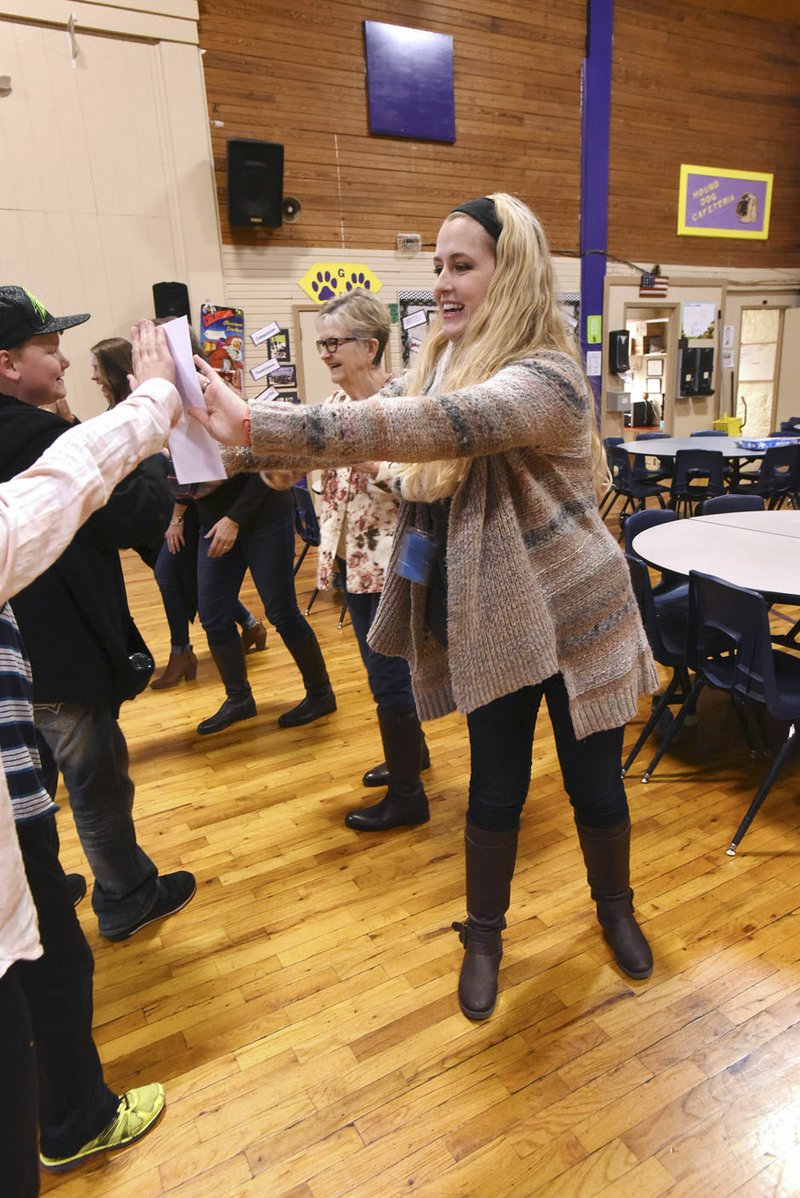 Kayla Wiles (right), music teacher at Garfield Elementary School, sings and dances Thursday with students during the school song after she received a $500 grant from the Rogers Public School Foundation. Foundation members, including Diana Kolman (second from right) delivered grant checks to teachers at several School District schools on Thursday. Wiles plans to purchase musical instruments with her grant. ( Flip Putthoff)
ROGERS -- Carrie Gifford's fifth-graders expressed a mix of excitement and confusion as some adults entered their classroom at Eastside Elementary School with an $500 oversized check made out to Gifford.
"What's happening?" several students said.
The Grantees
Twenty Rogers School District teachers and counselors received a total of $15,012 through a round of grants paid for by Tyson Foods this fall. Here are the teachers and how much they received for their projects.
TeacherSchoolAmount Awarded
Michele LisowskiBellview Elementary$500
Krista RothGrimes Elementary$1,000
Allison LogueDarr Elementary$500
Carrie GiffordEastside Elementary$500
Kayla WilesGarfield Elementary$726.16
Rachel WhiteJones Elementary$500
Heather FoxLowell Elementary$1,300
Jenny McKassonMathias Elementary$987
Molly HankeNorthside Elementary$500
Kathy WelshOld Wire Elementary$1,360
Summer SwaimTillery Elementary$500
Sheila CrolandTucker Elementary$660
Betsy GriffinWestside Elementary$974.85
Cheryl RosenbaumWestside Elementary$927.65
Tina WrobelElmwood Middle$525
Bronwen DassingKirksey Middle$500
Kay JohnsonKirksey Middle$575
Barbie CaldwellLingle Middle$552
Carie WhithamOakdale Middle$525
Ilonka KnowltonHeritage High$1,400
Source: Rogers Public Education Foundation
Gifford was one of 20 School District staff members surprised Thursday with a visit from Rogers Public Education Foundation and Tyson Foods representatives, who toured the district distributing grants totaling $15,000. Tyson donated the money for the grants.
The foundation normally makes a round of grant deliveries each spring. The Tyson donation made a special round of grants possible this fall.
"We're always looking for ways to give back," said Derek Burleson, a public relations manager for Tyson. "Our company's purpose is to raise the world's expectations for the good food can do. By investing in these students, we think we're doing just that."
Gifford's grant application was titled "Super Science Stash." She will put her $500 toward material that will provide hands-on science lessons for her students, she said.
At Kirksey Middle School, foundation officials waited in the main office for counselor Kay Johnson to appear. They cheered as Johnson walked through the door.
Johnson looked stunned at first, then returned their enthusiasm by raising her arms and shouting, "Woo hoo!"
Johnson and counselors at the district's other three middle schools received more than $500 each for their "You Matter" campaign. The money will pay for enough T-shirts that read "You Matter" for each of the middle schools' staff members.
The point of the campaign is to make every student aware staff members care about them and they have someone they can talk to if they have issues, Johnson said.
"We want them to know all of us have their best interest at heart," she said.
Bronwen Dassing, a Kirksey sixth-grade teacher, received $500 for her Kirksey Cake Boss club, which gives students a chance to learn how to decorate cakes. The money will go toward extra material such as cake stands and icing tips, Dassing said.
"This is going to be phenomenal," she said about the grant.
At Heritage High School, Ilonka Knowlton, a special-education teacher, received $1,400 to help at-risk students increase their reading skills.
Knowlton, a native of South Africa in her third year at Heritage, said the money will go toward some new technology for her classroom.
"We still use the old tape decks, that you actually have to put a tape in and have to rewind and fast forward," Knowlton said. "So we just want to get some updated things for them to use during our English lessons."
The grant application window was open Sept. 22 through Oct. 31. The foundation received about 50 applications, said Karyn Tecle, development and outreach manager.
The foundation distributed about $134,000 in grants to teachers in May and is thankful for another opportunity to support district teachers this year, said Amy Callahan-Flynn, the foundation's president.
Burleson said teachers often reach into their own pockets to pay for the material they need in their classroom.
"We're just really happy to be able to step in and support them," he said.
NW News on 12/08/2017
Print Headline: Foundation surprises Rogers teachers with grants
Sponsor Content