The Arkansas House of Prayer is known for its secluded location and as a setting of silence, but it will spend part of Sunday in an atmosphere of the camaraderie and noise of several hundred people in honor of the house's founding 10 years ago this month.
A joint ministry of St. Margaret's Episcopal Church in Little Rock and the Institute for Theological Studies at St. Margaret's, the idea to build an interfaith house in Arkansas where people could reflect and pray first came to Susan Sims Smith, an Episcopal priest at St. Margaret's, when she picked up a magazine on an airplane that included a story about an Episcopal house of prayer in Minnesota.
Sims Smith contacted the architects of the building in Minnesota and raised the money to create on five acres of wooded land what would become the state's first and only interfaith house of prayer, dedicated to being "an interfaith haven, set apart in Nature, dedicated to contemplative prayer, meditation and quiet, where all are welcome," as stated on the House of Prayer's website.
With its calm outdoor surroundings and setting of absolute silence inside, the house is just a short drive from Cantrell Road and has had more than 15,000 visitors since 2007.
"You won't believe it's in Little Rock," Sims Smith said of the House of Prayer.
Musician and yoga instructor John Willis has been involved with the House of Prayer from its beginning, when he and Sims Smith met through a shared interest in meditation and collaborative work involving a spiritual summer program for children in Little Rock.
"As soon as the building opened I was a volunteer on the weekend," said Willis, who later became the house's administrator before being appointed its first executive director in June 2016.
Over the years, visitors have come from as far away as Mongolia, Tibet, Siberia and various parts of India. One group of women from various Middle Eastern countries was brought by Sophia Said, who is Muslim and a member of the House of Prayer's board of directors.
Other groups from around the nation stop by while passing through, but Willis said it was "a cool milestone" that those who frequent the House of Prayer include people from mainline Protestant denominations and Catholics, along with faiths in which meditation plays a larger role.
Usually, Willis said, large groups will call ahead to let the house know they will be visiting, but when they don't, "It's always fun to walk in and see a big group of people that I've never seen there before."
Visitors must check in during office hours at St. Margaret's to obtain a key; those who frequent the house can apply for a key fob and gain 24-hour access.
Leah Elenzweig, a volunteer and former board member of the House of Prayer who is Jewish, said she was introduced to the house six or seven years ago when her daughter was part of the Institute for Theological Studies' multifaith youth group ministry.
Elenzweig and her husband started meditating about a year ago and usually visit the House of Prayer twice a month, sometimes to start off a date night in silence.
"It's a great way to start [a date]," Elenzweig said. "It's just some intentional time together but [also] being able to meditate in our own thoughts."
PRAYERFUL LISTENING
The anniversary celebration is set for what will be the second Sunday of Advent this year. According to Sims Smith, Advent has much to do with silence and reflection -- two intentions for which the House of Prayer was created.
"[Advent is] a time of prayerful listening to get ready for the celebration that is Christmas," Sims Smith said. "We offer a place of quiet, and so we would see both the House of Prayer and its ministry as strengthening Advent for Christians."
Advent is also reflected in other religions, Sims Smith said, although not necessarily at the same time of year.
In the Jewish faith, Elenzweig said, that time is the month of Elul -- the 12th month of the Jewish year -- and Selichot, which generally occur in the late summer or early fall, and both precede Rosh Hashanah and Yom Kippur. Selichot, known as a time of repentance, and Simkot Torah -- in which the scrolls of the Torah are rewound to Genesis and the cycle of reading begins again -- finish the month, Elenzweig said.
"It's a time where you look in the mirror and look at yourself and see where you missed the mark from what you had thought you could accomplish in the last year," Elenzweig said. "It's [a form of] taking stock."
ADDING PATH, LABYRINTH
Guests touring the House of Prayer at Sunday's event will have their first chance to walk on newly cleared land that will be the site of a meditation path.
Helen Porter, an Episcopalian and a friend of Sims Smith who became involved with the meditation path project during the summer, said work on the path began last month and that she is looking forward to reflection while walking.
"It is great to be able to go to the House of Prayer and sit and meditate and be quiet," Porter said. "But how long can you sit?"
Porter said the meditation path will be situated in the "perfect place" to make for a mindful walk.
"You can be in nature and be conscious of what you're doing every step that you take and [feel] that interconnectedness between [yourself] and nature, of which we have lost so much," Porter said.
Willis said he expects that with the continued growth in the number of visitors at events and year-round, the addition of a meditation path will attract even more.
A labyrinth -- a circular path also meant for walkers to cultivate a quiet space -- will also be installed.
The labyrinth was an extension of the idea for the outdoor experience the meditation path is intended to provide, said Porter, who has a circuit in her garden that serves as a labyrinth of sorts.
A labyrinth, Sims Smith said, is not the same as a maze.
"In a maze there are dead ends, mistakes and wrong turns," Sims Smith said. A labyrinth is a "winding, circuitous path" that takes a person away from and toward its center in which people can find "a sacred space."
One of the most famous labyrinths is the one on the floor of Chartres Cathedral in Chartres, France, but the labyrinth is found in all religions.
SUNDAY CELEBRATION
The celebration begins at 4 p.m. with an hourlong service at St. Margaret's Episcopal Church, 20900 Chenal Parkway, and continues with a reception afterward at the nearby House of Prayer.
There will be a moment of silence during the "Thanksgiving, Reflection and Vision" service at St. Margaret's, but Willis said he is also responsible for ensuring the celebration will include "very good music."
"We do need to make a joyful noise to celebrate the passage of everything," Willis said.
"You know, it's a very unique ministry, that it's stayed open for 10 years, [and] ended our 10th year in the black with all kinds of things, like a meditation path [that will be] opening up for us in the next year. That's something to make a lot of noise about."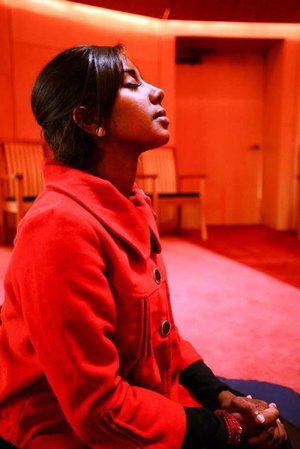 Photo by Special to the Democrat-Gazette
A young woman meditates in the Arkansas House of Prayer, which is open to all faiths.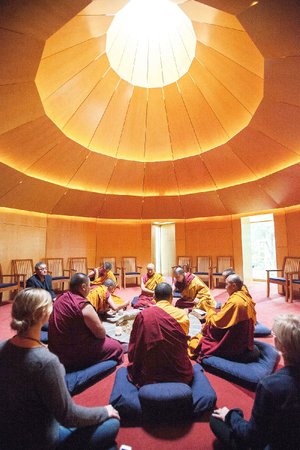 Photo by Special to the Democrat-Gazette/AMY CARPER
The circular room of the Arkansas House of Prayer is enclosed in silence, in keeping with the ministry's mission of dedication to silence and contemplative prayer for all faiths as it celebrates its 10th anniversary Sunday.
Religion on 12/09/2017