Crystal Bridges Museum of American Art has a colorful and comfortable surprise for visitors as they wind their way through the temporary exhibition "Stuart Davis: In Full Swing."
When they reach the back corner of the gallery -- the portion that's home to paintings and works from the most successful decade of the American artist's career -- a 1950s-inspired sitting room is waiting to further immerse visitors in the experience. Guests are encouraged to sit down in the inviting space, look through magazines, listen to jazz and stay awhile.
"What I think is so unique about Crystal Bridges is that we want you to feel at home," said Dylan Turk, a curatorial assistant at Crystal Bridges. "We want this to feel like your museum. This allows that to happen."
The experience is an experiment for the Bentonville museum, which opened the temporary exhibition of Davis' work in September. It will remain on view until Jan. 1. Turk said it's the first time Crystal Bridges has incorporated interior design into an exhibition, working with Chris Goddard, owner and principal designer of Fayetteville-based Chris Goddard Design Group, to produce a space that replicates the time period.
Photo by Charlie Kaijo
The 1950s-style sitting area for "Stuart Davis: In Full Swing" at Crystal Bridges Museum of American Art is meant to be used, but curatorial assistant Dylan Turk said many guests are hesitant to sit until encouraged. Their responses, Turk said, "have been huge."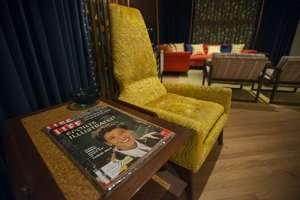 Photo by Charlie Kaijo
Magazines from the 1950s are part of the experiment at the Stuart Davis temporary exhibition's sitting area.
The idea began simply as a way for Crystal Bridges to fill some extra space in the exhibition that features 86 works from Davis' career. Turk said he was asked by Margi Conrads, the exhibition's curator, if he could find some furniture to put together a seating area that would add to the space. After discussing the project with a friend, Turk had another idea.
Crystal Bridges reached out to Goddard, who was nominated as the 2017 International Interior Designer of the Year and was named one of the top 100 designers in the world by the Andrew Martin Interior Design Review. The museum asked if he would be interested in designing the room. Goddard was and said he thought working with a museum would offer a unique opportunity to show how furnishings and art can relate.
"It was a little intimidating to say the least at first because you've got to appeal to a mass audience," Goddard said. "Plus, you can't take away from the art. You have to enhance the experience.
"So we did a lot of research into Stuart Davis and the 1950s to be as period correct as possible because when you're in a museum setting, everything needs to be right."
Turk said Goddard's commitment to making the space a realistic re-creation of a 1950s living room was evident when he arrived at the museum to make his first pitch.
"He told us why this shape, why these colors, why these patterns," Turk said. "He was drawing back to specific moments in design history. That was important because I wanted it to not just be an aesthetic thing, but to really come out of what existed in the 1950s. So I thought he was perfect for it."
With bold colors, geometric shapes and layers of texture, the final product is meant to show museum visitors how Davis' work influenced home decor during the time period.
Some of the furniture -- like the L-shaped red couch -- were not made in the 1950s. Instead, they were custom creations designed to resemble furniture of the time. Turk said Goddard found the two sitting chairs at a vintage store, re-stained the bases and covered the cushions in multicolored upholstery. Goddard added that he looked all over the country for side tables from the 1950s, and the accent pieces are from the time period.
There are other interesting touches as well, including a record player sitting on top of a record cabinet and a selection of Time magazines from the 1950s. Guests are encouraged to flip through the pages as they sit back and listen to a jazz soundtrack playing in the gallery.
"So many museums you can't touch, you can't participate in," Goddard said. "We wanted to make it feel very welcoming so that visitors would know they could sit down, relax, enjoy the art, enjoy the music, have a whole new experience and see how a room back then would've felt."
Turk said plenty of guests have been hesitant to take a seat, wondering if the room was off-limits much like the paintings. But once assured that sitting is allowed and encouraged, visitors often welcome the invitation.
"Every single person wants to be able to see how their life fits into what we're showing," Turk said. "So when you give them an opportunity to sit down on a couch in a living room, it draws it home. It connects it back to their regular life of sitting on a couch. And so visitor responses have been huge."
Goddard also designed benches located in other sections of "In Full Swing." The exhibition is a chronological depiction of Davis' career, and each bench is covered in fabrics that relate to the time period.
Goddard said the opportunity to work with Crystal Bridges has been a "wonderful experience." He and Turk are hopeful the project will lead to future collaborations as the museum finds other ways to connect art and design.
"This has opened everything up for us, and I really think it's just the beginning of how we're going to be able to integrate immersive experiences or bring two ideas of design and art together," Turk said. "I think this is just laying the foundation of what that is going to be."
Metro on 12/10/2017