Arkadelphia's first state football title in 30 years included two key fourth-quarter plays and controversy near the end of Saturday's Class 4A state championship game against Warren.
Sophomore quarterback Cannon Turner's 81-yard touchdown pass to senior tight end Alec Lewis, and senior cornerback Dillon Scott's interception with four seconds left helped the Badgers earn a 28-27 victory over the Lumberjacks at War Memorial Stadium in Little Rock.
Arkadelphia Coach J.R. Eldridge, in his seventh season at the Clark County school, led the Badgers to their first state championship since 1987. It was Arkadelphia's third state championship overall, with the late John Outlaw leading the school to titles in 1979 and 1987.
"It's just unbelievable," Eldridge said. "I'm just so proud of those coaches and kids for the work they've put in. Warren, they've been here. We haven't. But I think it says something about the way our kids have continued to come to work. We just tried to keep knocking on the door and we finally got here."
The Badgers (14-1), the No. 2 seed from the 7-4A Conference, trailed 27-21 with 3:19 left when Turner found Lewis along the left sideline for an 81-yard touchdown pass. Junior Gabe Goodman's extra-point attempt gave the Badgers a 28-27 lead.
"He [Arkadelphia offensive coordinator Casey Moreland] told us right before, 'This play is going to score,' " Turner said. "We executed it. We believed in it. We scored."
Warren (13-2), the defending Class 4A state champion and No. 1 seed from the 8-4A Conference, began its drive at its 18 with 3:13 left and the Lumberjacks drove to the Arkadelphia 8.
With no timeouts left, Warren attempted to spike the football to stop the clock at three seconds after a 1-yard run by junior Treylon Burks. But a fan from Warren's student section ran onto the field from the west side of War Memorial Stadium. The student, who gave a thumbs down gesture toward the Arkadelphia fans on the east side of the stadium, was taken down by two Little Rock Police Department officers and an Arkansas State Parks ranger at the 25-yard line.
Lt. Michael Ford, a spokesman for the police department, told the Arkansas Democrat-Gazette that the fan was a 16-year-old from Warren. He was charged with disorderly conduct and criminal trespass, and received a citation. The student was not named because he is a juvenile.
After the spike, Warren sophomore Jesus Tinoco was lining up to attempt a 25-yard field goal. However, officials penalized Warren 15 yards for unsportsmanlike conduct, which backed the Lumberjacks up to the Arkadelphia 23. The time on the clock was changed from three to 12 seconds after the delay by the fan.
On second and goal from the Arkadelphia 23, Warren ran another play instead of attempting a 40-yard field goal. Junior quarterback J'malachi Kinnard was intercepted by Scott in the end zone with four seconds left.
Warren Coach Bo Hembree expressed his displeasure with how Saturday's game ended.
"They hurt our kids," Hembree said. "They weren't helping our kids. Was that helping kids? I've never seen that in college.
"But it's sad when you work 15 weeks to get here and you let something like that take it away from a group of kids who worked their tail off all year. How do I go talk to them?"
Eldridge was proud of his team's poise down the stretch.
"It was a crazy situation," Eldridge said. "I've never seen anything like that."
Turner was named MVP after completing 10 of 17 passes for 281 yards with 1 touchdown and 1 interception. He also rushed for 56 yards and 1 touchdown on 20 carries.
Junior running back Zion Hatley finished with 22 carries for 54 yards and a 5-yard touchdown run for Arkadelphia.
For Warren, Burks accounted for 295 of the Lumberjacks' 506 offensive yards. He caught 4 passes for 178 yards and 2 touchdowns, rushed for 116 yards and 2 touchdowns on 18 carries, and was 1-of-4 passing for 11 yards. Defensively, Burks had a team-high 16 tackles and an interception.
Warren trailed 21-13 at halftime but took a 27-21 lead in the third quarter with Burks hauling in touchdown passes from Kinnard of 53 yards (11:41) and 91 yards (6:32). He also had scoring runs of 25 and 2 yards in the first half.
Information for this article was contributed by Democrat-Gazette staff writer Emma Pettit.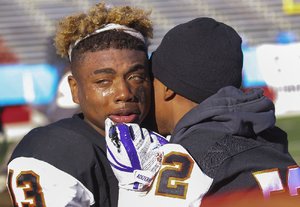 Photo by Benjamin Krain
Warren's Treylon Burks is consoled after Saturday's game. Burks had 383 all-purpose yards and scored four touchdowns.
Sports on 12/10/2017