Holiday tragedy struck the Clemmons-Charton household when an elf-on-the-shelf toppled from atop the refrigerator onto the floor and into the path of roving pets.
"The dog ate our elf's head off," 6-year-old Joseph said Saturday, balancing a half-eaten cookie on his knee.
One of the three family dogs -- Beckham, Tara or Iris -- is the culprit, said Karina Clemmons, Joseph's mother. There were no witnesses.
The elf, which was supposed to watch over the household until Christmas, is now faceless. An arm was gnawed off.
"It was a little traumatic," said Clemmons, who accompanied her husband, Paul Charton, and their other son, Julian, to the Clinton Presidential Center on Saturday to meet Santa Claus.
"We explained that Christmas works anyway," she said. "Santa's magic still works."
On the second floor of the presidential center, parents placed their children on Santa's lap so the youngsters could whisper what presents they wanted. Parents were given free photographs to take home.
Sugar, oatmeal, chocolate chip and snicker-doodle cookies were provided, as were crayons and coloring booklets.
It's the 13th year the center has hosted Santa Claus. He will be there again from 10 a.m. to 2 p.m. next Saturday.
Clemmons said the family has visited the center every year since Joseph was born. It's their favorite of all possible Santas to visit, she said.
"His beard is real. It's not fake," Joseph said.
He asked for a remote-controlled car while Julian, who is 4, requested a motorcycle.
While coloring a paper Christmas tree, Quentin, 6, detailed the good deeds he's done to earn a spot on Santa's nice list.
"I've been telling my mom nice words," he said. "Like, 'Please, can I help you?'"
Christian, another 6-year-old, also has been good this year, according to her self-assessment.
"I helped clean up my room," Christian said. "I helped get out the laundry that was dry."
Christian's great-aunt, Lottie Jernigan, said Christian's father will love the photo of his daughter beaming on Santa's lap, a red bow tied around one of her pigtails. He's stationed in Afghanistan, so they won't see each other on Christmas, Jernigan said.
Penn sat diagonal from his mom, Robyn Friday, and shaded in ornaments with crayon.
The shy 6-year-old communicated mostly through nods and head shakes.
Yes, he's been good this year. No, it's not hard to fall asleep on Christmas Eve.
Penn said he asked Santa to bring him a cat, preferably a kitten.
"He desperately wants a cat," said Friday, adding that they already own two dogs.
"He's a cat person," she said. "Who knew?"
Amari also asked Santa to bring her new furry friends, though her request was slightly more impractical.
She wants two puppies.
"And I want to fly," she added.
Lisa Hardman sat next to her grandson, Daniel, who fiddled with his Santa hat and twinkling snowman pin.
The 6-year-old said the only gift he's giving this year is to his girlfriend.
"This bracelet," he said, holding up a thin beaded bracelet the color of a rainbow.
"I bought that for you!" Hardman exclaimed.
"I was just joking," Daniel said, laughing.
For Kathleen and Corey Smallwood, Saturday was their third visit to Santa Claus this season. During the first two encounters, Zetta, their 18-month-old, was scared to death, Kathleen Smallwood said.
Even Saturday's visit was a little precarious, she said. Zetta started to squirm and cry, but Santa handled it.
"He was just really kind and talked to her, and she settled down," Kathleen Smallwood said as Zetta banged an Elmo doll on the tabletop.
Parents sang, danced and clapped next to the photographer to get their children's attention.
Some children smiled, some whined and some were oblivious to the bearded man who propped them up on his knee.
After the photographer snapped each photo, it was uploaded to an iPad, Roger Robinson explained as he manned the portable printer.
The photo was placed on a memory card, then printed so parents could take home a copy, he said.
"Over the years, we've gotten it down to a really efficient system," Robinson said.
Sometimes, there's no happy grin. But pictures of tears, frowns or grimaces "are the ones that are most memorable," he said.
"In 20 years, that's still going to be a picture that puts a smile on someone's face."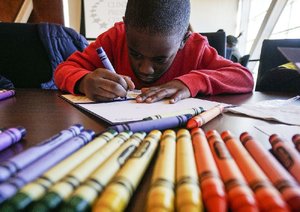 Photo by Mitchell PE Masilun
Christion Walker, 7, makes Christmas cards for his family Saturday during the Santa at the Center event at the Clinton Presidential Center in Little Rock.
Metro on 12/10/2017