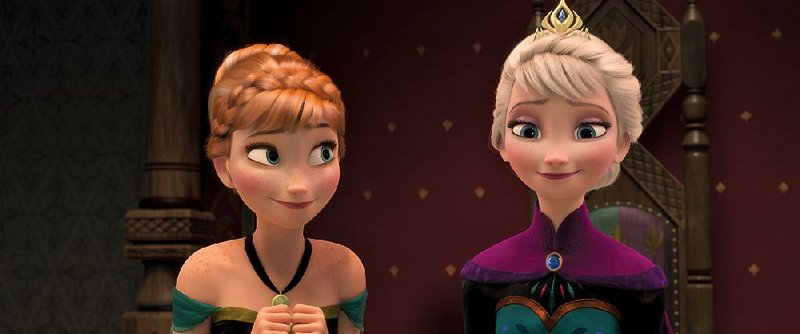 Disney's Frozen tells the adventure of Princess Anna (Kristen Bell), left, and her sister, Queen Elsa (Idina Menzel), who has accidentally used her power to sink their kingdom into perpetual winter. Frozen airs at 7 p.m. today on ABC.
Tonight's the night, fellow Arkansans. Gather the kiddies and/or grandkiddies and settle in for the singalong. Or simply enjoy it by yourself.
Frozen airs from 7 to 9 p.m. today on ABC. If you don't yet know all the songs by heart, what's wrong with you? Our 2-year-old granddaughter can run around the living room screaming, "Let it go, let it go" at the top of her lungs for an hour.
Of course, with her it comes out sounding like "whutuhglow, whutuhglow," but it's still adorable.
Frozen, in case you've been in a cave since 2013, is the tale of fearless young princess Anna (America's sweetheart Kristen Bell) who sets out with rugged mountain man Kristoff (Jonathan Groff) and his loyal reindeer, Sven, on an epic journey to find her sister, newly crowned Queen Elsa (Broadway veteran Idina Menzel), whose icy powers have accidentally trapped their kingdom of Arendelle in perpetual winter.
Along the way they encounter mystical trolls and the scene-stealing Olaf the Snowman (Josh Gad), who dreams of experiencing summer, although that would mean, well, better not tell him.
Disney notes that the Oscar-winning film is the highest-grossing animated movie of all time, with a $401 million domestic box office take, and a worldwide total of $1.276 billion. Billion. With a B. Not a bad return for a little film that cost a mere $150 million to make.
Naturally, the box office doesn't include the 176 Frozen goodies available at the online Disney store. They include Arendelle Palace Dollhouse ($149.99); Elsa or Anna costume ($49.95); Anna doll with Olaf figure ($16.95); Frozen Karaoke CD ($7.95); and, for the serious art collector, Frozen "The Warm Embrace" limited edition giclee on canvas ($279.95).
Brace yourselves. Disney has announced that a 3D sequel, Frozen 2, will be released Nov. 27, 2019. Hey -- do you want to build a snowman? You know you do.
• Boys are back. I love NBC's geezer travelogue Better Late Than Never. Season 2 won't officially begin until Jan. 1, but we'll get a sneak peek at 9 p.m. Monday after The Voice to whet our wanderlust appetite.
The series features host/comedian Jeff Dye and four venerable American sports and entertainment icons touring the world and seeing the sights.
The gang consists of Henry Winkler, William Shatner, George Foreman and Terry Bradshaw. In order, their ages are 72, 86, 68 and 69. I met Bradshaw in an elevator once and found out he and I are almost exactly the same age. So I can call this geezer television at its finest without fear of reproach.
This season the guys will visit Lithuania, Sweden, Morocco, Barcelona and Madrid in Spain, and Munich and Berlin in Germany, where they will "sample crazy culinary delicacies, participate in Oktoberfest, celebrate World Pride Day, ride camels in the middle of the Sahara Desert and face off against a bull in the oldest matador ring in Madrid."
And -- and -- on top of all that the guys get to meet one of the members of ABBA! Kids, ask your grandparents who ABBA was.
• Funny Amazon stuff. The entire first season of The Marvelous Mrs. Maisel is streaming on Amazon Prime. It stars Rachel Brosnahan (House of Cards) as outspoken housewife/mother Midge Maisel, who is just discovering she has a gift as a stand-up comic.
Although the comedy/drama is set in 1958, it still appears to be quite contemporary. Midge is no June Cleaver in pearls in this one.
Alex Borstein (Lois Griffin on Family Guy) plays Midge's manager, Susie Myerson. Added bonus: Tony Shalhoub (Monk) and Marin Hinkle (Two and a Half Men) play Midge's parents.
The eight-episode series comes from Amy Sherman-Palladino (Gilmore Girls) and husband/creative partner Daniel Palladino (Family Guy).
"It's a show about a woman finding her voice when that wasn't expected or encouraged," Brosnahan tells The Associated Press. "Midge is speaking up and speaking out in a way that was radical at that time, and also is radical in many ways today. I think this show highlights how far we have come and how much has changed, but also how far we have not come."
Sherman-Palladino adds, "Female buddy relationships are one of the great untapped wells in storytelling, but the sad thing about writing this sort of women's empowerment story is when you wonder, 'Couldn't we have gotten a little further along by this point?'
"The series wasn't intended to be a sort of political piece, but it's taken on an additional layer of meaning thanks to [recent] events I wish didn't exist."
The TV Column appears Sunday, Tuesday and Thursday. Email:
mstorey@arkansasonline.com
Style on 12/10/2017
Print Headline: Frozen airing on ABC: Don't let it go unwatched
Sponsor Content