It's tempting to describe new Christmas recordings by rock iconoclast Tav Falco and Mulehead drummer Geoff Curran in terms such as retro, rockabilly, surf, Americana.
But for each of these Arkansas-connected musicians, Christmas music is a decidedly personal, perhaps quirky, individual vision that has roots in childhood memories and American music.
Falco, who grew up on a farm near Gurdon, calls Austria's capital city, Vienna, home now. The musician, photographer, actor and film director says his first Christmas album, A Tav Falco Christmas (ORG Music), is informed by childhood memories.
"There was the loden green of the little Christmas tree cut in a pine grove on our farm set in the woods between Whelen Springs and the Missouri Pacific Railroad terminal of Gurdon," he writes in an email interview. "The resinous scent of pine needles mingled with the clickety-clack of the tiny wheels of the freight train that my 1947 American Flyer locomotive pulled on a circle of track around the tree."
He remembers ropes of silver tinsel, glittery glass bulbs and little cotton Santas.
"Tiny stuffed reindeer hung from the boughs, while placed on the highest branch was a sparkly white angel with a light inside and a frosty star on her head."
For Falco, Christmas was a time for playing with the railroad. The locomotive spewed real smoke from its stack like a steam engine.
"At night, when I lay in my bed and the moon shown through the lofty limbs of the pecan tree outside my window, I could hear a real steam engine train through the woods south of the farm rumbling, chugging, blowing and hissing down the track heading for El Dorado. As moonlight fell across my blanket, I felt comforted by the train passing in the forest."
. . .
Curran -- whose wife, Jill, is from England (Lonoke County) -- moved to the state in 1998 to join the faculty of the University of Arkansas for Medical Sciences. The 52-year-old Little Rock resident has a strong connection to surf guitar-infused music that informs the instrumental Christmas album he recorded under the name of The Supraphonics.
"My love for that music came from my first band when I was 16 and in high school," he says. "It was a 1950s and 1960s music revue band; that's the origin of my love of this music. We played tunes by The Ventures, Link Wray, girl-group songs. I'm a fan of all of that stuff. I trace my love of this music to that band and that period in my life." The influential Wray's big hit was "Rumble"; The Ventures scored with "Walk, Don't Run."
For Christmas With the Supraphonics (Max Recordings), Curran plays all the music on the album.
"I wasn't comfortable using my own name; I wanted to come up with a name that sort of evokes the time and the genres of surf and '60s music. One of the snare drums I use is called a Supraphonic snare drum [made by Ludwig]. It's been around for decades."
. . .
A book given to the young Falco by his mother was even more important than music: The Golden Christmas Book.
"Every Christmas for as long as I can remember, I brought out the book with its big jolly Santa on the cover, with a little girl sitting on one knee and a little boy on the other and with reindeer, stars and bugles floating around them. I still bring the book out at Christmas. ... It's full of stories, poems, songs and puzzles."
Falco returns to Arkansas once or twice a year to spend time with his mother, Rita Nelson, who lives in Hot Springs. He also records albums in Memphis.
"Christmas is always enticing in mother's home," he says.
As for Christmas music influences, Falco says a good song is important, but so is the singer.
"I really like the classic Christmas standards sung by Gene Autry. His voice is clear and melodic in a simple, direct way, and his phrasing is so essential. Many of the singers whom I admire recorded Christmas albums: Jerry Lee Lewis, Dean Martin, Burl Ives, Elvis Presley with the Jordanaires, and the fabulous Brenda Lee."
Autry's biggest hit, "Rudolph the Red-Nosed Reindeer," Presley's "Blue Christmas" and Ives' "Holly Jolly Christmas" are on the album.
Having recorded several albums with his band Panther Burns, Falco has wanted to record an album of Christmas tunes for years.
"Familiar Christmas tunes were tossed in the punch bowl -- evergreens from genres of pop, jazz and ghetto funk. In large part these were songs that I listened to as a boy around Christmastime."
Falco recorded the album in July at the legendary Sam Phillips studio in Memphis, where he has recorded four albums and plans to work on a fifth starting in January.
"At this point in my checkered career, I cannot imagine recording anywhere else. This is my creative and spiritual sanctuary," he says. "The studio managers, Jud Phillips Jr. and Jerry Phillips, live and breathe music. Without their dedicated support, A Tav Falco Christmas would probably have never been made, and certainly not to the standard you now hear.
"The studio is infused with the history of the origins of the music we now listen to everyday, and history is still being made at Phillips studio. The walls are hung with row upon row of framed gold records. ... It is a story of talent, experimentation, growth and perseverance. Above all it is the story of blind belief in the creation of all that provokes and satisfies the human spirit."
Jud Phillips Jr. told a story that put an end to any idea Christmas decorations in the studio.
"When Elvis went into the studio to record one of his Christmas albums, also in the heat of July, the producers had put up a big Christmas tree and some other doo-dads to set the mood. Elvis, however, was going through a bitter divorce at the time, and when he saw the Christmas tree in the studio, he spun around with an extended karate chop and broke that tree in half with his foot.
"Any way you look at it, I discovered that you really have to psyche yourself up to record a Christmas album in July."
. . .
Christmas With The Supraphonics is the first Christmas album released on Little Rock-based Max Recordings, which has made albums by Mulehead, Kevin Kerby and others.
Curran, who also plays music with Kerby, says The Supraphonics album was 12 years in the making. Along with drums, Curran plays guitar, keyboards and other instruments. For the Christmas recording, he added sleigh bells and glockenspiel to his musical arsenal.
"I got this idea to work by myself. As I was playing in other bands and making records, I started a side project by myself as a multi-instrumentalist. Being an instrumentalist, helping with arrangements and production are roles I can play easily. I love cover songs, doing different things with them. I worked on the Christmas album off and on, it was on the back burner, maybe a song a year.
"When I got the feeling, I worked on it."
One hears a bit of reggae on the introduction to "Blue Christmas," a jazzy touch on "Christmas Time Is Here" and touches of surf guitar legend Link Wray, guitarist Duane Eddy, rockabilly, lounge and country.
Curran's only original song on the album, "Santa! I Know Him," features his 11-year-old son Joe. Amid a fuzzy, Ventures-inspired melody, Curran's son yells "Santa!" and "I know him," words inspired by the film Elf.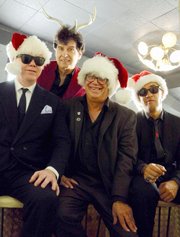 Style on 12/10/2017