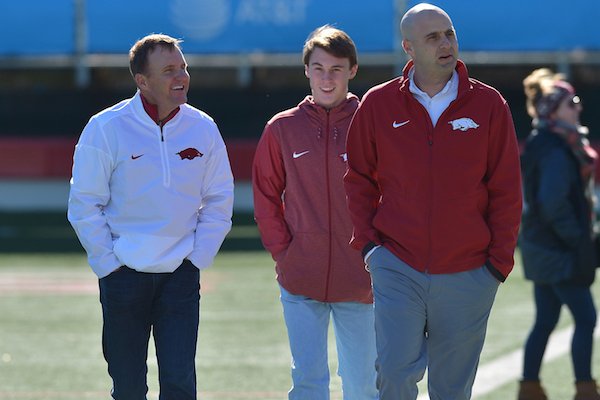 Arkansas head coach Chad Morris (left), Chandler Morris (center) and assistant coach Barry Lunney Jr. (right) during pre-game before the 4A State Championship in Little Rock. Special to the Democrat-Gazette/JIMMY JONES ( Jimmy Jones )
Offensive lineman Silas Robinson committed to Coach Chad Morris at SMU and has now flipped his pledged to Arkansas with Morris now in Fayetteville. Receiver Mike Woods committed to the Hogs earlier today.
Robinson, 6-4, 315 pounds of Yoakum, Texas committed to the Mustangs in June over scholarship offers from Virginia, Brigham Young, Rice, Army, Texas State and others while drawing strong interest from West Virginia, California, Texas Tech, TCU and Oklahoma State.
He said he wanted to be a Razorback because of Morris and offensive line coach Dustin Fry.
"I feel like there's really nobody better than those two guys," Robinson said. "I'm just fired up that I'm going to be with them and play for them. Ever since I met them, they're great christian guys. I feel like they truly love their players. They don't want to use you for football, they want to make you better person and make you be the best you can be."
He has a 340 pound bench press, 650 squat and 365 hang clean.
"My offensive line coach played at Northern Iowa and he played for the (Tampa Bay) Buccaneers and he's a big Olympic lifter so we do a lot of lifting weights," Robinson said.
Robinson believes he'll play inside at Fayetteville.
"I would expect guard or center," Robinson said. "I could probably play right tackle, but I would expect guard or center."
When he officially visits Arkansas in January, it will be the first time to visit the state.
"I'm really excited about it," said Robinson, who has a 3.7 grade point average "I live in a town that probably has a thousand people in it and it's really good small football town in Texas and I like to hunt and fish and I'm fired up I get to go to Arkansas and take my big truck. I'm excited, very excited."
His late grandfather, Wendell played center at Oklahoma and was long time high school coach and is in the Texas High School Hall of Fame
"When he retired from Texas, he went to Arkansas for a year, but I don't know the name of the school, but he coached there and he loved it," Robinson said.
His father, Bo Robinson is the head coach and athletic director at Yoakum. He played football at Texas and was an All SWC defensive end for the Longhorns in 1992.
"He said when they played in Arkansas they had the best fans," Robinson said.
Sponsor Content