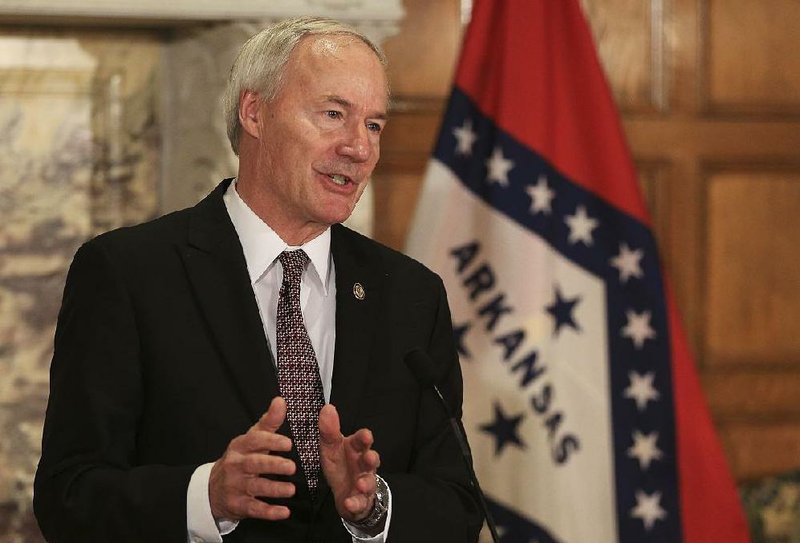 Gov. Asa Hutchinson is shown in this file photo. ( Staton Breidenthal)
Gov. Asa Hutchinson left Little Rock Thursday morning and headed for Washington, D.C., where he'll be meeting with Vice President Mike Pence later in the day.
The topic of the meeting is the North American Free Trade Agreement, according to spokesman J.R. Davis.
The Little Rock Republican has expressed concerns about potential changes to NAFTA and the effect they would have on people in Arkansas.
In addition to Hutchinson, Govs. Kim Reynolds of Iowa, Rick Snyder of Michigan and Bill Haslam of Tennessee will be discussing NAFTA with Pence, Politico reports.
In Arkansas, there is particular concern about the impact NAFTA changes would have on agriculture.
The Arkansas Farm Bureau is also stressing the importance of trade between the U.S. and its neighbors. A group of young farmers from Arkansas visited the Mexican embassy in Washington earlier this week and discussed trade issues.
President Donald Trump has been highly critical of NAFTA, portraying it as a bad deal; he has promised to negotiate a better deal for Americans.
Trade talks between the U.S., Mexico and Canada are ongoing.
Read Friday's Arkansas Democrat-Gazette for full details.
Sponsor Content