Gov. Asa Hutchinson, in a letter sent to the Arkansas State Police and prosecutors, said this month that he believes that a much-debated 2013 state law allows for the open carry of handguns, though no officials have announced a change in policy in response to the governor's message.
Col. Bill Bryant, the state police director who was appointed by the governor and to whom the letter was directed, issued a memo of guidance to commanders on Wednesday. It was the first time the director had directly given guidance on the matter of open carry, according to an agency spokesman.
But Bryant's memo -- which says that open carry is not probable cause for an arrest and which directs troopers to use "reasonable suspicion" when stopping a person suspected of criminal conduct -- is not different from the training that cadets receive at the State Police Training Academy, said spokesman Bill Sadler.
The governor's letter and Bryant's guidance were first reported by the website of Arkansas Times.
[DOCUMENTS: Read governor's letter, Arkansas State Police response]
"The open carry of a handgun is protected and allowed, so long as there is no intent to unlawfully employ the handgun," Hutchinson said in his letter. In a footnote, he defined "open carry" as carrying a handgun in plain view without any type of license.
Hutchinson thought it was "prudent" to issue guidance on the matter this month, a spokesman said Thursday, after the governor's expectations for a test case on whether open carry is allowed in the state that would resolve the issue in court never came to fruition.
Hutchinson wrote in his Dec. 15 letter that he was unaware of anyone being cited by the state police agency solely for the open possession of a handgun. Sadler also said the agency has made no such arrests.
But other law enforcement agencies and prosecuting attorneys may act on their own interpretations of whether open carry is legal in Arkansas. A 2015, nonbinding legal opinion by Attorney General Leslie Rutledge, who said it is her belief that the practice is legal, advised anyone who openly carries to expect to be questioned by police.
Whether Arkansas' laws generally prohibit someone from openly toting a gun in public has remained at issue after the Legislature passed Act 746 of 2013, an attempt to "clarify" several parts of the state's gun codes.
Gun-rights activists hailed the passage of the law as bringing "constitutional carry" to Arkansas, referring to the U.S. Constitution's Second Amendment, which gives citizens the right to keep and bear arms. However, lawmakers, lawyers and even two attorneys general have remained split over the effect of Act 746.
Supporters of open carry have even cited Act 746 and the Second Amendment in attempts to derail otherwise gun-friendly pieces of legislation, including a law Hutchinson signed earlier this year that will allow concealed guns to be carried in many public places by people with enhanced concealed-carry training. Open-carry supporters argue their rights are already protected by Act 746 and the U.S. Constitution.
News reports point to at least one circuit court decision on open carry: In 2016, Pulaski County Circuit Judge Wendell Griffen upheld the state police's decision to revoke James Tanner's concealed-carry license. Tanner, while openly carrying a weapon in a Wal-Mart, was approached by a trooper and declined to show identification, according to court records. He was not charged with carrying a weapon. Newspaper archives show at least one instance in which someone was charged by local police, and convicted, in relation to open carry.
A statement by Moms Demand Action Arkansas, a group that lobbies for gun-control laws, called the governor's letter "irresponsible" and out of step with the intent of lawmakers who approved Act 746.
Politically, the Republican governor is facing a potential primary challenge from Hot Springs gun-range owner Jan Morgan, who has assailed Hutchinson's stance on guns as being liberal.
In a phone interview Thursday, Morgan said she believed that the U.S. and Arkansas constitutions allow gun owners to carry weapons either openly or by concealing them, without having to get any permits. She said the governor's message of supporting licensing for concealed carry only added further confusion.
"The fact that there's confusion after three years of Republican leadership shows that there's a problem with the leaders," Morgan said.
The Democrats' announced candidate for governor, Jared Henderson, said he supports gun rights and concealed carry, but "leaping from that to open carrying just seems wrong." He added that he wants to see more debate on the issue.
In addition to Bryant at the state police, Hutchinson's letter was sent to the state Office of the Prosecutor Coordinator as a "courtesy" to let them know of the guidance, a spokesman said.
J.R. Davis, the governor's spokesman, said Bryant's subsequent memo within the state police satisfied the governor's attempts to give "clarity" to the issue.
In Pulaski County, the state's most populous, Prosecuting Attorney Larry Jegley said Thursday that he saw a copy of the governor's letter. Jegley said the letter would not affect his decision to prosecute someone charged with a crime related to open carry if that arrest were made by trained police within his jurisdiction.
"My policy is and remains that so-called open carry ... is far from clear from a legal perspective," Jegley said. He said he could not name a case in his jurisdiction in which someone was charged simply for open carry.
Sheriffs in each county are likely to consult with their local prosecutor in determining a policy toward open carry, Scott Bradley, director of the Arkansas Sheriffs' Association, said Thursday. He said he got a copy of Hutchinson's letter from media reports and did not believe it would change the way sheriffs handle open carry.
Carrying a weapon, including a handgun, is a Class A misdemeanor in Arkansas, punishable by up to one year in jail. However, Act 746 of 2013 provides exemptions, such as for law enforcement and licensed concealed carry. There also is a line in the law stating carrying a weapon is illegal if it is "readily available for use with a purpose to attempt to unlawfully employ the handgun, knife, or club as a weapon against a person." Proponents of open carry say this protects lawful owners.
Proponents and opponents of open carry disagree on the number of states that allow gun owners to freely tote their weapons in public, because many states have caveats to their laws. For example, some states allow open carry of handguns while prohibiting openly carrying long guns, while in other states the laws are the opposite, according to a 2015 analysis by PolitiFact Florida.
Five states expressly prohibit open carry, according to PolitiFact: California, Florida, Illinois, New York and South Carolina.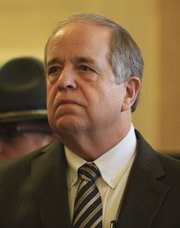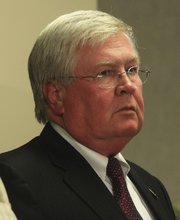 A Section on 12/29/2017