The House passed a bill Tuesday that would require voters to show a photo identification before casting their ballots.
House Bill 1047, by Rep. Mark Lowery, R-Maumelle, would resurrect the requirements of a voter-identification law that was struck down by the Arkansas Supreme Court in 2014.
While Lowery's bill passed 74-21, some Republicans, unsure of how the high court would rule on this bill if enacted, are drafting a constitutional amendment to refer to the voters that would impose the same requirements as in the bill.
On the House floor Tuesday, Lowery said there are anecdotal stories about voter fraud, but focused his arguments for his bill on a lack of confidence in the voting system.
"Anytime there is a lack of confidence in one of our main institutions -- which is the ability to vote -- it also has the impact of undermining democracy," he said.
A 2016 Gallup poll he referred to found that 35 percent of Americans are "very confident" in voting. Sixty-six percent were very or somewhat confident, according to the poll.
Rep. Clarke Tucker, D-Little Rock, along with several other Democrats, argued against the bill.
"If people who are lawfully registered to vote and meet all of the constitutional criteria to vote in the state of Arkansas are turned away from the ballot, that is not going to instill more confidence in the democratic process," he said. "In fact, it would probably be the opposite."
[EMAIL UPDATES: Get free breaking news alerts, daily newsletters with top headlines delivered to your inbox]
Lowery said he intentionally included a broad range of identifications to allow participation.
Under HB1047, identification that would be accepted includes: driver's licenses, photo identification cards, concealed-handgun carry licenses, passports, employee badges or identification documents, student identification cards issued by accredited Arkansas colleges and universities, U.S. military identification documents, public-assistance identification cards and free voter-verification cards.
The secretary of state's office purchased equipment for each county to provide the free cards after the 2013 voter identification bill became law. Lowery said there should be no additional cost.
But Rep. Charles Blake, D-Little Rock, challenged consideration of the measure because an independent fiscal-impact statement detailing how much the legislation will cost counties had not been filed.
According to House rules, any "member of the House may request and the Speaker shall direct that a fiscal impact statement for the bill be prepared and placed on the desk of each member."
The House briefly recessed to allow the House Rules Committee to consider Blake's challenge.
"I have had requests from county officials about the cost of voter ID -- training, personnel -- so I made a motion to hold the bill until there's a fiscal impact statement placed in front of us," Blake told the committee.
Back in the House, Rep. Andy Davis, R-Little Rock, suggested the body hold off on considering the bill until a fiscal-impact statement is filed.
Then Lowery made a motion to suspend the fiscal-impact rule, which the House approved. That allowed consideration of the bill and a vote.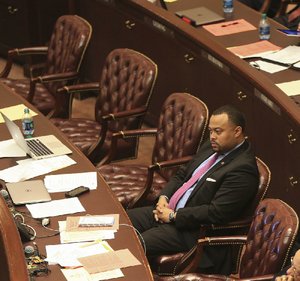 Photo by Staton Breidenthal
Rep. Charles Blake listens to the debate Tuesday on a voter-identifi cation bill. Blake tried unsuccessfully to delay a vote on the bill by calling for an independent fiscal-impact statement.
After the House recessed, Lowery told a reporter he would ask for a fiscal-impact statement so senators considering the bill would have access to that information.
The American Civil Liberties Union of Arkansas, along with other organization, sued over the previous voter-identification law in 2014. The group contended such laws adversely affect the elderly, the poor and members of minority groups.
The lawsuit went to the Arkansas Supreme Court. Four of the seven justices on the court at that time said the law added a qualification to the voter qualifications listed in the state's constitution.
According to Article 3, Section 1 of the Arkansas Constitution, in order to vote, voters need only be age 18 or older, U.S. citizens, Arkansas residents and properly registered to vote.
The requirement that voters present identification at the polls was tantamount to a fifth qualification, according to an opinion written by then-Justice Donald Corbin.
Corbin and three other justices said the voter-ID law "is unconstitutional on its face."
In a concurring opinion, Justice Courtney Goodson said it was not necessary to scrutinize the law as it relates to Article 3 of the constitution. Goodson was joined by Justices Karen Baker and Jo Hart.
The Legislature's power to regulate elections, Goodson noted, stems from Amendment 51, Section 19, of the constitution.
Amendment 51 authorizes lawmakers to amend voter-registration measures but only with a vote of at least two-thirds of the lawmakers in both houses of the General Assembly, the same number of votes needed to reverse an initiated act of the people. In the 100-member House, two-thirds is 67 votes. The bill goes to the Senate next.
Lawmakers met the vote threshold on Tuesday, but whether Lowery's voter-identification bill -- which is worded to apply to voter registration -- amounts to an unconstitutional requirement on voting is unknown without a court ruling.
Tucker, a lawyer, said there's a clear precedent. Rep. Bob Ballinger, R-Hindsville, also a lawyer, said it's unclear what the court will do. He said the high court can change its precedent.
"It's nice to have some sort of security and stability in the law, and at the risk of the Supreme Court justices hearing me, I wish that they would actually do a little bit of that in Arkansas sometimes," he said. "The nature of Arkansas law is a lot of times we kind of decide one way, and then decide the other way. It actually makes it a little bit exciting to study the law."
Regardless of how the Supreme Court would rule on the bill, there's an ongoing effort to refer to voters a constitutional change to allow voter identification.
Rep. Robin Lundstrum, R-Elm Springs, said the plan is "basically backup -- a seat belt, if you will."
She said the draft looks similar to Lowery's bill and includes the same allowable identifications. Lundstrum said she expects the plan out soon, but did not have a firm date.
"We wanted to wait and see how it all came out and what we needed to deal with -- if there were any changes or amendments," she said. "We're not going to try to bust loose with anything. We're just going to try to keep it straight and simple.
"It's about voter integrity," she added.
A total of 34 states have laws requesting or requiring voters to show some form of identification at the polls, according to the National Conference of State Legislatures. Arkansas is included on that list because an identification is requested but not required.
Seven states have "strict" photo-identification laws that require voters lacking valid identification to take additional steps after election day for their votes to be counted, according to the conference.
A Section on 02/01/2017