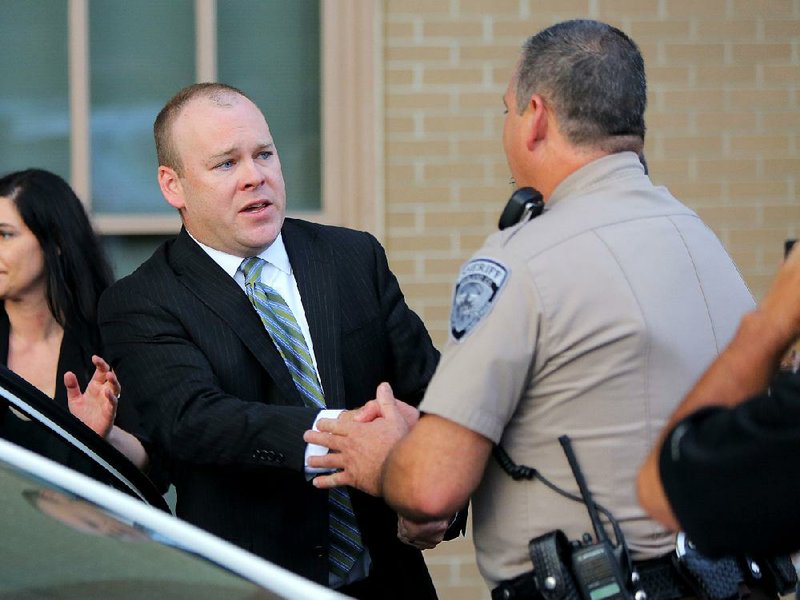 Judge Wade Naramore (left) thanks a deputy as he leaves the Garland County Courthouse in Hot Springs after Naramore was found innocent in August in the hot-car death of his son. ( Arkansas Democrat-Gazette / Stephen B. Thornton)
Garland County Circuit Judge Wade Naramore, acquitted last year in the hot-car death of his infant son, can return to the bench, the Arkansas Supreme Court ruled Thursday.
Naramore had been suspended since Feb. 18, 2016, as part of an investigation into the death of his 18-month-old son, Thomas, who was found July 24, 2015, left in a hot car.
In August 2016, a Garland County jury found Naramore not guilty of negligent homicide, a Class A misdemeanor, in the child's death.
During his absence from the courtroom, Naramore still received his $160,000 salary, the Arkansas Democrat-Gazette previously reported.
The state also spent $68,916 on special judges to to preside over his Division 2 seat, which serves as the countywide juvenile court.
Additionally, $2,615 was paid to retired Circuit Judge John Langston, who presided over Naramore's trial after three other circuit judges in the county refused.
Read Friday's Arkansas Democrat-Gazette for full details.
Sponsor Content