SPRINGDALE -- U.S. Sen. Tom Cotton, R-Ark., faced a loud, angry and capacity crowd of about 2,000 Wednesday in a town hall meeting in the usually safe conservative enclave of Springdale.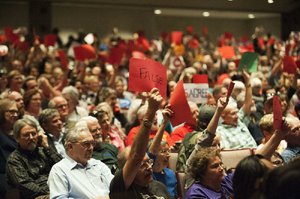 Photo by J.T. Wampler
Residents make their opinions known with signs Wednesday at a meeting held by Sen. Tom Cotton at the Pat Walker Theater in Springdale.
Shouts and boos often interrupted Cotton's meeting at the Pat Walker Performing Arts Center at Springdale High School. The senator had his longest, quietest and least-interrupted exchange with a young Springdale woman on the verge of losing her health insurance.
"Without the coverage for pre-existing conditions, I will die. That's not hyperbole,"said Kati McFarland of Springdale.
Cotton said the GOP replacement plan for the Affordable Care Act, which he and others in Congress seek to repeal, will cover that.
"With what?" McFarland demanded from a wheelchair, seeking details.
Cotton scheduled the town hall meeting at the request of people who picketed his Northwest Arkansas office Feb. 1 after a meeting between the senator's staff and Ozark Indivisible, a group opposing President Donald Trump's policies, was canceled with less than 24 hours notice.
Cotton called Indivisible organizer Caitlynn Moses and agreed to the meeting, both have said since. Moses was the first person Cotton called upon Wednesday for a question after apologizing to her on stage.
Moses gave the forum for first question to Amy Gillespie of Bentonville, who said she was the wife of an immigrant, a permanent legal U.S. resident, who was uncertain about his future in the country because of legislation Cotton has introduced. Cotton assured her the legislation wouldn't apply in her husband's case, but Gillespie said she remained unconvinced.
Cotton supporters also attended and expressed support during their questions at the forum.
But many others criticized GOP congressional priorities, the character and policies of Trump, or both.
[EMAIL UPDATES: Get free breaking news updates and daily newsletters with top headlines delivered to your inbox]
McFarland will turn 26 on Sunday, she told the senator, losing her eligibility to be carried on her parents health insurance. She has incurable Ehlers-Danlos Syndrome, or EDS, which weakens her heart and veins. Her family has lived in Northwest Arkansas for generations, all members of the National Rifle Association. She's a descendent of veterans of Korea and World War II. Medicaid will not help her if she loses her insurance because only two doctors who specialize in her condition take Medicaid patients anywhere within a 500-mile radius, she said.
"You want to cut funding to Planned Parenthood, which does my cancer screening," McFarland said. "You and your party talk a lot about repeal of the ACA, but you don't talk much about what you will replace it with," she said. "What are you going to replace it with?"
Cotton replied the ACA, commonly known as Obamacare, did address serious problems in the American health care system, but addressed them poorly, expensively and inadequately.
"Things like continuous coverage will be in the replacement," he said, referring to guaranteed coverage of existing conditions when someone changes insurers.
The Affordable Care Act helped people such as her, but also greatly increased the health care expenses of others, Cotton said. A better solution can be forged, "but that is part of the law-making process," he said.
"I don't see replacement having the commitment of members of your party as much as their commitment to repeal," McFarland countered.
Tucker Duddleston of Rogers came holding an "Arkansans for Tom Cotton" sign and wearing a Cotton sticker, joined by others supporters. He praised Cotton's willingness to appear before what was clearly a crowd very unhappy with the results of the last general election and GOP priorities.
"I didn't think the crowd would be half the size it was, but it's their right to express their opinions," Duddleston said.
Cotton extended the town hall meeting to 7 p.m., a half-hour after its scheduled ending time. Cotton acknowledged the size of the crowd during his remarks.
"There's another three million Arkansans outside who write to my office and call my office. When you're a politician and two-thirds of Arkansas agrees with you, you're doing pretty good. That still leaves a million who don't agree with you."
The venue for the forum was changed to larger venues three times in the days after it was announced last week, because the senator's office was contacted repeatedly by people who wanted to come, Cotton said before the meeting began.
Cotton didn't have a completely applause-deprived night. His first positive reaction from the audience came soon after the forum began when he acknowledged large-scale energy storage was becoming more practical, which would make intermittent energy production such as wind and solar much more viable. He was quickly booed in the course of the same answer, though, when he said "clean coal" is part of the solution of the country's energy needs.
Former Mayor Dan Coody of Fayetteville took Cotton to task over energy policy and health care reform.
"Clean coal is a myth, and Americans spend twice as much on health care as other countries. When are we going to realize what every other industrialized nation has realized and have national health care?"
Cotton fielded repeated questions about why Republicans in Congress, who investigated issues involving Democrats with vigor, haven't opened an investigation into Trump's relationship with Russia, which was implicated by U.S. intelligence agencies with hacking Democratic headquarters in the last election.
Cotton replied as a member of the Senate Intelligence Committee, he could assure them the matter was being looked into, but it would take months to achieve results. Republicans appointed an independent committee to look into the terror attack on the U.S. embassy in Benghazi, Libya, questioners said, but are having closed meetings on the president and Russia. Cotton replied the experiences of the Benghazi committee, in part, convinced him such a committee wasn't the best method for investigating security issues.
On Syrian refugees, Cotton said he and his wife have gone to refugee camps "8 miles from the Syrian border and seen babies with little food and with rocks in a baby bottle for a rattle," and the solution to the refugee crisis is to make Syria safe for these families to return, not to bring them to the United States or anywhere else.
"They want to go home," he said.
Cotton also drew applause when asked if he agreed with Trump's description of the press as the "enemy of the people."
"The answer to your question is no," he replied, drawing his loudest and longest ovation of the night.
The loudest applause of the night went to Coody who referred to the "Taxed Enough Already" Party of conservatives who sprung up after the election of Democratic President Barack Obama in 2008.
"If the Tea Party was a wave, this is a Democratic tsunami."
NW News on 02/23/2017