Brad Simon didn't dream that someday he'd be eliminating blood-sucking pests from people's yards, but he knew he wanted his own business, to be his own boss, and to build something for himself and his family.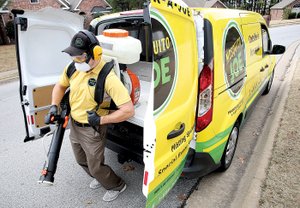 Photo by David Gottschalk
Mosquito Joe franchise owner Brad Simon puts on his gear before spraying a home in Springdale.
Now, in about five years, he's one of the top franchisees for Mosquito Joe, with a territory that covers most of Arkansas. Brad and his wife Stephanie recently were recognized by Virginia-based Mosquito Joe as one of its top five franchisees, topping $1 million in annual revenue. Their business now has its headquarters in Paris in Logan County.
Before starting the business, Brad Simon lived in Northwest Arkansas, working for vendors of Bentonville-based Wal-Mart Stores Inc. He knew he wanted to be an entrepreneur, but he also was intimidated with the idea of building a business from scratch. During his research, he stumbled across Mosquito Joe and the company's brightly colored brand logo kept popping into his head.
"I always had that desire," he said of becoming his own boss. "It was a leap of faith."
The franchise industry is expecting solid growth in 2017 as economic activity seems to be picking up with consumer optimism and stock markets surging, according to the Franchise Business Economic Outlook for 2017. The report was prepared for the International Franchise Association by IHS Economics, an analysis and forecasting firm.
The report notes franchises could both benefit and be hurt by the Trump administration. A new boss for the Department of Labor and leadership in Congress likely will influence regulations that will help franchise businesses but proposed immigration polices may be detrimental to employment growth in general and hurt some franchise-intensive industries.
John Reynolds, vice president of business development for the International Franchise Association, said the economy is looking promising for franchise businesses and their franchisees.
"I get a sense of a little more optimism with both business owners and their customers," Reynolds said.
In Arkansas, there were 8,189 franchise establishments in 2016 and the report predicts 1.6 percent growth to 8,317 for 2017. Those businesses are expected to employ 85,473 workers in 2017, up 3.2 percent from last year.
Brad Simon said during the company's prime season, which typically runs from between March and November, he has a payroll that supports 25 to 30 workers covering territory around most of the state, including Northwest Arkansas, central Arkansas and the River Valley.
Mosquito Joe surveys homes and other locations for standing water, which attracts mosquito breeding, and shade, which, mosquitoes just seem to like. Simon said the company then develops a plan to get rid of the flying pests, which usually involves a regular spraying regimen with a time released, plant-based product approved by the Environmental Protection Agency.
"Some customers are concerned about disease, like Zika," Brad Simon explained. "But most just want their backyard back so they can enjoy being outside again. I've had folks who couldn't use their pools because of the bugs."
Buzz Franchise Brands, Mosquito Joe's parent organization, is a relative newcomer as franchises go, beginning in 2012. Today, Mosquito Joe has 127 franchise owners operating in 235 territories in 31 states, with another 50 territories under contract. Buzz Franchise brands also recently developed Pool Scouts, a residential pool service and cleaning franchise.
Brian Garrison, chief operating officer for Mosquito Joe, said the company is poised for rapid and sustained growth. He credited franchisees like Brad and Stephanie Simon with the company's success.
Edward Haddock, district director for the United States Small Business Administration, said franchises can be a great way to make the leap into business ownership. He notes while they can be capital intensive, franchises come with managerial support, tested business models and established best practices. As a bonus, he said, new simplified financing is available for franchisees through the SBA.
"It's hard to build a business from the ground up," Haddock said. "They've been there and learned a lot of lessons."
But in the end, it's up to the franchisee to take the tools provided by a franchise operation and make them work.
"You still have to be able to execute," Haddock said.
Brad Simon said becoming a franchisee made sense to him. When he had the opportunity to go with Mosquito Joe, it seemed like a good fit. He said the move gave him the chance to get in on the ground floor, and as an added incentive, he had no love for mosquitoes, since his daughter was highly allergic to their bites.
Simon said not having to build a business from scratch, and the support from the franchise company, helped him get past the stumbling blocks that derail many small businesses.
"I wanted to build something, so we created our passion," Simon said.
SundayMonday Business on 02/26/2017