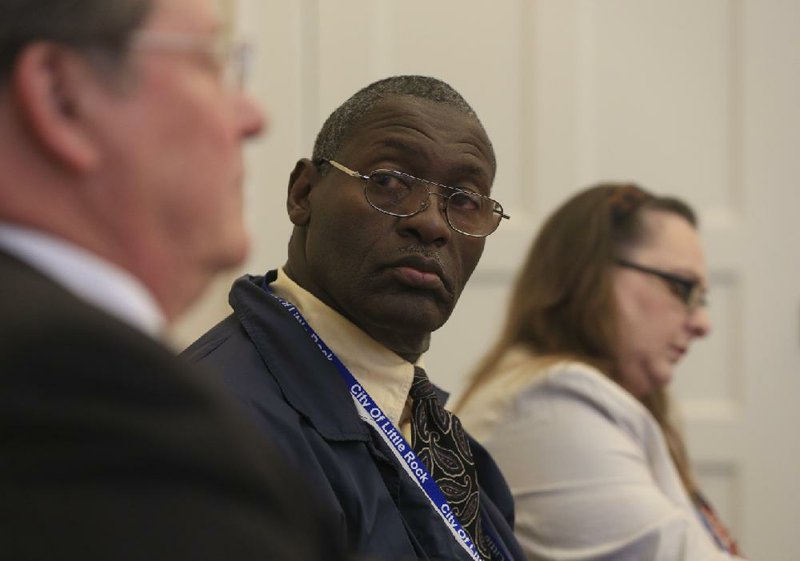 Freddie Davis and Kathleen Countryman, both neighborhood resource specialists in Little Rock, listen to Mayor Mark Stodola on Monday at the Willie Hinton Neighborhood Resource Center during a forum on crime. ( Staton Breidenthal)
Leaders from across Pulaski County gathered Monday morning to discuss crime and the societal issues they said can lead to criminal activity.
The group also spoke about possible solutions while acknowledging the challenge of predicting violent crime.
"It is very very difficult to anticipate when somebody is going to get into a dispute, in one fashion or another, and pull out a gun and shoot someone," Little Rock Mayor Mark Stodola said at the meeting, which was held at the Willie Hinton Neighborhood Resource Center.
Darrell Montgomery, a North Little Rock School Board member who organized the meeting, said he wanted to bring together authorities from across Pulaski County to have an open conversation about crime and some possible steps forward.
"[Criminals] don't respect jurisdictional lines," he said at the meeting.
Some attendees pointed to the importance of early childhood education, while others supported more resources for programs for school-age children.
Maj. Carl Minden of the Pulaski County sheriff's office spoke about the positive impact sports and other after-school activities can have in preventing a child from falling into criminal activity.
He said it's also critical that communities help nurture children, starting at a young age. By the time law enforcement gets involved later in their lives, Minden said it can often be too late.
[EMAIL UPDATES: Get free breaking news alerts, daily newsletters with top headlines delivered to your inbox]
Stodola said that while crime has been on the minds of many Little Rock residents recently, crimes rates are down compared with the 1990s.
In 1993, around 27,000 total crimes occurred in the city, he said.
But in 2015, there were only about 15,600 total crimes, and officials expect only a small percentage jump when 2016's results are compiled, Stodola said.
Stodola also spoke about car break-ins, urging residents to lock their vehicles and remove any objects of any value.
"Don't leave it there -- people leave their keys in there; they leave their wallets in there; they leave their computers in there," he said.
It's often youths or young adults who are responsible for those crimes, he said.
Little Rock police hope to address car break-ins and other property crimes through neighborhood-watch programs and by having police teach residents how to be more vigilant in their communities.
At the meeting, Little Rock officials also outlined the city's efforts to curb violent crime, pointing to the Police Department's involvement in a federal anti-violence program.
In 2015, Little Rock joined the Violence Reduction Network, a U.S. Department of Justice program that provides training and federal resources to participating cities.
The office of the U.S. attorney for the Eastern District of Arkansas, based in Little Rock, announced earlier this month the indictment of 41 convicted felons on federal charges as a result of the federal anti-violence program. The indictments included individuals who were "among the worst of the worst criminals in Pulaski County," the U.S. attorney's office said.
Bryan Griffith, assistant to Stodola, also brought attention to a newly created unit within the Police Department aimed at preventing violent crime.
Between Feb. 4-20, the Police Department's Violent Crimes Apprehension Team made 29 arrests that resulted in 38 felony charges, 32 misdemeanor charges and 68 traffic charges, according to the department.
The unit also recovered 11 weapons and four stolen vehicles in that period, according to the department.
Metro on 02/28/2017
Print Headline: Area leaders focus on crime; Nurtured children, vigilant citizenry are keys, speakers say
Sponsor Content