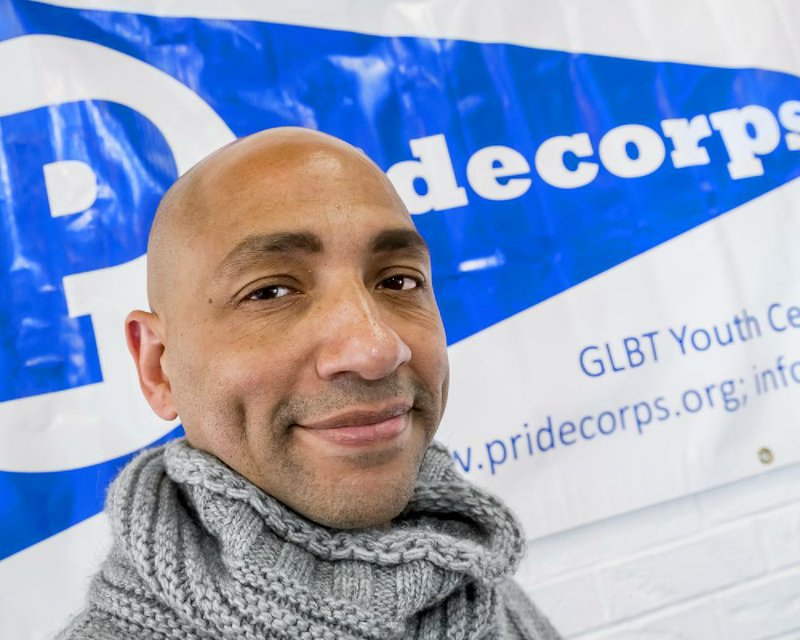 Bobby Cushman is a board member for Pridecorps, which organizes meetings and field trips where young members of the LGBT community can gather and share their feelings about their sexuality. ( John Sykes Jr.)
Bobby Cushman was a truck driver and then a Realtor. Then he was a truck driver and was a Realtor again.
Photo by John Sykes Jr.
Pridecorps board member Bobby Cushman, a real estate agent, recalls his earliest memories of being attracted to men and the difficulties he encountered while trying to discuss his feelings with his family and others.
Through all those career switches and starting when he was preadolescent, he knew he was attracted to men.
He recalls how difficult it was to discuss his sexuality at first, so he's empathetic with today's young lesbian, gay, bisexual and transgender individuals who experience the same frustrations and other related issues. It's what drives him in his board position for Pridecorps, a 501(c)(3) that gives individuals ages 13 to 20 a place to share their thoughts and feelings and provides social and educational activities.
"Our mission is to celebrate, empower and support LGBT youth," says Cushman, 50, husband to artist and educator Brad Cushman. Among the biggest challenges for LGBT youths is bullying, as well as the feeling that they are not accepted by their peers. It can zap one's self-esteem.
"We try to provide a safe place for them to have conversations and discuss topics that may be crucial to them," Cushman continues. Conversation runs the gamut: suicide prevention, human trafficking, substance abuse, wellness and nutrition and coming out about their sexuality to family and friends.
The youth group meets three Saturdays a month in space donated by Pulaski Heights United Methodist Church. Attendance is usually eight to 20 teens and young adults, but as many as 40 have participated. They find out about the meetings from the organization's website, pridecorps.com, or by word of mouth. Some parents encourage their children to go.
The Pridecorps board approves the subjects to be covered but relies on professionals -- social workers, counselors and the like -- to lead the Pridecorps discussions and guide field trips. "They're able to approach the subjects in a way that is helpful and not harmful at all," Cushman says. Discussion panels have been led by a Buddhist, a rabbi, a Muslim, a transgender Episcopal priest and others.
The group was founded by psychologist Jon Mourot in August 2014, at a time when there were few groups in the city that supported LGBT youth. The goal is not to out them to the public, but give them a private place to work through their feelings and share their emotions with like-minded people.
Words like "human trafficking" are apt to lift an eyebrow. Cushman says people don't see it, and therefore think it doesn't exist. "But it does ... You can imagine if there is an LGBT youth who has been shunned by their family and may be out on the streets and down on their luck. They could fall prey to that pretty easily."
Identity and gender fluidity are among the most revisited topics, he says. "I imagine they are trying to figure some things out, figure out some emotions that are there." For example, Cushman says, he at first considered himself bisexual, "but in my mind that was a way of holding onto -- at least halfway -- to what the world considered normal." Then he became comfortable enough to say to others that he is gay "and embrace that."
Cushman, originally from Los Angeles, moved to Memphis with his mother and siblings when he was 16. It was 1982. "Back then, I can't imagine going to my parents and saying I was gay," he says. His folks discovered he was gay when he was 21. Shortly thereafter, he fell in love with a trucker about his age. They were a couple for 15 years and operated a trucking business together. He got into real estate in 2005, shortly before the industry's sharp downturn in 2008.
"When that happened, I went back to truck driving," he says. "You can hop in a truck tomorrow and start making $50,000 to $60,000 a year." He and Brad met on a gay dating website while Cushman was on the road. They conversed at least three months before meeting for dinner in Little Rock. They've been married three years but have been together almost nine.
Both are heavily involved in Pridecorps, which not only provides an atmosphere for open discussion, but also provides field trips, with jaunts including trips to the Little Rock Zoo, the Arkansas Arts Center, Pinnacle Mountain State Park, Hidden Valley Farms and the like. The trips give the youths a chance to be around others and share their experiences.
Pridecorps is an all-volunteer organization; donations help underwrite the cost of the field trips. Participants are never asked to pay. A lot of the venues visited donate the trips or provide them at a reduced rate.
For more information or to make a donation, visit pridecorps.org.
High Profile on 01/01/2017
Print Headline: Pridecorps a safety net for young LGBT people
Sponsor Content