WASHINGTON -- Three of the four U.S. House members from Arkansas say they opposed rule changes that would have constrained the activities of the Office of Congressional Ethics.
They sided with House Speaker Paul Ryan and House Majority Leader Kevin McCarthy, who had urged their colleagues to steer clear of the matter.
U.S. Rep. Steve Womack of Rogers and U.S. Rep. French Hill of Little Rock attended Monday night's Republican House conference meeting and were among the 74 lawmakers who voted against rules that stripped the independent agency of some of its powers.
U.S. Rep. Rick Crawford of Jonesboro missed Monday's gathering but expressed his opposition to the move Tuesday morning, as momentum gathered among his colleagues to reverse the decision.
Womack, who expressed reservations about the way the ethics office is run, said the ethics overhaul was nonetheless an "awful" opening move for the 115th Congress.
"The optics and the timing were just completely off, in my opinion," he said. "It's not the message that I think we need to send to the American people."
Hill said one party shouldn't unilaterally make that type of sweeping change.
"I thought that the Office of Congressional Ethics is flawed. It's poorly designed, it needs change to protect people's due process and constitutional rights, but that ought to be done on a bipartisan basis," he said.
After setting this issue aside for now, lawmakers should turn their attention "to the priorities of the American people, which are reforming the health care act, reforming the tax code, right-sizing regulation [and] protecting our borders," he said.
U.S. Rep. Bruce Westerman of Hot Springs was the only House member from Arkansas who supported the changes at Monday's House Republican conference meeting. After the conference did an about-face Tuesday around noontime, Westerman said he was comfortable with the outcome.
"They're going to try to do a bipartisan approach to it and study it some more," he said. "I [am] fine with taking it out and looking at it and coming back later to see if there's something that can be done to make the process better."
Crawford said the rush to change the ethics office had been unwise.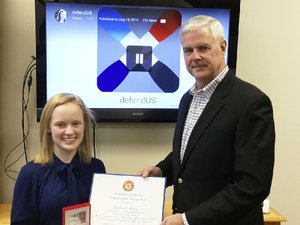 Photo by Dave Perozek
U.S. Rep. Steve Womack of Rogers, right, is shown in this file photo with Caroline Gschwend, 18, of Rogers.
[EMAIL UPDATES: Get free breaking news alerts or daily newsletters with top headlines delivered to your inbox]
"I think if you're going to do something like that, it's going to require a lot more debate," he said.
"At a time when people are demanding more accountability ... this seemed to be the wrong approach. I'll stipulate, though, that I think there is room for improvement, room for reform [in the ethics office], but I don't think this was the appropriate approach to get it done," he said.
All four Arkansas congressmen expressed concern about the way the office is currently operated.
Currently, investigators can pursue anonymous allegations.
Lawmakers are forced to pay "enormous sums of money in legal fees defending themselves" against allegations that are ultimately determined to be unfounded, Womack said.
"There are a lot of war stories out there. Fortunately, I don't have any of those war stories. We try to operate above the fray as it were. But there are many cases," he said.
While Womack sympathizes with those who have been falsely accused, he said the nation has more urgent problems to address.
Overhauling the ethics office is "not even in the top 10 of issues driving this Congress, and why, right out of the box ... we would be attempting to do something like that is beyond me," he said.
Hill said he hoped to see "a bipartisan solution to fix the House ethics process, which denies members their constitutional rights of due process."
It's important that those who are accused be able to confront their accusers, he said.
Westerman said his colleagues shouldn't be saddled with large legal fees while fending off groundless allegations, and they shouldn't "have their names in the headlines [or be] drug through the mud."
A Section on 01/04/2017