SPRINGDALE — State Rep. Micah Neal, R-Springdale, pleaded guilty Wednesday to taking two kickbacks totaling $38,000, the U.S. Department of Justice announced and his attorney confirmed.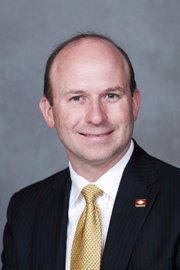 Neal's plea agreement implicates an unnamed state senator, court documents show. The kickbacks involved state General Improvement Funds distributed by the Legislature to pay for local projects. Two Northwest Arkansas nonprofit entities, not named in Neal's plea documents, agreed to pay Neal part of the taxpayer cash appropriated to them.
The Justice Department didn't comment about when or if charges are expected against others. Neal's case is complete, according to defense attorney Shane Wilkinson of Bentonville. Neal entered his plea as soon as the Justice Department had a case prepared, without waiting for a formal indictment, Wilkinson said.There's no more to this. Micah admitted to everything he did wrong," Wilkinson said. "There's no tip to an iceberg here. Micah did a lot of good for [this] community and state. Hopefully that will be remembered." Neal directed all questions to Wilkinson.
"He's a public official, so he's facing theoretically up to 20 years," Wilkinson said of Neal. "These are federal years too, not some 'serve one-sixth of your sentence and get out.' He could serve 85 percent of his sentence. That sentencing is enhanced in federal guidelines by his position as a public official."
The plea agreement didn't include any specifics on sentencing. A sentencing hearing has yet to be scheduled, Wilkinson said.
One entity that paid a kickback is identified in court documents as "a non-profit corporation" in Northwest Arkansas that "purportedly sought to create manufacturing jobs in northwest Arkansas, specifically for a specialized workforce including disabled veterans, disadvantaged youth and individuals recovering from substance abuse."
The second entity "was a non-profit corporation operating a college located in Springdale, Arkansas."
The unnamed state senator involved is described in court documents as serving "in the Arkansas Senate from 2013 to the present. Prior to his service in the Arkansas Senate, Senator 'A' serves as a representative in the Arkansas House of Representative from 2007 to 2012."
Four members of the state Senate have political careers that fit that description.
State General Improvement Fund money has been a subject of controversy and lawsuits since the Legislature took over its distribution in 1997. The fund consists of unspent money from the previous fiscal year and interest earned on state deposits.
Neal's case "strengthens the concern that GIF funding — while it can be used well — in circumstances it can also be used and it's a gray area and for that reason — and the fact that we've got a lot of needs in our state — the current balanced budget that I presented does not have any GIF funding" to be distributed by the Legislature for local projects, Gov. Asa Hutchinson said Wednesday.
Neal's family owns Neal's Cafe in Springdale, a landmark in the region and a gathering place for political discussions. Neal was a member of the Washington County Quorum Court before running for state representative in 2012. He didn't seek re-election but announced his intention to run for county judge in Washington County last year. He later dropped out of the race, citing family concerns. That departure prompted a special county convention to replace him as the GOP nominee in the race.
"He's a friend of mine. No matter what he does, he's still going to be a friend of mine because I know him and I know him well, and there's nothing he can do that would make him not my friend," said Rex Bailey, a Washington County justice of the peace from Springdale. "I may not approve of it, but he's always going to be my friend."
Before 1997, the governor distributed General Improvement Fund money, usually for state buildings or projects on state-run colleges and universities. In that year, the Legislature took control of half of the fund for local projects after a dispute with then-Gov. Mike Huckabee.
At first lawmakers distributed their portions of the money directly. That practice led to a lawsuit that called it an inappropriate "local appropriation" in 2005. State appropriations, under the state constitution, are supposed to have statewide benefit. The lawsuit was successful.
After 2005, lawmakers gave the money to state agencies and regional entities — and lobbied those entities to distribute the money to local projects. This approach was upheld in a lower court but is under appeal now.
Mike Wilson, a Jacksonville attorney who spent 12 terms as a Democrat in the state House of Representatives, sued in February. He called the newer method of distributing the money a scheme that still allows lawmakers to use state money for local purposes.
The Legislature's share of the General Improvement Fund amounted to $70 million in 2013. A portion of the fund in the legislative session that year went to the Northwest Arkansas Economic Development District, a nonprofit corporation headquartered in Harrison that administers grants from the fund.
There are eight such districts in the state, set up in 1969 to encourage regional cooperation. The Northwest district includes Benton, Washington, Madison, Carroll, Boone, Newton, Marion, Searcy and Baxter counties. The executive director at the district didn't respond to a request for comment Wednesday.
The workforce training group, mentioned in Neal's plea agreement, received $400,000 from the development district, with $275,000 attributed to the senator's influence, according to court documents citing development district records. The remaining $125,000 was attributed to Neal's influence.
Although lawmakers can't directly distribute the money, as a result of the lawsuit, every lawmaker controlled a share of the money as a practical matter, court documents said. Neal and the unnamed senator detailed specific amounts in emails to the district, according to the documents.
The Springdale nonprofit group deposited the checks Sept. 30, 2013, according to court records.
Neal received $20,000 for his part in the transaction, paid through the unnamed senator on behalf of the nonprofit group's director.
The college in the second case received $200,000 in 2014, with $150,000 of that at the senator's request and $50,000 at Neal's request. The college deposited a check for $200,000 from the development district on Dec. 19, 2014, according to court documents. Neal was paid $18,000 the following Jan. 30, according to court documents.
Information for this article was provided by Brian Fanney of the Arkansas Democrat-Gazette.
Metro on 01/05/2017