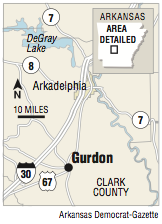 A map showing the location of Gurdon in Clark County.
Two people died Thursday afternoon when their single-engine aircraft crashed near the Gurdon airport in Clark County, emergency officials said.
The Federal Aviation Administration reported that the pilot radioed that the plane, a low-winged, four-seat Cessna 400, was experiencing mechanical difficulties. The plane was last seen on radar at 1:38 p.m., 25,000 feet over Clark County.
Melody Daniel, a spokesman for the Arkansas Department of Emergency Management, said search teams found the wreckage about 3:45 p.m. on Overby Road about 4 miles east of Gurdon.
A Clark County sheriff's office assistant said officials would not release the two victims' names until family members had been notified of the deaths.
The aircraft, with tail number N972JK, is registered to JMK3 Lands LLC, a residential-construction company in Charlotte, N.C. The owner of the company was listed on an online site as James M. Kent III, although officials did not confirm that he was on the aircraft.
Daniel said the airplane left McKinney National Airport near Dallas at 11:45 a.m. and was bound for Franklin, N.C., where it was to arrive at 4:33 p.m.
Daniel said the pilot radioed the Air Force Rescue Coordination Center that there was engine trouble as the plane flew over Arkansas. The center notified Memphis International Airport, which tracked the aircraft for 3 minutes before losing its signal.
[EMAIL UPDATES: Get free breaking news alerts or daily newsletters with top headlines delivered to your inbox]
Mickey Hastings, coordinator of the Clark County Office of Emergency Management, could not be reached Thursday afternoon.
According to Flightaware.com, a website that tracks aircraft, the Cessna 400 was traveling at 232 mph and at 21,100 feet when the Memphis airport first saw it on radar at 1:35 p.m. The plane's speed dropped to 199 mph at 1:36 p.m and to 127 mph a minute later.
The plane was traveling at 94 mph when it was last seen on radar at 1:38 p.m.
The aircraft is the fastest in its class, with a top cruising speed of 270 mph at its 25,500-feet cruising altitude, according to Cessna's website. It was manufactured in 2007.
Teams from the Clark County sheriff's office, the Clark County Office of Emergency Management, the Arkansas Civil Air Patrol and Arkansas State Police assisted in the search.
Liz Chapman, a spokesman for the state police, said a police helicopter was sent to help conduct an aerial search at 1:40 p.m.
Information for this article was contributed by Noel Oman of the Arkansas Democrat-Gazette.
State Desk on 01/06/2017
Print Headline: Clark County aircraft crash leaves 2 dead; Pilot radioed about trouble, then 4-seater fell off radar
Sponsor Content