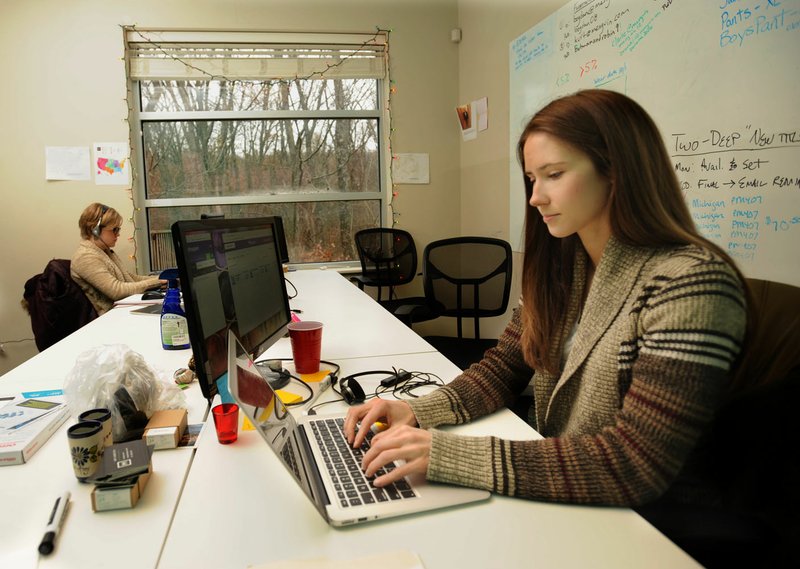 Amy Zubrzycki (right), vice president of customer service for Menguin, works with customers over a laptop computer Thursday alongside Jessica Phillippe, a customer service representative, at the company's office in Fayetteville. The company, which provides online tuxedo rentals and support for formal gatherings, plans to move to a larger location in response to the company's growth. ( NWA Democrat-Gazette / Andy Shupe)
FAYETTEVILLE -- An online tuxedo-rental store might seem like a kooky idea. Investors in Atlanta told Bogdan Constantin and his two business partners as much.
The three had just gotten Menguin off the ground in June 2014. Not even a year later they sought to expand. The goal, then and now, is to become a billion-dollar brand.
Deliverables and performance measures
The city will pay local consultant Startup Junkie $12,500 per month as part of its Fayetteville First economic initiative. It also has a $360,000 contract over two years with the Chamber of Commerce to focus on business retention.
Startup Junkie's duties are as follows, as outlined in the contract:
Support a collaborative entrepreneurial/innovative environment.
Increase high-tech job growth and University of Arkansas partnerships.
Create innovative spaces and programs to support entrepreneurs.
Expand entrepreneurship education programs.
Support the growing local artisan food and craft-beverage industry.
Support talent attraction, retention and development.
Collaborate with the city for communication to the public.
Report outcomes.
Source: City of Fayetteville
Web watch
To read the city's economic plan, go to startupcityofthesouth.com.
If the idea's so great, technology investors said, why doesn't Amazon do it? Constantin got in contact with Fayetteville entrepreneur and venture capitalist John James, founder of OneCountry, formerly Acumen Brands.
Constantin and his partners fell in love with the city and what it had to offer. By April 2015, Menguin made itself a home at James' Hayseed Ventures, a startup incubator at the Old Post Office on the square.
They started networking. The business caught the eye of investors, Mark Cuban, owner of the Dallas Mavericks and regular on ABC's Shark Tank, among them, and gained national attention. What started as a fledgling startup now is a company worth millions.
"Out of nowhere, we went from Atlanta where we were a small fish in a massive pond," Constantin said. "We moved from Atlanta to Fayetteville because we saw the opportunity."
Menguin represents exactly the kind of business city leaders want to attract and retain. The council in October approved contracts with local consultants Startup Junkie and the Fayetteville Chamber of Commerce to take a two-pronged approach to economic development.
Startup Junkie will focus on attracting new business to the area. The chamber will focus on retaining businesses. It's all part of a five-year plan Mayor Lioneld Jordan calls Fayetteville First.
"This is going to set the course for economic development way into the future," he said. "I think it's a really good plan. I'm really excited about getting it all put together."
The plan, then and now
Jordan's first economic initiative, Fayetteville Forward, accomplished all of its 38 goals except one -- creating a $5 million cash incentive fund to use for business recruitment and attraction, said Don Marr, Jordan's chief of staff.
Other goals achieved in the six-year plan included forming an economic accountability council, creating a "Wiki-Fayetteville" to usher sharing of information and communication online and establishing smart, form-based development codes.
The city approved an $89,000 contract in November 2015 with Boyette Strategic Advisors out of Little Rock to formulate a new economic plan. The Fayetteville First initiative was born, which the council adopted in May.
The plan has started with a two-year, $300,000 contract with Startup Junkie and a $360,000 contract with the chamber, also over two years. The chamber led the Fayetteville Forward plan.
The city has contracted with the chamber since 2009. The dollar amount has gone up with each renewal, starting at $250,000 in 2009, to $299,000 in 2011 and $330,000 in 2013.
Chung Tan, director of economic development with the chamber, said the increased amount of money in the newest contract will go toward data analysis. The chamber's role won't change dramatically from what it was before, but the emphasis will be on keeping longtime companies and businesses outside of the technology industry, such as retail, she said.
The goal now is to become the "Startup City of the South." Springdale, Rogers and Bentonville haven't made startups a focus of their economic development plans, although Rogers is exploring the idea of a co-workspace in its downtown.
Fayetteville leaders realized they had a burgeoning startup community in their hands. Brands such as Acumen and Lauren James were thriving, but entrepreneurs truly in startup mode didn't have a one-stop shop to get their feet off the ground, Marr said.
People who have an idea may not have the know-how to develop a business plan or make financial projections, Marr said. Getting enough capital to develop a concept always presents a hurdle, he said.
The contract
Startup Junkie will take on eight tasks outlined in the contract to accomplish the city's economic goals. Among them will be to foster a collaborative entrepreneurial environment by forming an innovation council and online directory of resources at startupcityofthesouth.com.
Successful business owners, innovators, stakeholders and representatives of the city and University of Arkansas will sit on the council and guide the direction of the initiative, said Haley Allgood, executive consultant at Startup Junkie. Membership hasn't been finalized, but the council should meet for the first time this month, she said.
That council, combined with a millennial advisory council, will become the driving force of a startup community the city hopes will turn into an innovation district. Several startups, including Startup Junkie, along with the university's Community Design Center and James' Hayseed Ventures, already exist on the square.
There's really no way to know how many startups live in Fayetteville right now, said Michael Iseman, Startup Junkie's entrepreneur-in-residence. The nature of startups -- small businesses that aspire beyond the borders of their city and offer employees high-paying jobs, often in a technology field -- means some succeed, but many fail.
Hence, the need for a community. Startup Junkie offers its consulting services for free as part of its model with the hope it gets aspiring entrepreneurs over the hurdle of initial investors and development, Iseman said.
Startup Junkie gets its funding from a variety of sources and partnerships, including Innovate Arkansas, the Small Business Administration, Department of Commerce, Winrock International, the Walton Family Foundation, the Northwest Arkansas Council and others.
Alderman John La Tour, a certified public accountant and tax lawyer, was the only council member to vote against the contract with Startup Junkie. La Tour said he has no problem with innovation but questioned the need for the government's involvement.
Startup Junkie will operate on a stream of guaranteed revenue with a lack of accountability, La Tour said.
"They get paid whether they do a good job or a bad job," he said. "In my practice, if I don't do a good job -- buddy, I don't get paid."
Room to grow
In a few weeks, Startup Junkie will travel to the Kansas City Startup Village to bring ideas back to Fayetteville. Exploring the creation of a startup village is part of the contract, although eventually creating one is not one of its mandates.
A cluster of startups, incubators, consulting firms and venture capitalists makes up the Kansas City Startup Village, which sits on both sides of the state line in the heart of the city. Google Fiber has an office there.
Startups have transformed the city of Boulder, according to investor and entrepreneur Brad Feld in his book Startup Communities. The social media boom that ushered a new age of the Internet also made Boulder a destination for innovators, Feld said.
Aside from Silicon Valley in the San Francisco Bay Area, notable startup communities also exist in Denver, Raleigh-Durham, N.C., Austin, Nashville and dozens of other major cities, according to the U.S. Chamber of Commerce Foundation.
Creating a startup community typically requires at least a 20-year commitment from its leaders, but new leaders are always needed to make the community sustainable, Iseman said.
Constantin said Menguin intends to stay in Fayetteville for the long haul. The founders' wives would be awfully upset if they decided to move again, he said.
Menguin, and other startups, operated for a time out of the upstairs office space at Hayseed Ventures. The idea is to let a startup grow its wings and fly.
The Arkansas Research and Technology Park in south Fayetteville provides workspace, equipment and guidance to innovators to develop and commercialize intellectual property. Most startups that work there deal with an idea or technology derived from physical sciences, said Phil Stafford, president of the university's Technology Development Foundation.
"Our innovation system here in the park -- it becomes very clear how we work with our companies and the value that we add as they move their products down the path of commercialization," he said.
Economic vitality director
Aside from ensuring startups have the tools they need and an environment to foster experimentation, the city also will hire an economic vitality director, a new position, to oversee the program.
The more than $470,000 allotted in the budget this year for economic development includes the cost of a director who will sit on the innovation council. The city just started advertising for the position.
Among the economic vitality director's duties will be to implement the Fayetteville First plan, work directly with businesses and come up with incentive programs.
Jordan said his administration is eager to get someone hired, but wants to make sure they bring on the right person to manage the program from the city's end.
"It's going to take the city into the next level as far as economic development goes," he said.
Getting the innovation council assembled and launching startupcityofthesouth.com serve as the most immediate priorities, Allgood said. Right now, the web address takes users to the city's Economic Vitality page.
Connecting entrepreneurs with one another, making sure funding is available to them and providing support will be the pathways to helping businesses become successful and operational in Fayetteville, Allgood said.
"A lot of times people fail with their first business or their first idea and it takes some time to get product-market fit," she said. "Keeping someone engaged through failure is often difficult, but that's what we're here for."
NW News on 01/08/2017
Print Headline: City sets eyes on startups
Sponsor Content