When lawmakers return to the Capitol on Monday to begin their biennial regular session, they will have to sort through competing perspectives on the foster-care system.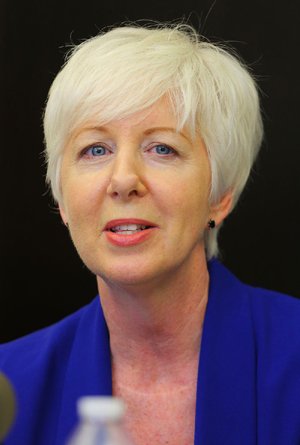 Photo by Stephen B. Thornton
Arkansas Department of Human Services Director Cindy Gillespie Tuesday, June 7, 2016, during a news conference at her office in Little Rock.
One lawmaker says there are too many children unnecessarily in foster care, but the governor says there are too few dollars to handle an influx in foster children.
A legislative inquiry into foster care started with a Hot Springs family concerning accusations of educational neglect and the use of a mineral substance deemed dangerous by the U.S. Food and Drug Administration.
The inquiry culminated a year and a half later with a collection of bills -- seven so far -- sponsored by Sen. Alan Clark, R-Lonsdale, aimed at revamping the Children and Family Services Division, which is part of the Department of Human Services.
Clark, a co-chairman of the legislative committee looking into foster care, said there's a crisis in how the Human Services Department and the Arkansas State Police deal with families.
"There's still more [legislation] coming," he said. "They deal with legislative oversight -- or at least steps toward legislative oversight. It deals with transparency. And we will deal with grandparents' rights ... and relative placement."
But the Human Services Department has emphasized a different crisis -- in the sheer number of children entering the foster-care system.
To cope, Gov. Asa Hutchinson has proposed increasing the Children and Family Services Division's budget by $26 million to add at least 200 workers. The budget is now $91.5 million, which is about $20 million more than last fiscal year.
"It's a budget item," Hutchinson said when asked about his child-welfare plans. "We want to protect that as we go through the legislative session."
Clark and the Stanley family
The legislative review came about after the state removed seven children of Hot Springs resident Hal Stanley. Clark said he believes the children were removed erroneously.
Allegations included the use of Miracle Mineral Solution and educational neglect, Clark said. The children eventually returned to the family and Stanley denied wrongdoing in an October legislative meeting.
"I found out about this mole, or wart, or something on a child's face," Clark said. "They'd used this [Miracle Mineral Solution] at the center of the case to remove this and it had left a chemical burn, which, by the way, Compound W does even worse. They were horrified. They quit using it after the one time."
The use of Miracle Mineral Solution had occurred years earlier, Clark said, and had not left permanent damage.
As for the allegation of educational neglect, the Stanley children were home-schooled, but not registered with the local school district, Clark said.
Child-welfare records are not subject to the state Freedom of Information Act. State law bars officials from commenting on cases, but allows lawmakers to review the records.
Clark said officials were split on what to do with the family, with the Crimes Against Children Division of the Arkansas State Police pushing to remove the children, but employees of the Children and Family Services Division pushed back.
He pointed to a leaked email from Jamie Moran, a family-service worker supervisor with the family services division.
"It is apparent to me that this family has its own unique culture. They home school, they don't believe in modern medicine and they use a legal vitamin to try and keep the children healthy and from all accounts it appeared that the children were very healthy," she wrote. "From reports, the search warrant did not find anything that would constitute the children being severely maltreated. It appears to me that the only thing this family has done is not conform to modern society and how certain government officials feel they should be living."
However, Clark said the Children and Family Services Division pursued a case against the Stanleys despite Moran's misgivings. The division eventually dropped the case.
The Stanley family's story led to more than a year's worth of legislative Joint Performance Review meetings in which lawmakers discussed the foster system.
Of the seven bills sponsored by Clark:
• Senate Bill 41 would require data, records, reports or documents collected or compiled on child-welfare employees' unlawful conduct, suspension or termination to be subject to the state Freedom of Information Act. Most of Moran's email was redacted when released to the public, Clark said.
• Senate Bill 40 would require the Department of Human Services to conduct an "immediate investigation" to find the relatives of a child taken into the foster-care system as well as suitable caregivers identified by the parents or "fictive kin" -- responsible adults who play a role in the child's life. State law already requires the Human Services Department to give relatives preference, but the bill would specify the process for the department.
• Senate Bill 18 would require courts to appoint a lawyer to parents who don't have one -- not just for parents who cannot afford one.
• Senate Bill 17 would allow the parent of a child in protective custody to decide who should look after the child on a temporary basis. The Human Services Department would be required to comply if the relative or fictive kin meets "all relevant child protection standards" and it's in the best interest of the child.
• Senate Bill 16 would allow lawmakers to hold private meetings to discuss otherwise confidential child-maltreatment information. Senators and representatives already may request otherwise confidential child-welfare information from state agencies, but cannot repeat the information in a meeting.
• Senate Bill 15 would require the state to prove the guilt of a parent before a court can determine a parent is unfit. If the state can't do so, the child would be returned to the parent on a temporary basis while reunification services continue. The bill also would require courts to "return the child home, either for a trial placement or through a return of custody, if the child is no longer found by the court to be at imminent risk of harm if returned home."
SB15 would allow the Human Services Department or an attorney ad litem -- who represents the interests of the child -- to petition a court to reinstate parental rights in certain circumstances. It also would make the same changes to relative placement as in Senate Bill 40.
• Senate Bill 8 would allow a waiver to release confidential child-welfare information so long as it's approved by every subject in the report and the custodian of the record.
"I think the main thing is the transparency," Clark said. The lack of public information is "a major, major problem. That's a democracy problem."
Asked about Clark's legislation multiple times over several weeks, the governor has said he needs to review the bills.
Amy Webb, spokesman for the Human Services Department, declined to comment about Clark's bills, saying the department's job is to follow the laws passed by the Legislature. She said the department had met with Clark about his bills and "we are certainly open to working with him on them."
Surge of foster children
A child-welfare case begins when a report of possible abuse or neglect is made to the Child Abuse Hotline. Cases are investigated by the Children and Family Services Division or, in more serious cases, the state police's Crimes Against Children Division.
A child can be removed for up to 72 hours without court approval. A child can be removed and placed in foster care, left in the home with an open protective-services case or voluntary services put in place, or left with no case open or services put in place.
If a child is removed from the home, a judge must decide whether the state can continue to have custody and where the child should live.
The Children and Family Services Division has seen increasing numbers of children in foster care. There were 5,150 foster children on Friday.
The division topped 5,000 foster children for the first time last year, after hovering between about 3,600 and 4,100 from 2007 through 2014.
The surge has been caused more by a declining number of children exiting state care rather than an increasing number of children entering it, state officials have said. That mirrors the national situation.
In 2011, 251,450 entered foster care nationally, while 247,543 exited, according to a report from the U.S. Department of Health and Human Services. That's a difference of 3,907.
In 2015, more children entered foster care -- 269,509 -- but fewer exited -- 243,060. That's a 26,449 difference in children.
In Arkansas, the division plans to hire more than 200 workers with the proposed budget increase. That will help the division handle the growing number of children more quickly, officials have said.
The division now has about 1,060 employees -- many of whom are relatively inexperienced, officials said.
"A year and a month is the average experience of our field staff," Human Services Director Cindy Gillespie said at a news conference announcing the plans in November. "It's not just, 'Let's add more bodies,' but it's also, 'How do we address retention, what is making them leave us?'"
Jennifer Ferguson, deputy director of Arkansas Advocates for Children and Families, said the division -- like others across the country -- is chronically underfunded.
"It's always been underfunded and the overall issue is that they have a mandate to serve any child that comes into the system," she said. "They can't just close their door if funding is not there."
Ferguson said she had not reviewed Clark's bills thoroughly enough to comment.
The Child and Family Services Division also is seeking several changes to state law, though bills have not yet been drafted, said Webb, the Human Services spokesman.
She said the legislation with the largest potential effect will give preferential consideration to relatives in all child placements.
"Right now, there's preferential treatment when they come into care, but only at that point," Webb said. "This will change the law so preference is given from initial placement all the way through termination of parental rights."
The law will require the department to find relatives and vet them, she said.
Other changes involve ensuring foster parents have access to case plans, a change in the definition of "adult relative" to a "person related by blood or adoption" and an expansion of "fictive kin."
"Fictive kin" means "a person not related to a child by blood or marriage, but who has a strong positive emotional tie to the child and has a positive role in the child's life, such as a godparent, neighbor, or family friend," according to state law.
Webb said the proposed legislation would amend the definition to include someone who "has a strong, positive, and emotional tie or role in the child's parent's life if the child is an infant."
"There are some who believe that this current definition makes it impossible to identify fictive kin for infants who come into foster care since no one has had time to develop a strong, positive, emotional tie to a newborn," she said.
At a news conference last week, the governor said one of his top priorities is increasing the placement of children with relatives. He said the Children and Family Services bills would assist with that goal.
A 2015 report found that Arkansas lagged behind its neighbors in the percentage of children placed with relatives. About 14 percent of children were placed with relatives, according to the report. Now, about 26 percent of foster children are placed with relatives, according to data released by the division.
Clark said the proposed increased budget makes sense, given the Children and Family Services Division's challenges. He said he hoped the division would be able to decrease the backlog in foster children, and then decrease its budget.
Hutchinson said the fight for foster care is personal.
"My mom took in a foster child for just a short time and back then it was very unofficial, but it was a family in need. A child needed care. We brought them in and I remember having them over at Christmas," he said in a recent interview.
"My mom reaching out and helping children in need made an impression on me, but now it is personal here, it is personal as governor, because I see the need."
SundayMonday on 01/08/2017