Arkansas' largest ambulance service said Thursday that it was in the final stages of transferring operations to a new headquarters in downtown Little Rock.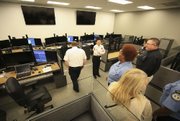 Metropolitan Emergency Medical Services of Little Rock is moving into a 38,000-square-foot building at 1121 W. Seventh St., just north of its former headquarters at 1101 W. Eighth St. MEMS Executive Director Jon Swanson said the agency had outgrown its former headquarters, a 7,928-square-foot structure built in 1985.
Some MEMS personnel had been working out of portable offices at the old headquarters. The agency had also been forced to rent property elsewhere in the city for storage and training.
Swanson said the new headquarters, a two-story structure built at a cost of $12 million, will centralize MEMS operations in Little Rock. The ambulance service aims to have all operations transferred to the building by Jan. 20.
"This will make it a much more efficient process that will potentially allow [ambulances] to be in service longer," he said.
The agency, which handles about 240 calls per day, will route calls through its dispatch center in Conway on Tuesday and Wednesday as it moves into its new headquarters.
MEMS, a nonprofit agency, employs about 250 uniformed personnel who serve about 530,000 residents in Pulaski, Faulkner, Lonoke and Grant counties. Its annual operating budget is $23.5 million. The ambulance service paid for its new headquarters with reserve funds, according to Swanson.
The cost includes the demolition of the old headquarters, which will be torn down and the property turned into an employee parking lot by spring.
Construction of the new headquarters, located at the former site of Massery Laundry and the Little Rock Bottling Company, began in May 2015. The structure is built to double as a tornado shelter. The western half of the building is constructed of 10.5-inch-thick concrete reinforced with steel. It is designed to withstand winds of up to 250 mph, as well as seismic activity, according to the agency.
[EMAIL UPDATES: Get free breaking news alerts, daily newsletters with top headlines delivered to your inbox]
There's space for about 150 people in the tornado shelter. Swanson said the ambulance service's dispatch center, computer servers, power generator and other critical equipment will be placed on the reinforced side of the building so that operations can continue after a natural disaster or other catastrophic event.
Little Rock Mayor Mark Stodola was among several people who spoke at a dedication ceremony for the new headquarters Thursday morning. He said the building's safety features will help medical personnel save lives under difficult circumstances.
"It allows our emergency service personnel to work while the disaster is occurring," Stodola said. "That's so very, very important. Just the technical capability, the equipment that goes into the scale of the operation -- it's so very important."
The new headquarters will also have wash bays and fueling stations. Ambulances were previously cleaned and refueled off-site, which often took the vehicles out of service longer, Swanson said.
Scott Gordon, chairman of the Little Rock ambulance authority, noted during the ceremony Thursday that classrooms make up a large part of the new building. All employees, from new hires to veteran medics, will be able to train under the same roof for the first time in more than a year.
MEMS had previously been renting the second floor of a printing and imaging company on Ninth Street to train certain personnel.
"[There is a] lot of space for training [at the new headquarters], because training is an ongoing mission at MEMS," Gordon said.
Metro on 01/13/2017