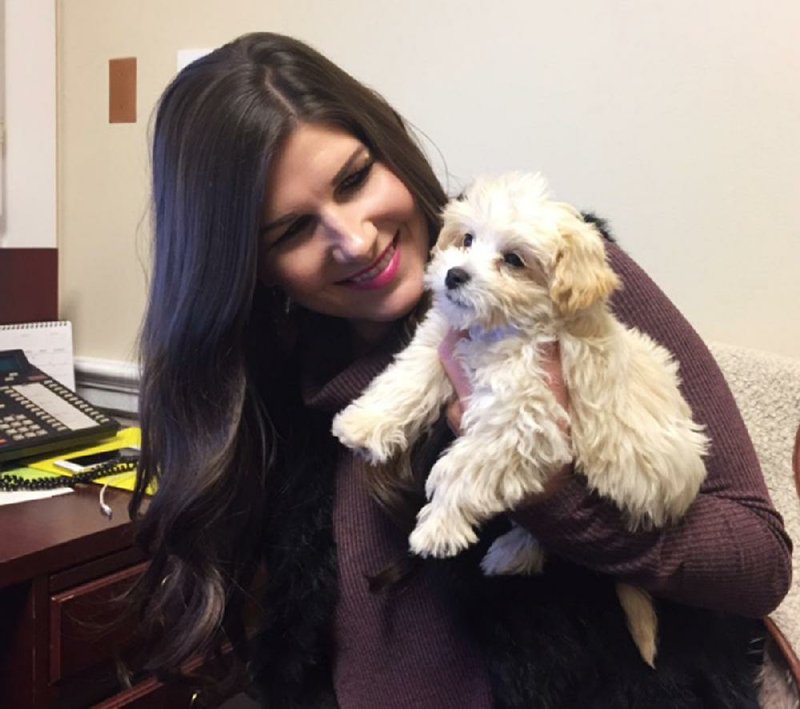 Courtney Handey holds Brady, a Maltipoo puppy that greets constituents in U.S. Rep. Rick Crawford's Capitol Hill office. ( Frank E. Lockwood)
U.S. Sen. Tom Cotton has the second-cutest canine on Capitol Hill, according to a list compiled last year by the Independent Journal Review. But Cowboy, the Republican's Bichon Frise, will face new competition when the 2017 list is released later this year.
Brady, a cream-colored Maltipoo puppy, joined the staff of U.S. Rep. Rick Crawford shortly after Christmas and is currently completing his probationary period.
Thus far, Brady seems to be adjusting well to life in the Rayburn House Office Building, according to Courtney Handey, Crawford's scheduler and Brady's owner.
[EMAIL UPDATES: Get free breaking news alerts, daily newsletters with top headlines delivered to your inbox]
"He is very playful. He's pretty smart, and he's personable," Handey said.
Crawford, a Republican from Jonesboro, doesn't mind Brady's presence. "He's very much a dog person," Handey said.
The reigning cutest dog, a Golden Retriever named Emmie, belonged to a staff member for U.S. Rep. Ed Whitfield, R-Ky., who resigned after an ethics probe.
The Independent Journal Review is a conservative, pet- friendly Web publication.
Planning to visit the nation's capital? Know something happening in Washington, D.C.? Please contact Frank Lockwood at (202) 662-7690 or flockwood@arkansasonline.com. Want the latest from the Arkansas Democrat-Gazette's Washington bureau? It's available on Twitter, @LockwoodFrank.
Sponsor Content