A group of lawmakers voted Wednesday to back a proposal dreamt up by an Arkansas high school student who wants the state to recognize the only dinosaur ever discovered within its borders.
Mason Cypress Oury, accompanied by Rep. Greg Leding, D-Fayetteville, sat in front of a House panel and told legislators why Arkansas needs to make the Arkansaurus fridayi the official state dinosaur. Leding submitted the bill, which has several co-sponsors, earlier this month, and he presented an amended version with Oury on Wednesday morning.
The Fayetteville High School senior told lawmakers he's had a passion for paleontology and been curious about Arkansaurus fridayi since he was "itty bitty."
A few years ago, Oury said he was doing research online, and he noticed that Arkansas, like many other states, had never designated a state dinosaur. But the website did say people could contact their legislators to change that fact, and Oury thought, "I'm doing that."
"And now we're here," he said.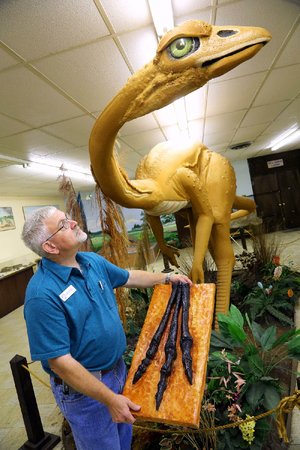 Photo by John Sykes Jr.
FILE — Bill Prior of the Arkansas Geological Survey, standing near a full-scale model of the dinosaur Arkansaurus fridayi, holds a casting of the creature's footprint in this 2015 photo.
When making his case, Oury mentioned that Oklahoma, Texas and Missouri all have listed state dinosaurs, which means "we need to catch up to our border rivals," he said.
Plus, the high schooler said, Arkansas was the 25th addition to the union, but there are currently only 24 state symbols. So mathematically, he said, recognizing the dinosaur just makes sense.
Celebrating the Arkansaurus fridayi would be "another great way to celebrate something that is unique to our state," Leding added.
A couple of lawmakers asked Oury what he knew about the dinosaur's appearance. He described a creature resembling an ostrich with a beak that may or may not have housed teeth. It's not totally dissimilar from a dinosaur found in the Jurassic Park movies, he said.
Rep. Carlton Wing, R-North Little Rock, asked the teen how the would-be Arkansas dinosaur would stack up against the one recognized by Oklahoma.
Since the two creatures had different food sources, Oury said, "They probably would have just, like, ignored each other completely. Like you do your thing over in Oklahoma; I'll do my thing over here in Arkansas."
"You gotta learn from the past to understand the present," he added.
The motion to move the bill to the full House passed unanimously.