The dinosaur in the running for state recognition was discovered by a man more than 40 years ago. And, as the legend goes, it all started with a lost cow.
The Arkansaurus fridayi was discovered in 1972 by a man named Joe Friday who was reportedly searching for the missing bovine when he spotted a fossilized foot on his land in Lockesburg. Crews had churned up tracts of earth to build a road, and Friday noticed a few long toe bones poking through the soil, said ReBecca Hunt-Foster, a paleontologist with the Bureau of Land Management.
The fossils, named after Friday, were sent to the University of Arkansas, where they were studied, reconstructed and displayed in a museum for years.
Now, Hunt-Foster wants Arkansaurus fridayi to be recognized as a distinct type of dinosaur, fit with its own scientific name. She recently submitted a paper making her case to a journal for review.
Meanwhile, a bill is working its way through the state Legislature that would designate Arkansaurus fridayi the official dinosaur of Arkansas. Rep. Greg Leding, D-Fayetteville, introduced the legislation after he was encouraged to do so by a high school student, Mason Cypress Oury. The bill passed from a House committee to the full House on Wednesday.
The dual recognitions would be firsts for Arkansas, a state that isn't known for its trove of fossil finds. And it has been a "long time coming," Hunt-Foster said.
Hunt-Foster lives in Utah but grew up in the Natural State. She first encountered the bones in the early 2000s as an undergrad at the University of Arkansas, where she learned they had never been fully described and written up.
She pored over the fossils to learn new details, but the Internet had just arrived, and related case studies were scarce. Eventually, she was stuck, Hunt-Foster said, and she moved on.
Then, last year, a paper was published on a similar North American dinosaur. Hunt-Foster returned to Arkansaurus fridayi and spent six months examining the bones, turning them over in her hands, trying to pinpoint distinctions from other creatures.
[EMAIL UPDATES: Get free breaking news alerts, daily newsletters with top headlines delivered to your inbox]
"When you stare at them [fossils] for years and years, you start to notice little, tiny insignificant things," Hunt-Foster said.
Though she can't disclose many of her new findings until the paper is approved, Hunt-Foster said Arkansaurus fridayi is "different than anything else that's been found so far."
To picture the dinosaur, think of an oversized ostrich fleeced with feathers — though not as fluffy, she said. Now imagine it had arms. Its massive feet and legs were coated in scales, and it stalked the state with fleshy pads on its toes, she said.
The beast likely used a beak, and possibly teeth, to chomp prey and scavenge for other food, though without a skull it's impossible to know for sure. (A skull is always the "holy grail" for paleontologists, Hunt-Foster said.)
While constructing an entire animal from a single foot is not ideal, the remains were enough to do a pretty thorough job, Hunt-Foster said. The metatarsal structure linked the dinosaur to comparable ones that roamed Mongolia in the early Cretaceous period, roughly 110 million years ago to 120 million years ago, she said.
Recognition of Arkansaurus fridayi, both from scientists and lawmakers, would show Arkansans that dinosaurs existed in their state, probably in higher numbers than even experts first assumed, Hunt-Foster said.
That knowledge could be powerful for kids, too, she added. She remembers being a teenager on her first dig site and climbing a ladder down into a sinkhole tucked inside a cave to scrape away dirt to screen in a creek.
She loved it, Hunt-Foster said, and children today might not know fossils could be nestled underneath their feet.
"Growing up in Arkansas, you don't necessarily think there were dinosaurs walking around," Hunt-Foster said.
But they did, she said, though the state looked different back then: One hundred million years ago, no grasses covered the ground, just dirt that thickened into mud with habitual rainfall. Trees without flowers — cypresses and junipers — grew packed together in humid air. And near a riverbank, an Arkansaurus fridayi might have sat perched on a giant nest she built for her giant eggs.
"It would have been an interesting, beautiful place to visit," Hunt-Foster said.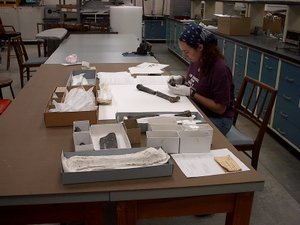 Photo by ReBecca Hunt-Foster
This photo taken in 2002 shows ReBecca Hunt-Foster examining the foot bones of the Arkansaurus fridayi while she was a student at the University of Arkansas.