BENTONVILLE -- Some city departments will be able to use impact fees to help pay for capital improvement projects in the future, but the city will likely have to seek alternative sources once the last of the 2007 bond money is used, according to city officials.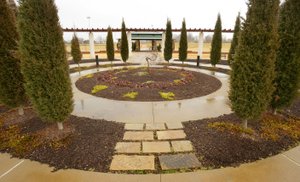 Photo by BEN GOFF • @NWABENGOFF / NWA Democrat-Gazette
Orchards Park in Bentonville was built with money from a $110 million bond measure approved by voters in 2007.
The bond money could be exhausted as early as 2020, said Mayor Bob McCaslin.
Bond Projects
Below are a list of projects the bonds approved in 2007 have either paid for or have helped paid for over the last decade. Some projects haven't been completed yet, but bond money has been committed to them.
Street Department
• Street improvements: East Central Avenue, Southwest I Street, Main Street, Northwest Third Street, Downtown Square
• Street widening: Southwest 14th Street, Southwest Regional Airport Boulevard, Southwest I Street, Windmill Road, Watertower Road
• Bridge replacement: Northwest Third Street, Shell Road, Town Vu
• Other: Moberly Lane right turn lane; 28th Street/Olive Street overpass widening; Southwest Eighth Street construction; traffic signal fiber optics projects
Parks and Recreation
• Buildings: Downtown Activity Center, Bentonville Community Center
• Parks & trails: Orchards Park, Gilmore Park, Austin Baggett Park, Arkansas Missouri Trail
• Other: Lawrence Plaza, Bark Park restrooms and parking lot, Skate Park lights, Parks Springs playground
• Memorial Park: Sports field renovation, parking lots, volleyball complex, tennis complex, playground and swimming pool improvements
Police and Fire departments
• Public safety software
• New radio communications system
Municipal Airport
• Additional terminal parking
• Southern runway turnaround and runway overlay project
• East perimeter fence
• Northeast apron expansion
Source: Staff report
"That would be a reasonable time to start looking at alternative funding sources," said McCaslin, who has said he will not seek re-election in 2018.
Voters approved $110 million in bonds through five referendums during a special election Aug. 14, 2007: $85 million for street improvements, $15 million for the parks system, $4.6 million for the Police Department, $4.6 million for the Fire Department and $750,000 for the municipal airport.
The city issued bonds in 2007, 2009 and 2010. The City Council on Jan. 10 approved issuing the remaining $22.3 million for street improvements and $3.4 million left for the Police Department.
The $2.5 million left for the Fire Department will not be issued as the city will forgo that debt. All the money for the parks system and municipal airport has been used or is committed.
Voters were concerned about streets, parks and public safety, McCaslin said of the atmosphere in 2007. There also was talk of giving the municipal airport more life.
The recession that started in 2008 allowed the city to complete some projects at a "tremendous savings," the mayor said.
"We've been very fortunate with all that we've been able to do with those proceeds," he said. "I thank the voters for trusting us to do that with their money."
Ways to pay
The city will need to consider additional debt, especially when the Eighth Street Improvement Project wraps up in a few years, McCaslin said.
"That would mean additional bond issuance," he said. "At the price of improvements, it's just almost impossible to make significant gains on your capital improvement deficits of paying as you go. You just about have to have a pool of resources to work out of so that you can set plans in place and attack those and then begin your payback."
Some departments will be able to use impact fees, which were adjusted in August, to help with capital improvement projects. The adjustments included increasing the park impact fees from $791 to $2,192 for single-family homes and reinstating the police impact fees to $546 per single-family home. Impact fees are one-time payments collected before a certificate of occupancy is issued for a building.
Those fees will help the Parks and Recreation Department expand public green space on the west side of Walton Boulevard where the residential city growth is concentrated, said David Wright, Parks and Recreation director.
Only 8 percent of the city's public green space is on the west side of Walton Boulevard, yet about 58 percent of the city's population lives there, Wright said.
The Police Department plans to use impact fees as well as its remaining bond money to build a facility behind its station on Southwest 14th Street that will house the dispatch center and offices, officials have said.
The National League of Cities lists public-private partnerships as an "emerging tool" for cities to use when trying to pay for infrastructure projects in its "Paying for Local Infrastructure in a New Era of Federalism" report. The group is an advocacy organization "devoted to strengthening and promoting cities as centers of opportunity, leadership and governance," according to its website.
Public-private partnerships are arrangements between government agencies and the private sector where both parties contribute financially and share in the risk and reward, the reports states.
Arkansas is one of 32 states permitting public-private partnerships, according to the report.
Bentonville has benefited from public-private partnerships, especially with its trail system as the Walton Family Foundation has fully or partially paid for about 18 miles of the city's 30 miles of hard surface trails, according to Wright.
Wal-Mart has also already pledged $12.5 million to help pay for the Eighth Street Improvement Project, which is estimated to cost well over $70 million.
The project will include widening Eight Street from Walton Boulevard to Interstate 49 and includes a interchange. It will give Wal-Mart employees direct access to the interstate. Workers recently began moving utilities for the project.
Street bonds
The bond issue helped the city complete street projects quicker, said Mike Churchwell, transportation director.
There was about $3.5 million in the general fund annually for street projects before the 2007 bond approval.
"In my business, that doesn't get you much," he said.
It would have taken more than 24 years for the city to get to the 17 projects -- including the downtown square renovation, the widening of Southwest I Street, East Central Avenue improvements and the widening of Arkansas 12 -- that the bonds paid for or helped pay for, he said, when dividing the $85 million in bonds by the $3.5 million the street department annually received.
The bonds were beneficial because they provided enough money to allow multiple projects to be in motion at the same time, Churchwell said.
"Where before, if you could get one project a year out of that money, you were good," he said.
It also freed the $3.5 million other departments could use, he added.
Churchwell, who will retire Jan. 31, said he doesn't know what mechanism will be used to pay for streets once the bond money is exhausted.
"The need is still going to be there as the city grows," he said.
Bentonville had a population of 30,000 in 2007; most recent city estimates put the population at 45,000.
Park work
The city used the $15 million bond issue allotted to the Parks and Recreation Department to pay for or help pay for 16 projects, six of which helped at Memorial Park with amenities such as four sand volleyball courts and 12 tennis courts, adequate parking lots and other improvements and renovation.
Pocket parks, such as Gilmore and Austin Baggett parks and a playground at Park Springs Park, enhanced the green space downtown. The Downtown Activity Center was built and opened in 2011, giving residents a go-to point for recreational activities and programs.
The last of the parks bond money was used to help foot the $16.1 million bill for the Bentonville Community Center in the city's southwest corner. The center opened in June 2015.
"That bond, from a parks standpoint, it's a lot more than just some new parks and trails," Wright said. "It was really a rebirth of a Parks and Recreation Department."
The money allowed the department to offer more than 140 recreation programs and see about 2 million people in its public parks annually, he said, adding it's the use of the facilities and amenities the bonds paid for making the bonds so successful.
"The bonds gave us the opportunity to dream," said Scott Eccleston, director of operations at Crystal Bridges Museum of American Art, former Parks Advisory Board member and a planning commissioner.
Eccleston recalled the department growing from having a simple "mow-and-weed eat mentality" to offering active recreation -- such as sports -- and passive recreation -- such as parks to leisurely walk in -- that drew people to the city.
"I don't think any of us, even in 2007 we knew we had growth needs, but I don't think any of us really envisioned all of the great things that would be happening to and within our city in the decade to follow that election," McCaslin said, adding the opening of Crystal Bridges Museum of American Art in November 2011 was another catalyst for tourism and development.
NW News on 01/22/2017