The state Capitol was teeming with onlookers and advocates Wednesday as legislators deliberated over some of the more contentious bills so far this session.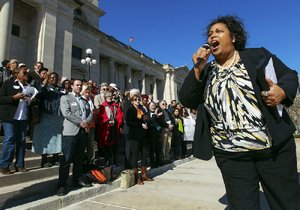 Photo by Benjamin Krain
Kymara Seals, policy director for the Citizens First Congress, energizes a crowd of a few hundred of the group's supporters during a rally Wednesday at the state Capitol in Little Rock. Members from around the state gathered to observe the legislative process and learn how to use their voices to influence lawmakers.
Roughly 400 students from 10 schools across the state arrived by bus at the Capitol grounds on behalf of The Reform Alliance to show support for school choice legislation. Simultaneously, nearly 200 Arkansans with the Citizens First Congress drove to the capital city to oppose school choice bills.
Both groups held rallies Wednesday morning -- the Citizens First Congress on the Capitol steps, and students with The Reform Alliance under the Capitol dome.
"I'm here because I'm still concerned about our schools in my region," said Jerry Bishop, a former director of the Arkansas School Board Association Region 12. He had driven to Little Rock from Nevada County. "I believe that if they have vouchers, they'll come in and take money from the public schools. And that's why I'm here right now -- to make sure that doesn't happen."
Meanwhile, Lt. Gov. Tim Griffin and Arkansas Attorney General Leslie Rutledge extolled the benefits of expanding school choice programs.
"At the end of the day, parents simply want the decision over where their kids go to school and how they are educated," Griffin said, adding that residents don't want their options limited on the basis of district.
The reality, Griffin said, is that some people across the state still disagree with letting parents choose the best schools for their children.
"We're changing that, folks. We're changing that," he said, telling school choice advocates to reject the status quo in education.
But Bill Kopsky, executive director of the Arkansas Public Policy Panel, characterized one bill as allowing the state to "take your tax dollars and send them to a family to allow their kid to go to a private school. They'll come straight out of public education dollars."
Kopsky and several members of minority groups also packed into several legislative committee hearings to monitor deliberations on other bills, including the proposal to reinstate the state's voter identification law.
[EMAIL UPDATES: Get free breaking news alerts, daily newsletters with top headlines delivered to your inbox]
The Citizens First Congress has a membership of hundreds of residents organized by 64 grass-roots groups in communities across the state. Wednesday was their annual Lobby Day, in which they invite members to learn about the legislative process and how to influence lawmakers.
Since November, the national political climate has inflated their numbers by the hundreds.
"This election, all the way from federal to local, has opened a lot of people's eyes, and they're beginning to see that these things are going to affect them directly," said William El-Amin, co-chairman of the Citizens First Congress. "When you start getting people affected, they're going to act."
Fernando Garcia had been translating many of the speeches for his Hispanic peers, with whom he had driven from Springdale.
As a community organizer with the Workers Justice Center, Garcia had driven to Little Rock to show support for legislation affecting his community. One bill will help prevent wage theft, an issue that he said he sees often at the Workers Justice Center. Another bill seeks to improve working conditions in Arkansas poultry plants.
"Some of the folks that came with us today are poultry workers, and others have been victims of wage theft. So we can share their stories to our elected officials, and I think that firsthand experience is going to be more powerful," Garcia said.
Speaking to the crowd of activists, freshman Rep. Leanne Burch, D-Monticello, agreed with Garcia.
"You give us energy, you give us the reminder every second of why we do what we do," Burch said. "And you make it real for us. You have the stories about how these issues impact you. Help us give your story to the people."
Information for this article was contributed by Brandon Riddle of Arkansas Online.
Metro on 01/26/2017